By Yuthan Chea
The COVID-19 pandemic has accelerated the flight to digital for businesses and consumers globally, contributing to the fintech boom as technology has been introduced into many financial services and transactions. In Brunei Darussalam, where the financial market remains small, financial institutions have also embraced fintech to expand their reach to the public and provide consumer access to financial services and remain competitive in the new environment. Brunei Darussalam has identified fintech as a key driver in increasing the contribution of the country's financial sector to 8 percent of GDP by 2035 from 5.6 percent in 2020 (Figure 1).
Figure 1. Brunei Darussalam's Financial Sector Share in GDP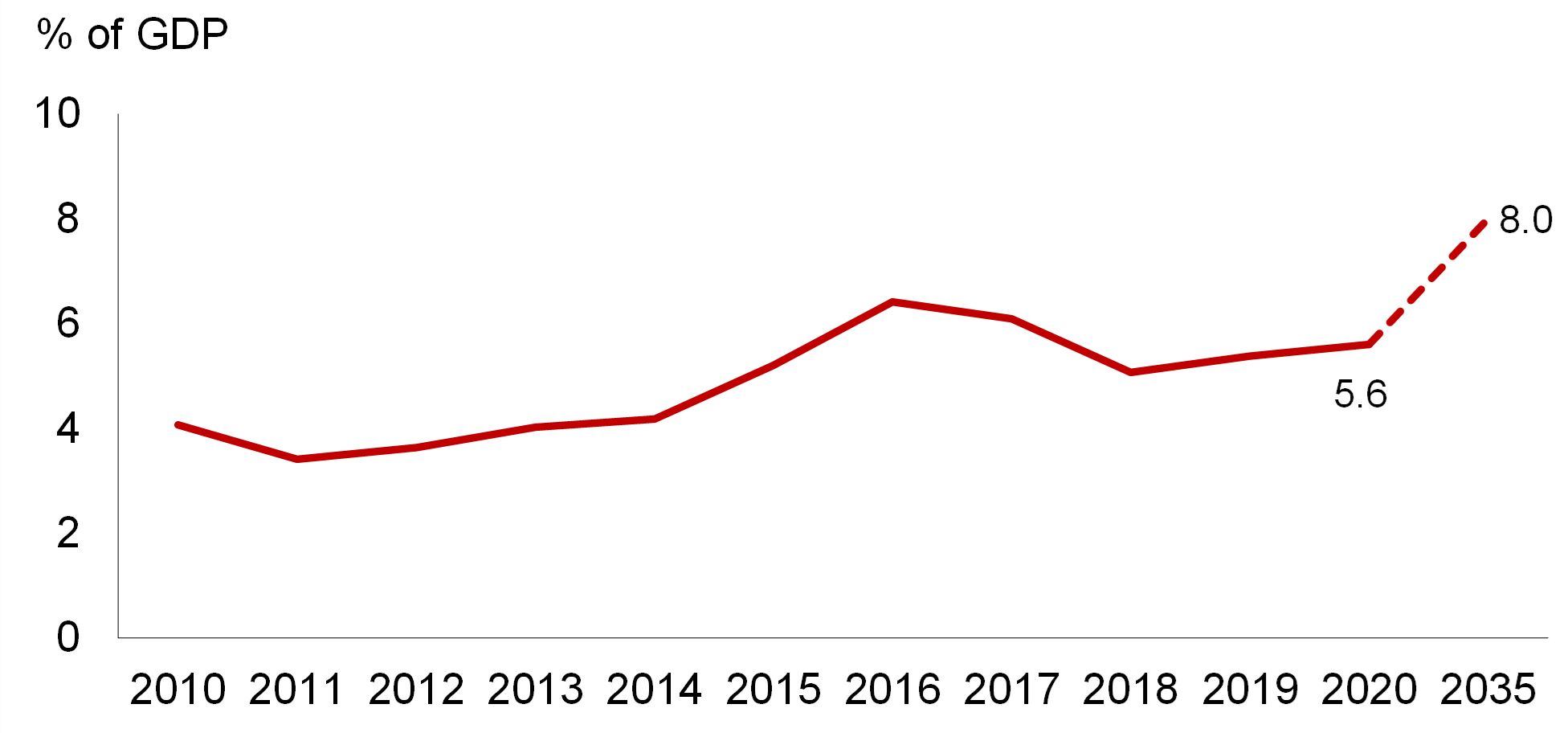 Source: Department of Economic Planning and Statistics; White Paper on The State of FinTech in Brunei Darussalam; AMRO staff calculations
The ASEAN+3 Macroeconomic Research Office's (AMRO) Annual Consultation Report on Brunei Darussalam published this week, points out that Brunei's fintech ecosystem has seen remarkable progress over the past several years. This is mainly on account of supportive government initiatives toward expanding the digital economy, as well as the rising demand for digital financial services in the country, boosted by the surge in digital transactions amid the pandemic.
Brunei Darussalam's establishment of the Fintech Regulatory Sandbox in February 2017 has enabled qualified fintech companies to trial their products in a flexible regulatory environment for a limited period of time and within set boundaries. Moreover, the country's pandemic containment and policy support measures, including social distancing and the waiver of bank fees and charges for online interbank fund transfers during the pandemic, have contributed to a rapid rise in the use of digital payment and e-commerce platforms. Consequently, new digital financial products have been developed to meet the rising demand for convenient and low-cost services, mainly in the areas of digital payment, as well as insurance and remittance, such as DSTPay, Beep Digital Solutions and Takaful Brunei Mobile.
How can fintech help enhance financial development in Brunei Darussalam?
Leveraging on technological advances, fintech has the ability to drive innovative financial solutions, which can make the provision of financial services more efficient and less costly, while promoting financial inclusion. According to a 2016 study by Oliver Wyman, digital technology is estimated to increase revenue and save costs in the global banking and insurance industry by approximately USD1 trillion, or around 17.5 percent of the industry's revenue. Findings from an ADB report indicate that digital financial solutions can fill 40 percent of the gap in payments volume and roughly 20 percent of the unmet credit needs of poor households and small businesses in Asia.
Financial services innovation driven by fintech can largely benefit the Bruneian economy by reducing operation and transaction costs, enhancing financial inclusion, and promoting the development of Islamic finance. Through digital platforms, financial institutions and fintech startups in the country can expand the scope and scale of their financial services to a wider range of customers, particularly among the digitally savvy and unbanked population, while reducing reliance on physical branches and staff.
At the same time, an integrated and competitive fintech ecosystem will promote interoperability and reduce costs of fund transfers for both domestic and cross-border transactions. Affordable digital remittance services are essential for a large number of foreign workers in the country that account for more than 20 percent of the total population.
Brunei Darussalam can enhance its expertise in niche financial services that comply with Islamic principles so that these services can be expanded to regional and international markets with Muslim clients. Financial institutions and fintech companies can develop and experiment with their innovative digital financial solutions that follow Syariah law in areas of crowdfunding, micro-lending and insurtech platforms, particularly within the regulatory sandbox framework.
Among ASEAN members, Brunei Darussalam has the second-highest human development index and the third-highest digital adoption index, implying high quality of life and financial literacy. These favorable conditions, together with high rates of internet and mobile phone subscriptions, provide an enabling environment to test digital Islamic and other financial products in this small market.
The authorities' commitment to strengthen the sandbox application process and shorten application assessment time in the near term is welcome as it will contribute to further develop an attractive fintech ecosystem. Meanwhile, more efforts are necessary to enhance the security, efficiency and prosperity of fintech development. Promoting cybersecurity and improving supervisory capacity are essential to ensure data and consumer protection, as well as maintain public trust and financial stability. The authorities' initiatives to develop innovative and integrated infrastructures are needed to establish an inclusive and competitive fintech ecosystem.