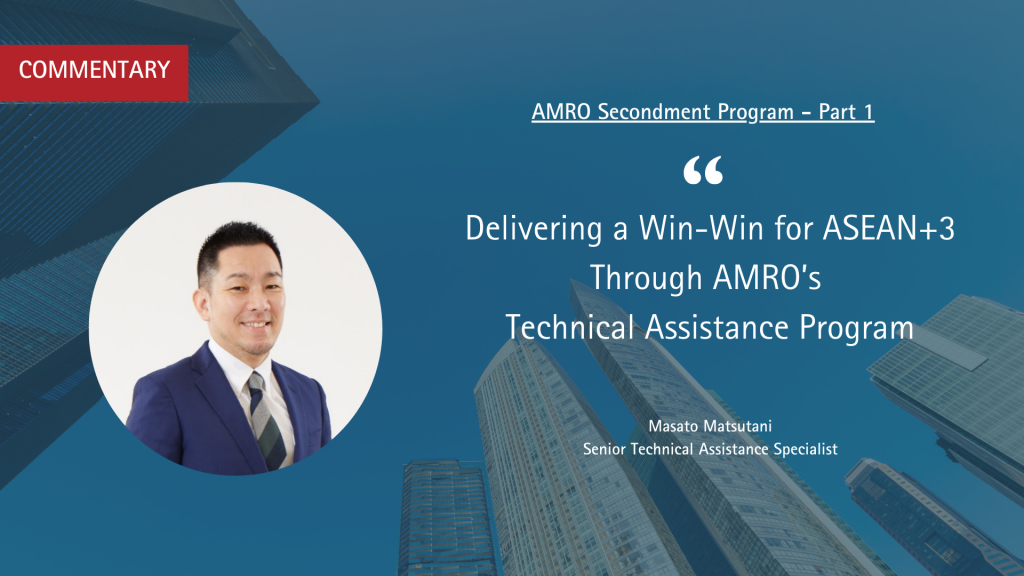 As a trusted policy advisor of the ASEAN+3 region, the ASEAN+3 Macroeconomic Research Office (AMRO) has been providing our member economies (comprising 10 members of the ASEAN; China; Hong Kong, China; Japan; and Korea) with analysis of their economic and financial soundness through regular surveillance and assessments. During times of crisis, we furnish our members with policy recommendations to help them recover using the region's financial safety net.
As one of AMRO's core functions, Technical Assistance (TA) is also provided to members in need of more hands-on assistance. Funded by contributions from China's Ministry of Finance, Japan's Ministry of Finance, and Korea's Ministry of Economy and Finance, AMRO's TA activities can be in various forms, such as sending a specialist to a member economy to offer hands-on assistance for particular areas of need, organizing trainings and workshops, and collaborating with other institutions on specific research topics for the benefit of members.
Besides these activities, we also provide young officials from member authorities with opportunities to work in AMRO as secondees. This allows them to learn first-hand how AMRO operates as an institution and better know the member authorities which AMRO collaborates with in its role as a trusted policy advisor of the region. As of September 2022, we have welcomed a total of 59 secondees from across our member economies.
Why is AMRO's secondment program attractive and popular?
The appeal of AMRO's secondment program among member economies stems from several factors. First, the program provides secondees with first-hand knowledge and experience related to their interest issues. Secondees join various teams in AMRO, where they work alongside experienced economists and specialists to gain on-the-job experience and knowledge, and contribute to the success of real projects.
Second, the program provides a networking opportunity for relationship building among member economies. Secondees can establish regional networks by working together with secondees from other member economies and by directly liaising with other member authorities.
Third, the program provides an opportunity to work and live in Singapore, one of the most dynamic financial centers in the world. Secondees can optimize their experience in Singapore by interacting with Singapore's ecosystem, including academia and think tanks. These meaningful connections are invaluable when they return to their parent organizations.
Ensuring a win-win for all stakeholders
The benefits of AMRO's secondment program are two-fold. Not only do secondees and their parent organizations benefit from the program, AMRO also gains from the skills and knowledge of secondees.
Firstly, ASEAN+3 Finance Ministers and Central Bank Governors have encouraged AMRO to mainstream issues such as financial digital transformation, climate change, aging population, and supply chain reconfiguration. These emerging issues call for AMRO to further enhance our capacity. Hence, secondees engaged in public sector policymaking in these areas will be critically beneficial to AMRO's capacity enhancement and help AMRO meet member authorities' expectation.
Secondly, secondees' close connection with their home authorities makes it easier for AMRO to liaise with them and access necessary information for precise and timely macroeconomic assessments and recommendations.
Supporting the ASEAN+3 Finance Process
Providing secretariat support to the ASEAN+3 Finance Process is an excellent example of a multi-win situation for secondees, AMRO and donor authorities. Every year, a contributing authority is paired with another member authority to co-chair the ASEAN+3 Finance Process, with AMRO providing secretariat support. Secondees from the member economy, financially sponsored by the contributing authority, have an opportunity to be part of the AMRO team providing secretariat support to the Co-chairs. Not only can secondees learn how AMRO supports the Co-chairs, they can also become a good bridge between Co-chairs to promote smooth communication between them.
AMRO's secondment program was established not only to provide learning opportunities to secondees, but also to furnish AMRO with secondees' expertise and connections that are crucial for AMRO's surveillance activities and to create a reliable bridge between parent organizations, AMRO and contributing authorities. This synergy makes the program more meaningful and relevant, and is thus appreciated by all.
Moving forward, the TA team is fully committed to further strengthening the program in a more systematic and strategic manner. We thank all our contributing authorities for their continued cooperation and for making this possible.