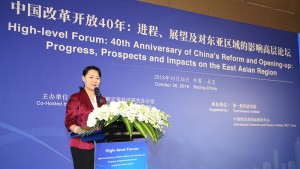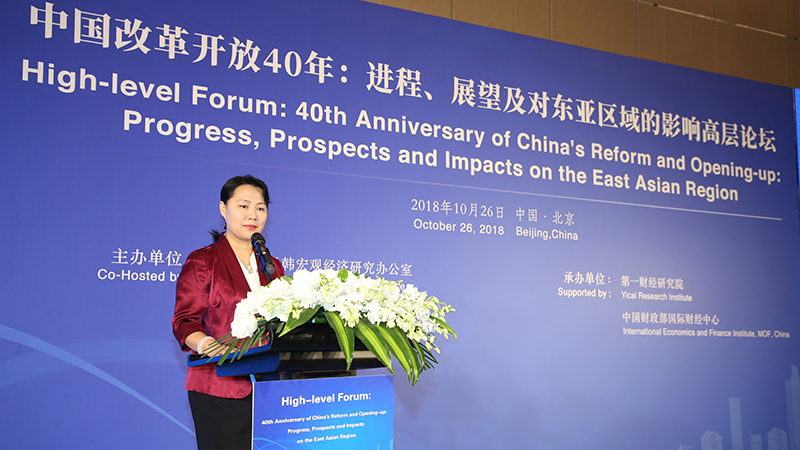 Also available in Chinese
(As prepared for delivery)
Minister of Finance of China Mr Kun Liu, Deputy Governor of the People's Bank of China Mr Yulu Chen
Distinguished guests,
Ladies and gentlemen,
A warm welcome to the High-level Forum on 40th Anniversary of China's Reform and Opening-up: Progress, Prospects and Impacts on the East Asian Region co-organized by the ASEAN+3 Macroeconomic Research Office (AMRO), the Ministry of Finance of China, and the People's Bank of China.
In such a historically important year of China's evolution, the world is looking forward with keen interest: the next stage of China's healthy development, and equally important, the role of neighboring countries in the shared journey ahead. In this context, since the beginning of this year, AMRO, as the regional macroeconomic surveillance organization, has conducted a study titled "China's Reform and Opening-up: Experiences, Prospects and Implications for ASEAN," which was launched yesterday here in Beijing. The study aims to take stock of experiences of and lessons learned from China's reforms and opening-up as well as the impact on ASEAN economies; and analyze China's growth and changing economic structure in the next 15 years and implications for ASEAN.
Our study shows that from 1978 to 2018, China has transformed itself from a low-income to an upper-middle income country, with an average GDP growth of 9.4 percent. At this juncture, China is poised to reach a high-income status in the coming years with a per capita GDP of around USD 22,000 in 2035. In the same course of time, China's share of the world GDP has increased significantly from less than 2 percent to above 15 percent while its share of world's total trade has surged from less than 1 percent to almost 12 percent.
Over the past two decades, China and ASEAN economies have become more integrated and both sides have benefited substantially from the rapid economic integration in the region in the areas of trade, investment and tourism. As a share of China's trade, China-ASEAN trade is expected to rise from 10.4 percent in 2017 to 15.8 percent in 2035. Similarly, as a share of ASEAN's trade, China-ASEAN trade is expected to rise from 16.7 percent in 2017 to 20 percent in 2035.
However, for China, the economic reform and opening-up journey is still not complete with both opportunities and challenges ahead. At the same time, China and ASEAN should deepen integration and enhance mutual understanding to sustain mutual benefits. The Forum today is an excellent opportunity for us to discuss key issues concerning China's development path and the prospects of China-ASEAN's engagement and integration. I am very delighted to see a good mix of high-level policymakers in China and the ASEAN+3 region, renowned academics, and senior representatives from international organizations and the private sector in the panel as well as in the audience today, who have first-hand experience in the reform and opening-up process in China as well as the development of China-ASEAN's integration. Understanding the past is key to move toward the future. Many of you today have deeply involved in shaping up and implementing the government's policies in the past four decades. Some of you came to China in early the days of the reform to provide policy advisory to the government from international perspectives and have since then continued engaging in the process along the way. Some of you from other countries have witnessed China's economic transformation and directly contributed to facilitating integration and cooperation between China and the rest of ASEAN+3. Your insightful experience and observations are invaluable and I really look forward to hearing your insights throughout a very comprehensive agenda that we have today.
Taking this opportunity, I would like to thank the Chinese and ASEAN+3 authorities, speakers, discussants and all participants for joining us today. In particular, I would like to express our sincere thanks to our local partners, the Ministry of Finance of China and the People's Bank of China, for the strong collaboration in organizing this event. Our gratitude also goes to the International Economics and Finance Institute and Yicai Research Institute for the excellent support in organizing this Forum.
Thank you and I hope you will find the discussions insightful, illuminating, and enriching.