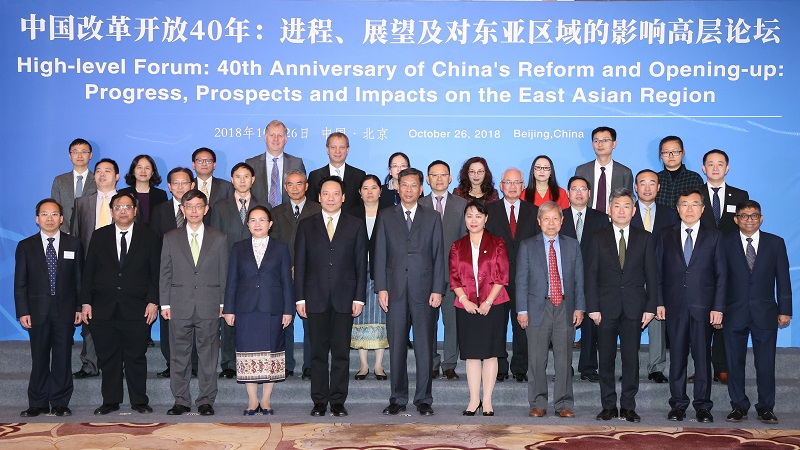 Mr. Kun Liu, Minister of Finance of China (first row, middle); Mr. Yulu Chen, Deputy Governor of the People's Bank of China (first row, fifth from left), Dr. Junhong Chang, Director of AMRO (first row, seventh from left); and panelists and discussants of the High-level Forum.
Also available in Chinese
BEIJING, October 26, 2018 – China's major reforms and opening-up to international trade and investment have transformed the country from a low-income to an upper-middle income status, but more efforts are needed as the country aspires to move towards a modern economy. The East Asian region has benefited from increasing linkages with China and enhanced cooperation between them is crucial moving forward. This was highlighted by speakers and participants at the High-level Forum on "40th Anniversary of China's Reform and Opening-up: Progress, Prospects and Impacts on the East Asian Region" in Beijing today.
Co-organized by the ASEAN+3 Macroeconomic Research Office (AMRO), the Minister of Finance of China (CMOF), and the People's Bank of China (PBOC), the forum used AMRO's recently published study titled "China's Reform and Opening-Up: Experiences, Prospects and Implications for ASEAN" as a background document for discussions. Panelists include high-level policymakers from China and the ASEAN+3 region, distinguished academia, senior representatives from international organizations and the private sector. Mr Kun Liu, Minister of CMOF, and Mr Yulu Chen, Deputy Governor of PBOC, delivered the keynote speech. AMRO Director Dr Junhong Chang delivered the opening remarks.
"Reforms and opening-up in the past four decades have led to leapfrogging economic development of China and the significant expansion of its role at the regional and global levels, but several challenges remain to ensure sustainability of growth," said AMRO Director Dr Chang. "Other regional economies also need to prepare for the growing economic ties in anticipation of the further rise of China to secure greater mutual benefits from the growing linkages with China."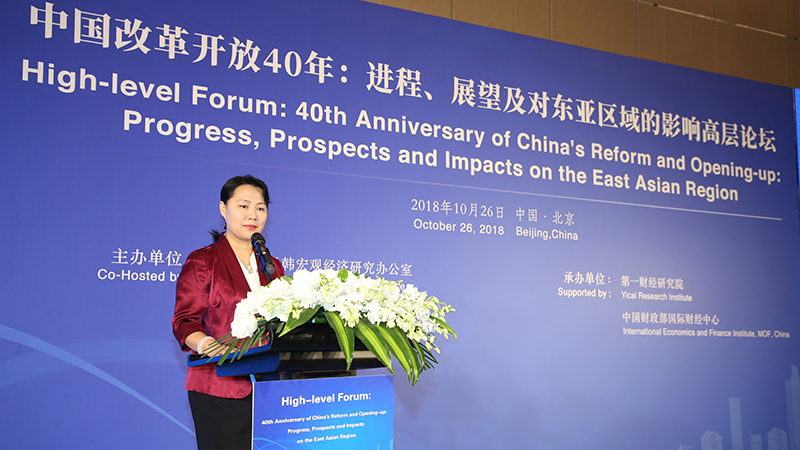 AMRO Director Dr Junhong Chang delivers the opening remarks.
In the first session on experience and lessons from China's reform and opening-up, the panel agreed that pragmatism and flexibility in policy-making has allowed the leadership to gear the path of reform and make steady progress despite significant headwinds. China has gradually shifted from the central-planning system toward market mechanisms, which has helped increase efficiency of resource allocation.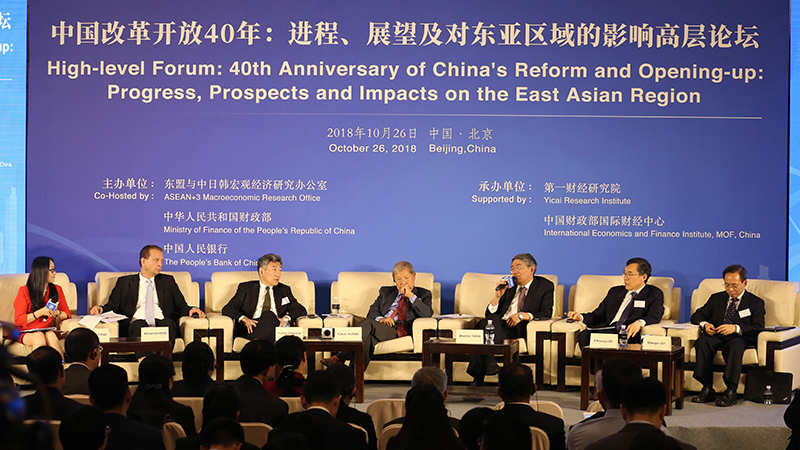 Panelists in the first session. From left to right: Dr. Yanqing Yang, Deputy Editor-in-Chief of China Business News, Managing Director of Yicai Research Institute; Mr. Alfred Schipke, Senior Resident Representative in China, International Monetary Fund; Mr. Yoshiki Takeuchi, Director-General of the International Bureau, Ministry of Finance of Japan; Dr. Yukon Huang, Senior Fellow, Asia Program, Carnegie Endowment for International Peace; Prof. Weimin Yang, Deputy Director of the General Office of CPC Central Leading Group for Finance and Economics; Dr. II Houng Lee, Member of the Bank of Korea's Monetary Policy Committee; and Dr. Shangxi Liu, President of Chinese Academy of Fiscal Science.
Over the past four decades, China has seen an annual average growth rate of 9.4 percent. China's share of the world GDP has increased significantly from less than 2 percent in 1978 to above 15 percent in 2018, while its share of world's total trade has surged from less than 1 percent to almost 12 percent in the same period.
However, the panel also noted that the economic reform and opening-up journey is still not complete with both opportunities and challenges on the way. Emerging opportunities include an ability to adopt and increasingly create new technologies, a growing number of large homegrown private enterprises with global branding, continuing urbanization, further market-oriented reforms, scope for fiscal policy in facilitating and supporting supply-side reforms and improving inclusiveness, and strengthened regional integration.
Meanwhile, challenges for China to transforming itself into an advanced economy include ageing population, growing regional disparities and income inequality, high corporate sector debt and financial sector leverage, and environmental problems. External tensions and risks from trade and technology protectionism may persist into the medium term.
In the second session on implications and prospects for ASEAN, the panel highlighted that amidst the deepening of China's reform and opening up process, East Asia, especially ASEAN, has developed close economic and trade ties with the country. This was jumpstarted by the multinational companies establishing regional production networks with China as the centers and ASEAN as the nodes for production of manufacturing components. Meanwhile, investment from China to ASEAN has grown rapidly and the number of Chinese tourists has increased significantly in ASEAN.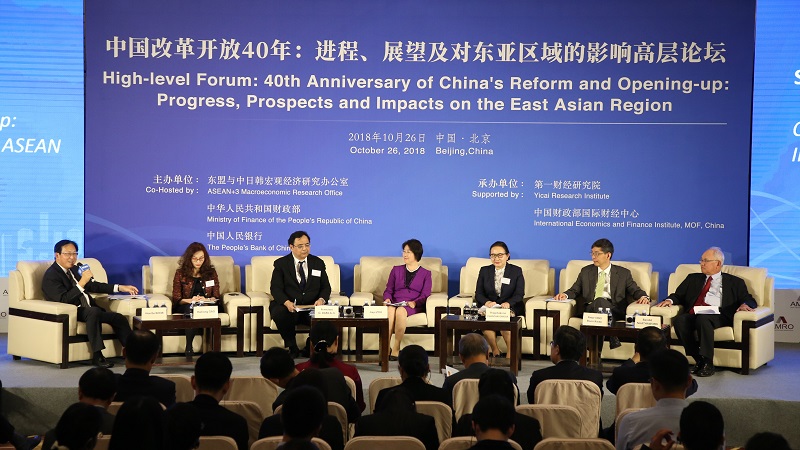 Panelists in the second session. From left to righ: Dr. Hoe Ee Khor, Chief Economist of AMRO; Prof. Haihong Gao, Chinese Academy of Social Sciences (CASS); Dr. Francisco G. Dakila, Jr., Assistant Governor, Monetary Policy Sub-Sector, Bangko Sentral ng Pilipinas; Madam Jiayi Zou, Vice Minister of Finance of China; Madam Thipphakone Chanthavongsa, Vice Minister of Finance of Lao PDR; Mr. Peter Ong Boon Kwee, Chairman of Enterprise Singapore, Senior Economic Advisor of Ministry of Trade & Industry of Singapore; and Dr. Bandid Nijathaworn, Former Deputy Governor of the Bank of Thailand.
Looking ahead, with the rapidly growing middle class and improvements in social safety nets, the share of consumption in the Chinese economy will grow further, expanding opportunities for ASEAN in the form of trade in consumer goods as well as outbound tourists from China. The "Belt and Road Initiative" will deepen investment linkages between China and ASEAN. At the same time, China's industrial upgrading and technological advancement and relocation of labor-intensive industries to ASEAN economies are expected to further affect the dynamics of trade and investment flows between them.
The panel also emphasized that while the path of rising mutual benefits ahead has been paved by considerable efforts from both sides, enhanced cooperation including in the area of regional financial safety nets based on a deep understanding of each other's needs and concerns is crucial moving forward.
About AMRO:
The ASEAN+3 Macroeconomic Research Office (AMRO) is an international organization, established to contribute to securing the economic and financial stability of the ASEAN+3 region, which includes 10 members of the Association of Southeast Asian Nations (ASEAN) and China; Hong Kong, China; Japan; and Korea. AMRO fulfills its mandate by conducting regional macroeconomic surveillance, supporting the implementation of the Chiang Mai Initiative Multilateralisation (CMIM), and providing technical assistance to its members.