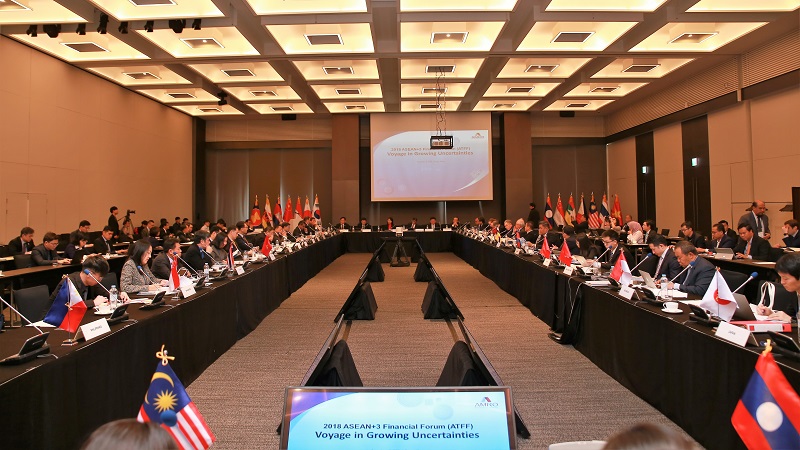 The 2018 ASEAN+3 Financial Forum (ATFF) is attended by high-level policy makers, renowned academics, and experts who have strong background and experience on global and regional economic issues.
BUSAN, KOREA, December 12, 2018 – Increasing trade protectionism, tightening financial conditions, and the new technological revolution have posed growing risks and challenges to the ASEAN+3 region. To address these risks, appropriate policy measures should be undertaken and the regional financial safety net centered around the Chiang Mai Initiative Multilateralisation (CMIM) should be enhanced.
These issues were discussed today at the ASEAN+3 Financial Forum (ATFF) 2018 with the theme "Voyage in Growing Uncertainties", organized by the ASEAN+3 Macroeconomic Research Office (AMRO). The forum was held back to back with the ASEAN+3 Finance and Central Bank Deputies' Meeting in Busan, Korea.
"The global economy is presently at a cross-road, clouded by uncertainties around the international trading regime and tightening financial conditions, led by US monetary policy normalization," said AMRO Director Dr Junhong Chang in her opening remarks. "Policymaker in the ASEAN+3 region should continue undertaking pre-emptive measures and work together to enhance the regional financing arrangement in anticipation of possible future crises."
AMRO senior management team, Finance and Central Bank Deputies and distinguished speakers and participants at the 2018 ASEAN+3 Financial Forum (ATFF).
As the Co-chairs of AMRO's Executive Committee for 2018, Mr. Weon-Kyoung Jo, Director General for G20, IMF and ASEAN+3, International Finance Bureau, Ministry of Economy and Finance, Korea, and Mr. Ping Yi YEE, Deputy Secretary (Planning), Ministry of Finance of Singapore, delivered keynote addresses at the forum. Discussants and speakers included high-level policy makers, renowned academics and economists who have strong background and experience on the East Asia region.
In the first session moderated by AMRO Chief Economist Dr Hoe Ee Khor, panelists discussed how economies in the region should respond to the increasing global economic uncertainties and disruptive changes brought about by digital technology and automation.
The panelists agreed that going into 2019, external risks to the region from U.S. China trade conflicts and tighter global financial conditions remain elevated, and the region should be vigilant. While AMRO has maintained its 2018 growth estimate for the region at 5.4 percent, it has shaded down its baseline growth forecast for 2019 to 5.1 percent, with a significant downside risk.
Estimates by AMRO of the impact of the U.S.-China trade conflicts show that regional growth could be reduced by 0.1 to 0.3 percentage point in a baseline scenario and by as much as 0.2 to 1.0 percentage point in a worst case scenario assuming a further escalation of the trade conflict. The panelists noted that while the region has benefited from capital inflows, emerging markets that rely on external financing would face increased debt servicing burdens as financing conditions tighten, and risks of large capital outflows. They also discussed challenges to regional economies from new technologies of robotics, automation, digitization, and internet of things, which can lead to disruptions in the traditional business models and job markets. .
To address these risks and challenges, the panelists emphasized the need to remain vigilant, with no room for complacency. Policy measures should continue to be pre-emptive, frontloaded and ahead-of-the-curve. The appropriate policy mix of monetary, fiscal, macroprudential, and structural policies will have to be calibrated according to the circumstances of each individual economy. Panelists were also of the view that the region should embrace the new technologies in order to remain competitive and move up the value chain but to put in place measures to mitigate the disruption to businesses and workers.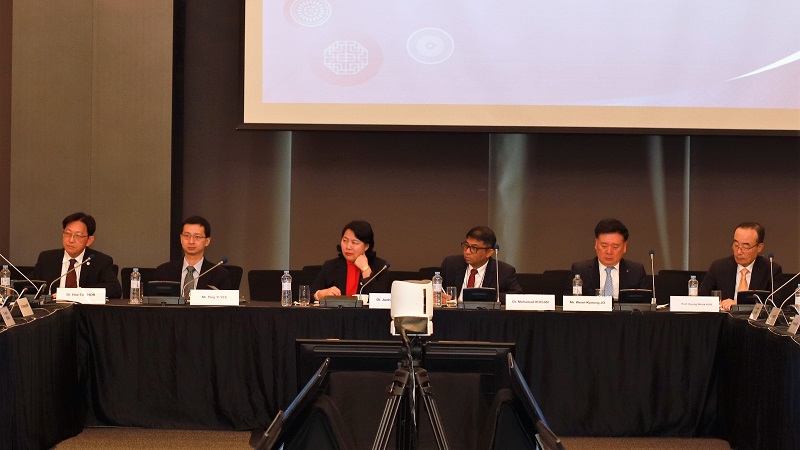 2018 ATFF chair table. From left to right: Dr Hoe Ee Khor, Mr Ping Yi Yee, Dr Junhong Chang, Dr. Mohamad Ikhsan, Mr. Weon-Kyoung Jo, and Professor Kyung Wook Hur.
Moderated by Professor Kyung Wook Hur, Former AMRO Advisory Panel Member, the second session discussed the future of ASEAN+3 regional financial cooperation.
"During the last decade, ASEAN+3 members have put concerted efforts to improve the effectiveness of CMIM with the aim of providing a stronger safety net against financial risks in the region," said Mr Yasuto Watanabe, AMRO Deputy Director in his presentation. "With the persisting global uncertainties and the region's growing integration to the global economy, the need for boosting the regional financing arrangement's contribution to the global financial safety net has become greater than ever."
Panelists exchanged views on possible future directions of the CMIM with reference to its comparator regional financing arrangements, such as the European Stability Mechanism or the Latin American Reserve Fund (FLAR). They noted that a more predictable funding mechanism would boost regional financing arrangements' contribution to the financial stability in the region. Closer coordination with other layers of global financial safety net, especially the IMF was also suggested for the future development of the CMIM.
An important initiative of AMRO, the ATFF acts as a flagship platform for ASEAN+3 Deputies, academics and high-level representatives of international financial institutions to brainstorm on challenges and issues relevant to regional economic and financial cooperation.
—
About AMRO:
ASEAN+3 Macroeconomic Research Office (AMRO) is an international organization established to contribute to securing economic and financial stability of the ASEAN+3 region, which include 10 members of the Association of Southeast Asian Nations (ASEAN) and China; Hong Kong, China; Japan; and Korea. AMRO fulfils its mandate by conducting regional economic surveillance, supporting the implementation of the regional financial arrangement, the Chiang Mai Initiative Multilateralisation (CMIM), and providing technical assistance to its members.