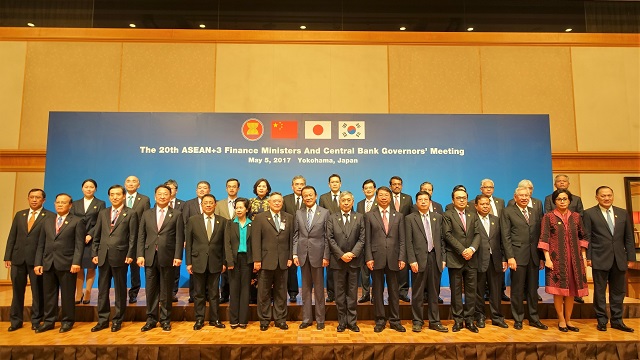 AMRO Director Dr Junhong Chang (far left, second row) and ASEAN+3 Finance Ministers and Central Bank Governors attend the AFMGM+3 on May 5 in Yokohama, Japan
Yokohama, Japan, May 5, 2017 – AMRO Director, Dr Junhong Chang, together with Deputy Director, Mr Yasuto Watanabe and Chief Economist, Dr Hoe Ee Khor participated in the ASEAN+3 Finance Ministers' and Central Bank Governors' Meeting (AFMGM+3) and the ASEAN+3 Finance and Central Bank Deputies' Meeting (AFCDM+3), from May 4 to May 5, during the 50th ADB Annual Meeting in Yokohama, Japan.
AMRO is an international organization established as the regional macroeconomic surveillance unit of the Chiang Mai Initiative Multilateralisation (CMIM). AMRO presented to the AFMGM+3 its assessment of the regional economic outlook. AMRO also updated ASEAN+3 Deputies, in their capacity as AMRO Executive Committee members, of AMRO's new policy developments.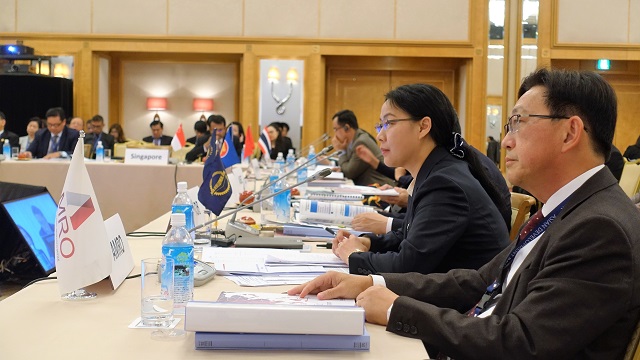 AMRO Director Dr Junhong Chang (second from the right) and AMRO Chief Economist Dr Hoe Ee Khor (far right) present AMRO's views on the ASEAN+3 regional economic outlook at the AFMGM+3 on May 5, 2017 in Yokohama, Japan.
On the sidelines of these events, AMRO signed a Memorandum of Understanding with ADB, committing both institutions to deepen bilateral cooperation on surveillance, research and capacity building. AMRO also launched the inaugural edition of its annual regional surveillance publication, the ASEAN+3 Regional Economic Outlook (AREO) 2017.