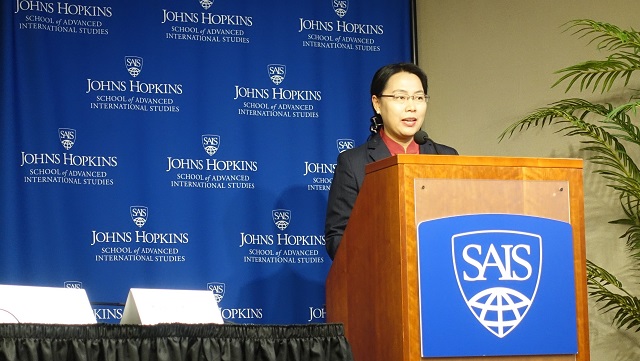 ARMO Director Dr Junhong Chang delivers the welcome remarks at the seminar on "Twenty years after the Asian Financial Crisis" in Washington, D.C., on October 12, 2017.
Welcome Remarks by Dr Junhong Chang, AMRO Director
Joint Seminar: "Twenty Years after the Asian Financial Crisis"
Co-organized by ASEAN+3 Macroeconomic Research Office (AMRO),
Johns Hopkins University School of Advanced International Studies, and
Carnegie Endowment for International Peace
12 October 2017, Washington DC, USA
(As prepared for delivery)
Professor Nehru, distinguished panelists and guests,
I welcome you warmly to this seminar. I would like to first express my deepest appreciation to Professor Nehru, affiliated with both the Johns Hopkins University School of Advanced International Studies and the Carnegie Endowment for International Peace, for offering us this venue and for hosting this seminar.
My warm welcome to our distinguished panelists today from our partner international financial institutions of the ADB, IMF and World Bank, whom Professor Nehru will introduce in detail later. My warm welcome too to our many friends here in the audience today.
For us in Asia, the Asian Financial Crisis in 1997 was a landmark event in our region's history that shook up conventional wisdom of how a crisis can start and spread, and offered long-lasting lessons in crisis management. It propelled regional financial cooperation and pushed economies in the region to strengthen their macroeconomic fundamentals and to build up buffers. It also led to the establishment of the ASEAN+3 Macroeconomic Research Office or AMRO based in Singapore, and we support the regional safety net in our region, the Chiang Mai Initiative Multilateralisation or CMIM in two ways. First, we conduct macroeconomic surveillance and provide policy advice in our member economies. Second, we provide policy support to the regional safety net of the CMIM.
Since we are here on occasion of the IMF/World Bank Annual Meetings, let me just say a few words on how we see regional safety nets co-existing with the global safety net centered around the IMF. Certainly, the stigma of borrowing from the IMF during the crisis period motivated the ASEAN+3 countries to set up the Chiang Mai Initiative in 2000, a loose network of bilateral swaps between central banks that was multilateralized into the CMIM in 2011.
However, the aim is not to have AMRO and CMIM replacing the IMF in terms of surveillance and financing. Instead, CMIM, and AMRO in supporting the CMIM, was set up to complement the global financial safety net in three ways:
First, to fill the financing gap. Experience from financial crises in other regions around the world is that resources from the IMF are still not enough, and in ASEAN+3, CMIM would help fill gap left behind by the IMF financing if required.
Second, to enhance our members' capacity to prevent and resolve crises. As an independent surveillance organization and one that is firmly grounded in the ASEAN+3 region, we aim to leverage on our understanding of the economic development and institutional settings of our stakeholders to become a trusted policy advisor to them.
Third, AMRO also provides targeted technical assistance to member economies to improve their capacity, including data adequacy of our members.
As the product of regional financial cooperation, AMRO will continue to be one of the "anchors" to advocate for greater regional cooperation and integration. We also greatly welcome collaboration with other international financial institutions, and in May this year, we have concluded an MOU with the ADB.
As a testament to cooperation between AMRO and the IMF, AMRO has signed an MOU with the IMF yesterday to enhance cooperation. We have signed an MOU with ESM, our counterpart in Europe, and also held our second High-Level Dialogue among regional financing arrangements, among AMRO, ESM and FLAR. We look forward to deeper cooperation with our counterparts under these MOUs.
With this, I look forward to learn from our distinguished panelists, and I wish you all a stimulating and insightful discussion. Thank you, and I now hand the floor back to Professor Nehru.