Since our establishment in 2011, forging ties and deepening collaboration has been a cornerstone of AMRO's work program. We recognize that in this highly interconnected world, meaningful partnerships that leverage on the experience and comparative advantage of our partners will enable us to achieve a greater level of impact that we cannot accomplish alone to realize our goals. To this end, AMRO has a comprehensive set of institutionalized and informal practices to guide our partnership activities.
AMRO's 2016 Strategic Direction identified partnerships as a key component of its corporate enhancement and outreach strategy, given its significance in supporting AMRO's core functions, including elevating AMRO's position as a young international organization (IO).
Building on this, AMRO developed its Partnership Strategy in 2018. It lays out the objectives, principles, priority areas, and modalities of cooperation, as well as the target stakeholder groups, and envisioned outcomes of these partnerships.
Since its implementation in 2019, AMRO has been guided by this Strategy in its engagements and collaboration. We have worked with our strategic partners on joint research, organizational capacity building, as well as co-organizing high-level meetings, workshops, dialogues, and seminars, and met up with them during our travels to maintain our friendly relations.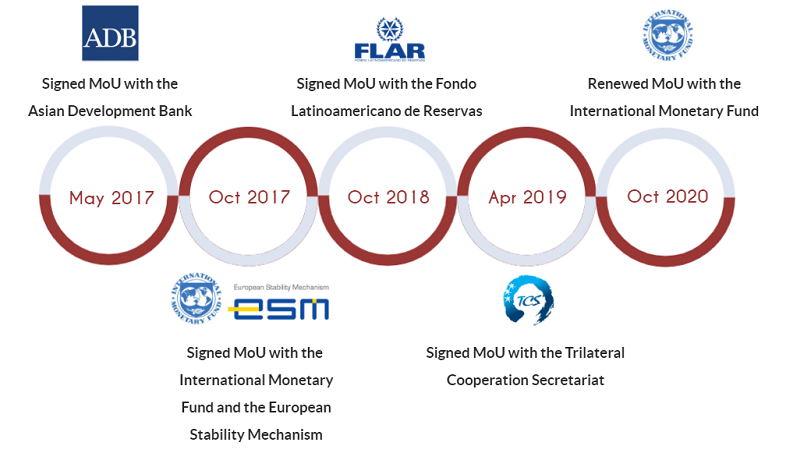 The COVID-19 pandemic, which led to travel restrictions and border closures, forced us to re-evaluate how we conduct our partnership engagements. Like the rest of the world, we migrated to the virtual realm of WebEx meetings, webinars, and pre-recorded speeches. Instead of meeting our counterparts over coffee in their capitals, we greeted each other through web-cams (sometimes, bleary-eyed because of the time difference).
Despite the distance between us, AMRO's connections with our partners grew stronger in these uncertain times. The pandemic has ironically fostered deeper ties as we recognize the importance of collaboration and open communications to overcome this unprecedented crisis. When it became clear that the fallout from the pandemic was going to pose a longer-than-anticipated global challenge for everyone, we mobilized swiftly. Together with our partners – ASEAN+3 members, regional financial arrangements (RFAs), and peer IOs – we organized virtual dialogues, roundtables, and meetings to swiftly exchange information on the impact of COVID-19, measures taken to mitigate the pandemic, and ways to enhance cooperation to strengthen the global financial safety net (GFSN).
An example would be the recently concluded 5th RFA High-level Dialogue, which provided a timely opportunity for our RFA family, the International Monetary Fund (IMF), and the G20 International Financial Architecture Working Group to discuss the vital role multilateral cooperation should play in the next phases of the crisis. Notably, the Dialogue concluded with the IMF and RFAs committing to deepen our engagement to ensure timely information exchange and to leverage on each other's comparative advantages to steer the regional and global economies toward stabilization as well as strong and sustainable growth and recovery. Integrating the various layers of the GFSN to maximize firepower and collective knowledge will enable us to overcome the hurdles ahead, and AMRO looks forward to working with our strategic partners to this end.
We continue to build on the meaningful partnerships that we had embarked on. In October, we renewed our Memorandum of Understanding (MoU) with the IMF and committed to strengthen our cooperation to better serve our common membership. Leveraging on this collaboration, we recently established a document exchange arrangement with the IMF on a reciprocal basis. In the same spirit, AMRO and the Asian Development Bank are also in the process of renewing our three-year MoU.
An effective partnership strategy is not just about maintaining existing ties. It requires us to identify partners and cultivate win-win relations to ensure mutually beneficial outcomes. In this regard, AMRO is currently in discussion with a few peer IOs to formalize our collaboration, either in the form of an MoU or Letter of Intent.
In our world today, the COVID-19 pandemic and geopolitical risk accelerate the threats to the multilateral world order. In delivering our mandate to contribute to economic and financial stability, AMRO remains firmly committed to pursue and sustain meaningful and effective partnerships. We will build on the existing foundations toward the betterment of the community that we inhabit. The 17th century English poet, John Donne famously wrote, "No man is an island entire of itself; every man is a piece of the continent, a part of the main." This message has taken on a renewed urgency, and a call to arms to the global community. It is only by working together will we be able to overcome global challenges.