Another version of this article was published in Zing News on September 17, 2020.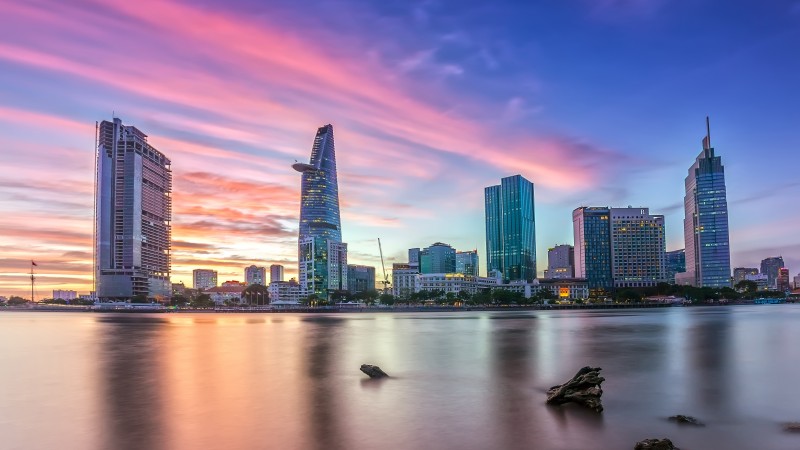 Vietnam's much-lauded COVID-19 response did not provide its economy with immunity to the adverse impact of the pandemic. The country experienced a sharp slowdown this year, with the first and second quarters growing at 3.8 percent and 0.4 percent year-on-year respectively, compared to 7 percent in 2019. The deceleration was driven by the manufacturing and service sectors amid global supply chain disruptions, a severe drop in external demand, and subdued domestic activity as a result of mobility restrictions.
As activity gradually resumes, we expect Vietnam's economy to rebound strongly in the second half of 2020 and register growth of around 3.1 percent for the whole year. Meanwhile, inflation is expected to be contained within the authorities' 4-percent target in 2020 if the country's food supply is well-managed and energy prices remain relatively subdued.
Challenges and opportunities
In the near-term, the biggest risk is the extent to which the COVID-19 affects both domestic and external demand. While domestic demand has picked up recently, the recovery remains susceptible to new waves of infections, to which the service sector and labor-intensive manufacturing are particularly vulnerable.
Meanwhile, external demand will take longer to revive, a prospect that weighs heavily on some export sectors, especially non-electrical and electronics, amid the lingering risk of supply chain disruptions. That said, Vietnam's expanding number of free trade agreements (FTA), including the recently signed EU-Vietnam FTA, and robust foreign direct investments (FDI), should help sustain exports as the economy's main growth engine.
Another important risk to monitor is the volatility in the global financial markets. This could lead to a sudden increase in capital flows, although Vietnam is relatively less exposed to non-residents' portfolio investment compared to foreign direct investment. The financial sector's increased vulnerabilities due to the impact of the pandemic on banks' asset quality also need to be closely monitored. Despite banks' efforts on loan restructuring and reduction in interest and fees, it remains likely that the banking system's asset quality will deteriorate and erode its relatively low capital buffers.
On the bright side, a number of opportunities present themselves. The country's competitive labor, easy access to key regional and global markets through FTAs, and favorable business environment make it highly attractive for investment.
Vietnam's growing number of FTAs is helping the economy enhance its resilience to fluctuations in external demand as well as supply disruptions. Supply-chain repercussions from global trade tensions and the pandemic have prompted multinational corporations to relocate their production facilities to the country. In addition, Vietnam's successful management of the pandemic has boosted the confidence of foreign investors, giving its economy a head start in recovery.
From emergency response to economic recovery
The Vietnamese government can consider applying AMRO's "4C and 4R" framework on policy design toward robust economic recovery and sustainable growth (Figure 1).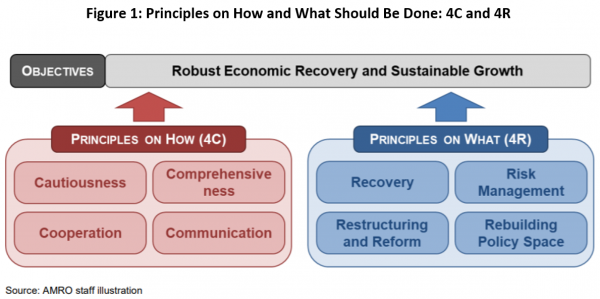 The 4Cs are:
Withdraw short-term emergency measures and restart the economy with great caution. Relaxation of the containment measures should be done in phases, based on the stages of virus transmission as well as the capacity of the public health system. Prioritize certain economic sectors and regions by taking account of virus transmission risk, the economic importance of each sector, and the economic linkages among them.
Develop a comprehensive approach to various policy objectives and priorities to ensure strong alignment across different aspects or time horizons.
Promote strong cooperation both domestically (between the public and private sectors) and internationally (among countries) to ensure the effectiveness of policy efforts. In fact, Vietnam has been particularly successful on this front, whereby most of the government's instructions have been duly adhered to by the private sector.
Establish an effective communication strategy to build public trust, which is crucial for successful policy implementation. Providing clear messages in a predictable and transparent manner will encourage the private sector's engagement in policy implementation, which can affect the impact and even the viability of policy measures.
The 4Rs are:
Near-term economic policy should focus on the smooth transition from crisis survival to recovery support. Vietnam's macroeconomic policies need to remain expansionary for some time, while employment policies should focus on supporting job creation and improving labor mobility. Given the resource constraint, policy measures should be periodically assessed and fine-tuned for their relevance amid the evolving policy environment and priorities.
Continued risk management is critical for a robust recovery and economic resilience. Emphasis should be placed on controlling the risk of new waves of the pandemic (such as the recent outbreak in Danang), as well as carefully managing macro-financial risks.
Structural reform policies should be recalibrated to accommodate emerging priorities while reassessing pre-crisis priorities.
Rebuilding policy space continues to be an important medium-term policy agenda. A well-communicated and carefully designed medium-term plan is required to strengthen policy space and maintain market confidence.
Thanks to effective COVID-19 containment measures and the structure of the economy, Vietnam is expected to recover faster than other economies in the ASEAN+3 region. A strong commitment and appropriate policy design are key for the country to realize this potential.