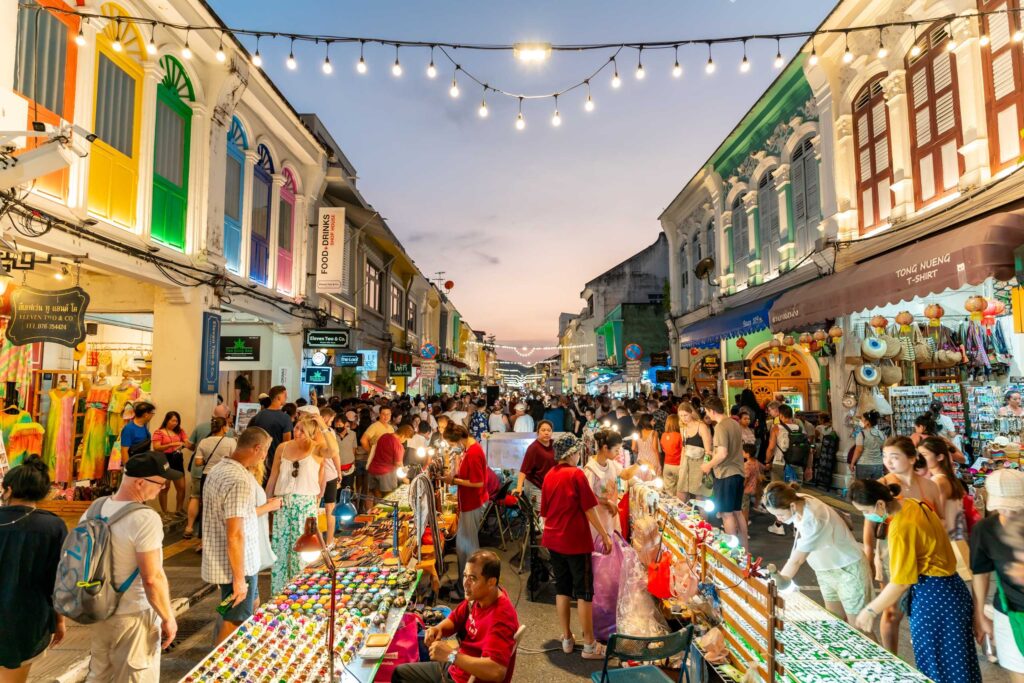 Image: kitzcorner / Shutterstock.com
Also available in Thai (provided by the Bank of Thailand)
SINGAPORE, August 16, 2023 – The Thai economy is recovering robustly on the back of resilient domestic demand and a sustained rebound in tourist arrivals. Inflation, which spiked up sharply in 2022, has declined rapidly this year. However, the outlook is uncertain given domestic political developments and possible external headwinds. Over the longer-term, Thailand is beset by structural challenges and weaker long-term growth potential, alongside increased complexities from navigating ongoing geoeconomic shifts and climate change risks.
This is according to the preliminary assessment made by the ASEAN+3 Macroeconomic Research Office (AMRO) after its Annual Consultation Visit to Thailand from July 26 to August 11, 2023.
The mission was led by AMRO Principal Economist Allen Ng. AMRO Director Kouqing Li and Chief Economist Hoe Ee Khor participated in the policy discussions. The discussions focused on Thailand's recent macroeconomic developments and outlook, risks and vulnerabilities, and policy recommendations to ensure entrenched recovery, rebuild policy space, and revitalize and enhance sustainable long-term growth.
Economic developments and outlook
"Thailand's growth is expected to strengthen to 3.7 percent in 2023, led by resilient domestic demand and a strong rebound in tourist arrivals which boosted the expansion in tourism-related services," said Mr. Ng. "However, the uncertainty surrounding the current outlook is high given ongoing domestic political developments and continued external risks."
GDP growth picked up to 2.7 percent in Q1 2023 and the output level has surpassed its pre-pandemic level, after growing by 2.6 percent in 2022. Growth is expected to strengthen to 3.7 percent in 2023 and 3.9 percent in 2024, driven by the continued recovery in tourist arrivals and resilient domestic demand, and supported by improvement in exports.
Headline inflation slowed significantly to 0.4 percent in July 2023 from an average of 6.1 percent in 2022, mainly due to the decline in oil and commodity prices. Core inflation also declined steadily to 0.9 percent in July 2023 from 2.5 percent in 2022. For the whole of 2023, headline and core inflation are projected to be 1.6 and 1.7 percent respectively, and are forecast to increase to 2.0 and 1.8 percent respectively in 2024, given the continued economic recovery and expectation of higher food prices.
Risks and vulnerabilities
Compared to last year, downside risk to growth has receded. Nevertheless, uncertainty to the overall outlook is elevated. Domestically, prolonged political uncertainty is a downside risk that could derail the ongoing economic recovery. On the external front, faltering recovery in China could further hinder the recovery in the tourism sector and the Thai economy more broadly. In addition, a possible recession in the US and Europe could further curtail demand for Thai manufacturing exports.
Inflationary pressure, arising from food prices, could be higher-than-expected due to more extreme El Niño conditions that could reduce agriculture output globally and increase protectionist measures. Moreover, higher fiscal spendings and a possible minimum wage increase could also add to the inflationary pressure.
Various structural challenges could hinder Thailand's ability to revitalize its long-term growth. Productivity—constrained by a large informal sector—has been declining in the last 20 years, while the economy will become a "super-aged" society by the end of the decade. The infrastructure gap also remains large. On top of these, the country will also have to navigate the ongoing geoeconomic shifts in trade and investment, as well as address climate change risks.
Policy recommendations
Given the economic outlook and the underlying risks and vulnerabilities, the overarching policy priorities should be aimed at ensuring that the economic recovery is firmly entrenched, rebuilding policy space and addressing existing vulnerabilities, as well as prioritizing the revitalization of sustainable long-term growth.
The current monetary policy stance is appropriate given the strengthening economic recovery and prevailing financial conditions. Going forward, the calibration of monetary policy should remain dependent on the continued evolution of the economic outlook especially given the elevated level of uncertainty.
On financial stability, the continued phasing out of pandemic-related support is appropriate amid the stronger recovery. As some measures progressively expire, authorities are encouraged to closely monitor financial institutions' asset quality for early signs of credit deterioration, especially for weaker borrowers. AMRO welcomes the new prudential measures announced by the Bank of Thailand to address vulnerabilities from high household debt. The implementation of these measures should be accompanied by efforts to minimize the risks of unintended consequences, especially the migration of lending activities to the less regulated and the informal sectors.
AMRO supports the contractionary fiscal policy stance in FY2023 and the fiscal consolidation plan in the medium-term. However, there is scope to increase the pace of consolidation to allow for swifter rebuilding of fiscal policy space. This is essential for economic resilience as it enhances the capacity to address future economic shocks. The authorities could consider introducing additional revenue-enhancement measures and implement tax policy and administration reforms. The revenue mobilization efforts would also secure additional funding for long-term social protection and aging-related spending needs.
To enhance longer-term growth, a further scaling up of public investment, prioritizing supply side policies, encouraging balanced regional development, and improving labour productivity will be key. The pursuits of new free trade agreements will help Thailand buffer against geopolitical risks and sustain its external competitiveness. In addition, sizable investment would be needed to address the risks associated with climate change and to support sustainable economic growth.
The AMRO team would like to express its gratitude to the Thai authorities and other participating organizations for their cooperation and candid exchange of views. AMRO wishes to express its appreciation for the strong support from the authorities and the excellent arrangement that has made this mission possible.
About AMRO
The ASEAN+3 Macroeconomic Research Office (AMRO) is an international organization established to contribute toward securing macroeconomic and financial resilience and stability of the ASEAN+3 region, comprising 10 members of the Association of Southeast Asian Nations (ASEAN) and China; Hong Kong, China; Japan; and Korea. AMRO's mandate is to conduct macroeconomic surveillance, support regional financial arrangements, and provide technical assistance to the members. In addition, AMRO also serves as a regional knowledge hub and provides support to ASEAN+3 financial cooperation.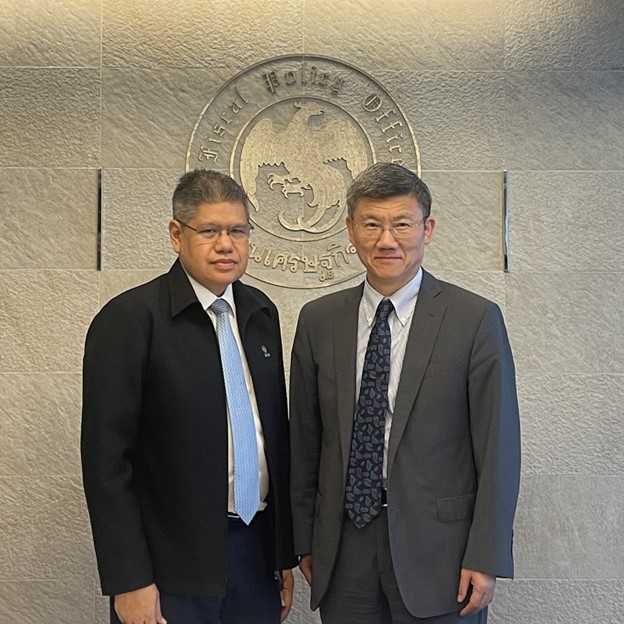 AMRO Director Kouqing Li met with Thailand Ministry of Finance's Director of Bureau of International Economic Policy, Mr. Rit Syamananda.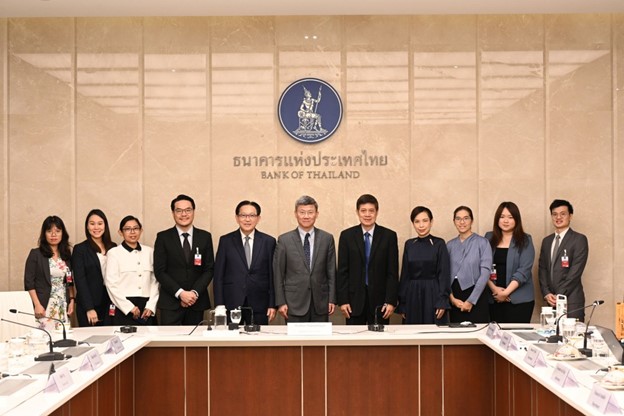 AMRO Director Kouqing Li, Chief Economist Hoe Ee Khor and the AMRO team met with Deputy Governor Mathee Supapongse and other senior officials from the Bank of Thailand.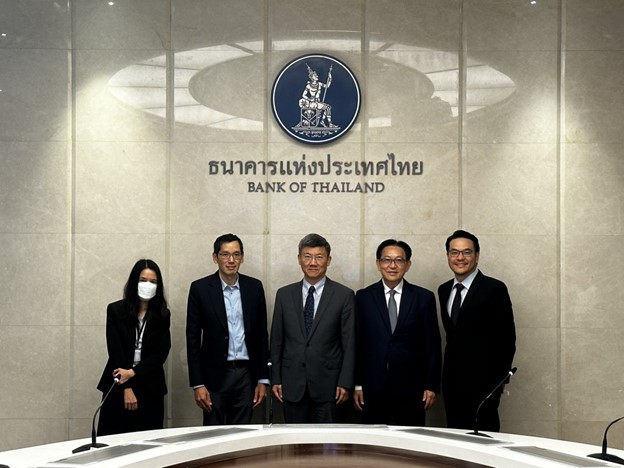 AMRO Director Kouqing Li, Chief Economist Hoe Ee Khor, and the AMRO team met with Advisor Krislert Samphantharak and Director Nada Wasi from the Puey Ungphakorn Institute for Economic Research.