Mr. Kouqing Li, Director of ASEAN+3 Macroeconomic Research Office (AMRO), talks about the organization's new Strategic Direction 2030 and the evolving role of AMRO as the only international organization established under the ASEAN+3 Finance Process.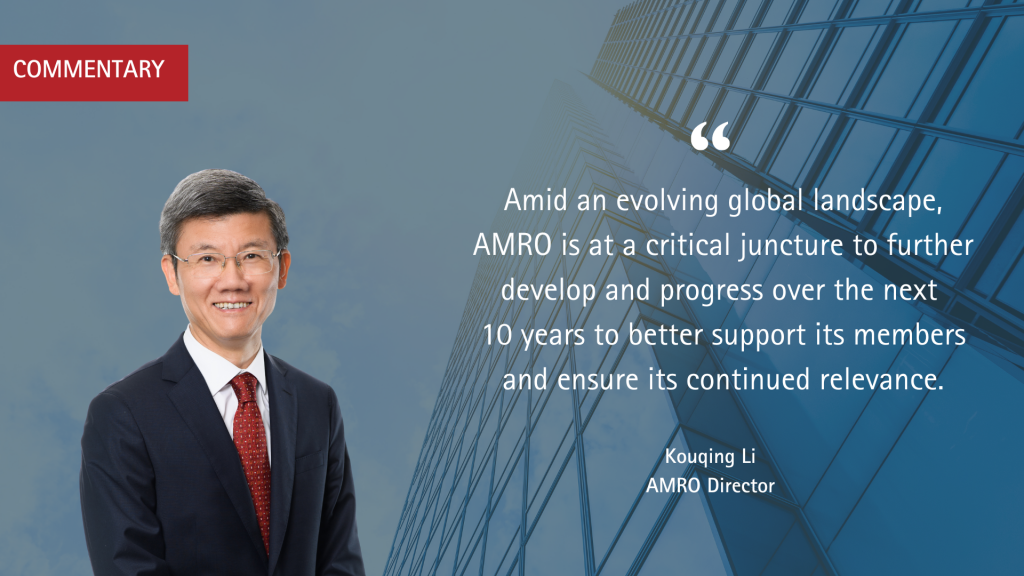 Q. What is the purpose of AMRO and why is it important?
A. Established in 2011, the ASEAN+3 Macroeconomic Research Office (AMRO) is an international organization with a mandate to contribute to securing the economic and financial stability of the ASEAN+3 region.
Its members comprise the 10 member states of the Association of Southeast Asian Nations (ASEAN), and China; Hong Kong, China; Japan; and Korea.
To fulfill its mandate, AMRO focuses on three core functions—conducting macroeconomic surveillance, supporting the implementation of the regional financing arrangement (RFA), and providing technical assistance (TA) to members.
Q. Why did AMRO embark on a review of its strategic direction?
A. AMRO has made impressive progress over the years thanks to ASEAN+3 members' joint efforts and continued support. Since forming in 2011, it has developed well past the start-up phase and now plays a burgeoning role as an international organization in ASEAN+3.
In the process, AMRO has built up a professional team, enhanced its organizational capacity, and strengthened its core functions; resulting in growing recognition from its members and the international community.
Much has been achieved but more remains to be done.
Amid an evolving global landscape, AMRO is at a critical juncture to further develop and progress over the next 10 years to better support its members and ensure its continued relevance.
Following the guidance of the ASEAN+3 Finance Ministers and Central Bank Governors in May 2022 and under the instruction of its Executive Committee (EC), AMRO formulated its new long-term institutional strategy toward 2030—SD2030.
AMRO's SD2030 was approved by its EC in December 2022.
Q. How does AMRO's SD2030 cater to the needs of the ASEAN+3 region?
A. The ASEAN+3 region is one of the world's most dynamic and fastest-growing regions. If the momentum continues, by 2030, the region's GDP may expand by around 70 percent to more than USD50 trillion; essentially raising ASEAN+3's share of the global economy to about one-third within the next decade. The region's increasing economic heft will inevitably heighten its role and voice in international issues.
Nonetheless, any future growth in the region calls for greater versatility and hinges on how well regional economies cope with existing and emerging challenges. In addition to dealing with headwinds such as the high inflation and interest rates, increasing debt vulnerability, and prolonged geopolitical tensions, the region also faces structural challenges. These include climate change, financial digitalization, ageing populations, and the reconfiguration of supply chain.
As a result, closer policy coordination, deeper financial cooperation, and stronger regional financial safety nets are key to securing the region's macroeconomic and financial resilience and stability.
Since the 1997 Asian financial crisis, the ASEAN+3 economies have been diligently enhancing their regional financial safety. They set up the ASEAN+3 Finance Process to promote regional cooperation with fruitful initiatives such as the Chiang Mai Initiative Multilateralisation (CMIM) and Asian Bond Markets Initiative (ABMI).
As the only international organization established under the ASEAN+3 Finance Process, AMRO is expected to become stronger and play a bigger role as a trusted policy advisor to its members and a thought leader with regional focus and global influence.
To effectively deliver its mandate and better support ASEAN+3 members in enhancing their macroeconomic and financial resilience as well as preventing and resolving future crises of various nature, AMRO will adapt to the changing environment and elevate its mission—to contribute to the region's macroeconomic and financial resilience and stability.
AMRO will leverage its unique position "of the region, created by the region, and for the region", and broaden its scope to help members enhance their resilience against various shocks and challenges, foster economic transformations, and maintain long-term resilience and stability.
Q. How will AMRO implement its SD2030?
A. AMRO's SD2030 outlines the future direction of the organization. To achieve its goals, AMRO must be well-prepared to address threats and embrace  opportunities in a future filled with uncertainties, starting with ways to strengthen its core functions.
AMRO will continue to make surveillance a cornerstone, across individual economy, regional and sectoral levels. In the next decade, a key focus is to improve the quality of policy advice to make it even more timely, relevant, pragmatic, and implementable.
AMRO will also step-up efforts in advancing RFA by supporting longer-term development of ASEAN+3 RFAs to help members address new challenges and continuing to ensure the CMIM's operational readiness.
Meanwhile, AMRO will also actively strengthen its TA function and further scale up TA activities to support ASEAN+3 members in need. In particular, it will enhance strategic TA management and deliver more relevant and tailor-made programs to suit members' needs.
Q. The need to do more seems to be the overarching theme. Besides enhancing AMRO's core functions, are there new initiatives?
A. One initiative is to establish AMRO's standing as the Regional Knowledge Hub (RKH) and provide higher-quality, more relevant and accessible knowledge support to members. Some key actions include forming a new group–the macro-financial research group—to strengthen knowledge generation and enhance data management; creating an ASEAN+3 Finance Think-tank Network with regional think tanks to bolster the breadth and depth of research; and promoting knowledge dissemination and exchange, such as through AMRO's annual flagship forum—ASEAN+3 Economic Cooperation and Financial Stability Forum.
At the same time, AMRO will seek to provide more proactive, systematic, and consistent secretariat support to the ASEAN+3 Finance Process. This could include better supporting policy agenda and discussion, fostering synergy with other regional institutions and mechanisms, and facilitating relevant key initiatives and the operation of the ASEAN+3 Finance Process.
Implementing these functions and initiatives requires AMRO to further enhance its competency, professionalism, and efficiency in the coming decade. Over the years, the collective strength of its staff as "ONE AMRO" has been critical to AMRO's success. AMRO will continue to build a high-performing and diversified workforce as well as promote staff engagement and a cohesive organizational structure that is nimble and effective.
Q. Closing thoughts.
A. Today's complex and rapidly evolving global landscape has made the work of AMRO more important and urgent. Guided by its SD2030, I am confident that AMRO will continue to serve as a trusted policy advisor to ASEAN+3 members and rise as an influential thought leader in the years to come. Now with AMRO's new mission and vision statements in place, the hard work begins.