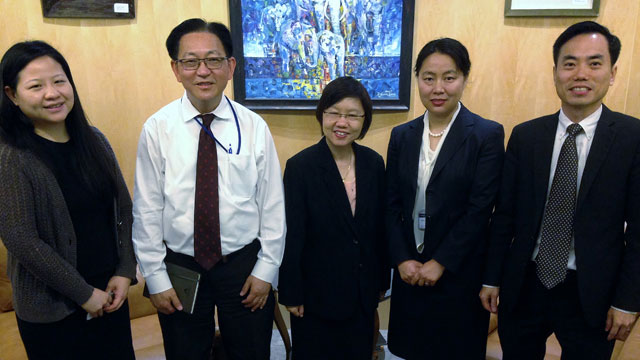 From left to right: SMOF Deputy Director (INT), Ms Lina Chua; AMRO Chief Economist, Dr Hoe Ee Khor; SMOF PS, Mrs Tan Ching Yee; AMRO Director, Dr Chang Junhong; SMOF Director (INT), Mr Lee Pak Sing.
Dr Junhong Chang, Director of the ASEAN+3 Macroeconomic Research Office (AMRO), and Dr Hoe Ee Khor, Chief Economist of AMRO, paid a courtesy call on Mrs Ching Yee Tan, Permanent Secretary of the Singapore Ministry of Finance, and Mr Ravi Menon, Managing Director of the Monetary Authority of Singapore, on 1 June 2016 and 30 May 2016 respectively.
During the courtesy calls, Dr Chang emphasised her strong commitment to exert her best effort to develop AMRO as one of the premier surveillance units in the region, enhance AMRO's supporting capacity for the Chiang Mai Initiative Multilateralisation (CMIM), advance AMRO's Technical Assistance activities, and strengthen partnerships with peer international organisations. Both Mrs Tan and Mr Menon warmly welcomed Dr Chang to Singapore, and reiterated Singapore's commitment to support AMRO as the independent surveillance unit of the CMIM, in the capacity as an AMRO member, as well as the Host country of AMRO.