Seminar: Building Capacity and Connectivity for the New Economy in East Asia
Date & Time: Wednesday,  May 1, 2019, 10:00 AM – 12:00 PM
Location: Ballroom 2, Sofitel Fiji Resort & Spa in Nadi, Fiji
Contact: enquiry@amro-asia.org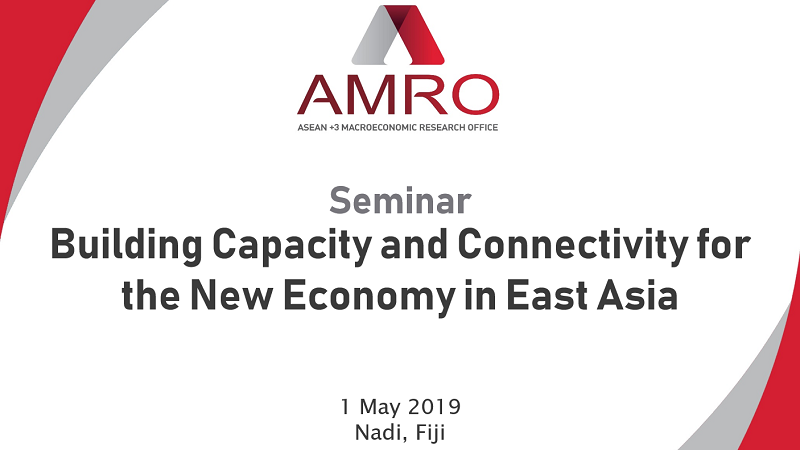 A seminar on the theme "Building Capacity and Connectivity for the New Economy in East Asia" follows the launch of the ASEAN+3 Regional Economic Outlook (AREO) 2019. The seminar will focus on how East Asia, as one of the most dynamic emerging market regions in the world, can tackle multiple challenges related to strengthening their collective development capacity and cross-border connectivity. High-level speakers will discuss how the region can prepare itself to rise to the challenges of the "new economy," sustain buoyant growth, and continue to embrace and benefit from globalization—at a time when protectionist tendencies in the trade and technology space are rising.
At the seminar, AMRO will present key findings of the thematic part in its flagship report, the ASEAN+3 Regional Economic Outlook (AREO) 2019, to set the context for the discussion. Prominent speakers and participants, who include ASEAN+3 policymakers and leaders of multilateral banks, will be invited to share their insights and exchange views from various perspectives. The seminar will provide an opportunity to understand better how the region can react to global economic trends and further strengthen regional cooperation.
The event will invite ASEAN+3 decision-makers, and will be open to other participants and media. Please go to the registration page to register for the event.
Time
Activity
10:00 am – 10:30 am
Registration
10:30 am – 10:35 am
Opening Remarks by AMRO Director Junhong Chang
10:35 am – 10:50 am
Presentation by AMRO Chief Economist How Ee Khor
10:35 am – 11:30 am
Panel Discussion

Moderator:  AMRO Chief Economist Hoe Ee Khor

Panelists:

·         Francisco G. Dakila, Jr., Assistant Governor of the Monetary Policy Sub- Sector, Bangko Sentral ng Pilipinas (BSP) – TBC

·         Marzunisham bin Omar, Assistant Governor, Bank Negara Malaysia (BNM)

·         D. J. Pandian, Vice President and Chief Investment Officer, Asian Infrastructure Investment Bank (AIIB)

·         Yasuyuki Sawada, Chief Economist, Asian Development Bank (ADB)

·         Chikahisa Sumi, Director, Office of Asia Pacific, International Monetary Fund (IMF)

11.30 am – 12.00pm
Q&A
Moderator:
Hoe Ee Khor 
Dr. Khor oversees the work on macroeconomic and financial market surveillance of AMRO's member economies. Prior to joining AMRO, Dr. Khor was Deputy Director of the Asia and Pacific Department (APD) at the International Monetary Fund (IMF). He also served as Assistant Managing Director of the Monetary Authority of Singapore (MAS) from 2001 to 2009.
Panelists:
Francisco G. Dakila, Jr. (TBC)
Francisco G. Dakila, Jr. is the Assistant Governor of the Monetary Policy Sub-Sector, Bangko Sentral ng Pilipinas. He provides highly-technical advisory support on matters relating to the formulation, implementation and assessment of policies and programs in his areas of specialization, which include the monetary, external, real and financial sectors.
Prior to joining the BSP, he worked at the US Agency for International Development (USAID) and at the Agricultural Credit Policy Council. He also previously taught at the University of the Philippines School of Economics and at the De La Salle University in Manila. Dr. Dakila received his Ph. D. and MA in Economics and B.S. in Economics (magna cum laude) from the University of the Philippines-School of Economics.
Marzunisham bin Omar
Marzunisham Omar is the Assistant Governor of Bank Negara Malaysia responsible for economics and monetary policy, as well as overseeing international relations. Marzunisham is a member of the Bank's Monetary Policy Committee, Management Committee and Reserve Management Committee with 25 years' experience in economic and monetary policy formulation, financial sector regulation and development, and financial inclusion.
Marzunisham served as an Executive Director of the International Monetary Fund (IMF), representing countries in the South East Asia Constituency. As a member of the Executive Board, Marzunisham played a part in key decisions of IMF activities, including surveillance, policy advice, technical assistance and lending programmes. Marzunisham holds a BA and MA in Economics from Cambridge University.
D. J. Pandian 
D. J. Pandian leads the investment portfolio for the Bank, having oversight for all sovereign and non-sovereign lending. In this role, he and his team of specialists are responsible for the end-to-end management of the Bank's project pipeline from identification to implementation. Before joining AIIB, he had an extensive career spanning 30 years with the Indian Administrative Services, holding key positions at the state, national, and international levels in the energy (oil and gas, power, renewable), infrastructure, finance sectors. During his career, he served in the Government of Gujarat in various capacities including: Chief Secretary; Additional Chief Secretary, Industries and Mines; and Principal Secretary, Energy and Petrochemicals Department. Pandian received his PhD in energy security and MBA from University of Madras, India.
Yasuyuki Sawada
Mr. Sawada is the chief spokesperson for ADB on economic and development trends, and leads the Economic Research and Regional Cooperation Department (ERCD), which publishes ADB's flagship knowledge products. His research interests include macro- and micro-development economics, microeconometrics, economics of disasters, and field surveys and experiments. He possesses rich experience in policy-oriented research with various universities and institutions – including Crawford School of Public Policy, Japan International Cooperation Agency (JICA) Research Institute, and the World Bank.
Chikahisa Sumi
Chikahisa Sumi was appointed Director of Regional Office for Asia and the Pacific, International Monetary Fund in 2016. He has worked on Asia and the Pacific counties for seven years in the IMF, also headed the Financial Sector Surveillance Group of the Asia and Pacific Department, and led the Future of Asia's Finance project. Before IMF, he held key positions in the Japanese Government, including Deputy Vice Minister of Finance for International Affairs, and Deputy Commissioner of Financial Services Agency.