By Malichanh Chiemsisoulath
This article is reviewed by Hoe Ee Khor, Chief Economist, and Sumio Ishikawa, Lead Economist.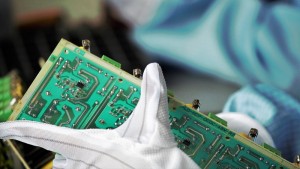 The global semiconductor industry has gone through several business cycles over the past fifteen years (Figure 1). It is currently at the bottom of its cycle and appears to be turning around.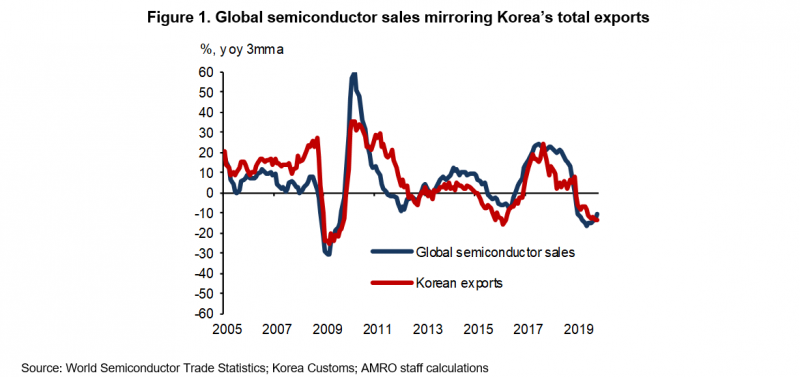 From 2016-2018, social media platforms and data centers, including cloud services, boomed in demand. As the IT community developed at a strong pace, servers with larger storage capacities were needed. This led to a dramatic increase in global demand for semiconductors—a crucial component of the server.
The surge was, however, followed by a saturation of the server market from late 2018 due to a decline in global capital expenditure, leading to a cut in IT infrastructure expenditure. As a result, the demand for semiconductors weakened and prices dropped.
The Korean economy and the global semiconductor cycle are correlated
Korea is home to leading memory chip manufacturers, namely Samsung Electronics and SK Hynix. The two companies command about 50 percent share of the global memory chips market—NAND and DRAM—in 2019.
In terms of total semiconductor sales of both memory and non-memory chips, Korea dominates with a 23 percent market share (Figure 2).
In turn, the semiconductor industry is a major driver of the Korean economy, accounting for about 5.9 percent of GDP in 2018. In other words, the performance of the Korean economy depends greatly on whether the semiconductor industry is expanding or contracting.
In 2019, Korean exports contracted and the sales revenue of listed Korean companies, especially the chipmakers declined, reflecting the effects from a slowdown in the semiconductor industry worldwide.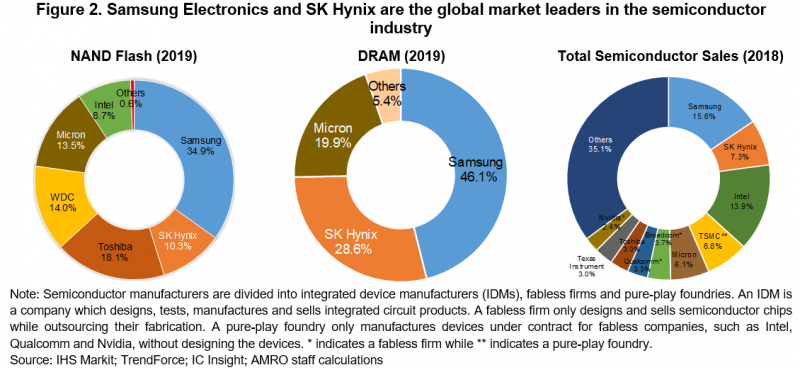 Nascent signs of a rebound in the global semiconductor cycle
Around the middle of 2019, the contraction in sales of data-center processors and non-memory products bottomed out, while inventories of memory chips shrank. The prices of certain chip segments picked up. The profits of the big semiconductor companies, such as Taiwan Semiconductor Manufacturing Company (TSMC) and Samsung Electronics, improved in the second half of 2019.
An expansion of the global semiconductor cycle is expected in 2020, underpinned by investment in 5G infrastructure in many countries, and the adoption of artificial intelligence technology.
Active development of the 5G infrastructure and ecosystem in many countries, including Korea, will drive demand for more advanced and sophisticated electronic equipment. These include smartphones, smart cars and Internet of Things, all of which use semiconductors as the main component. In light of this, the global semiconductor market is expected to grow by 19.5 percent over the four-year period from 2020-2022 (Figure 3).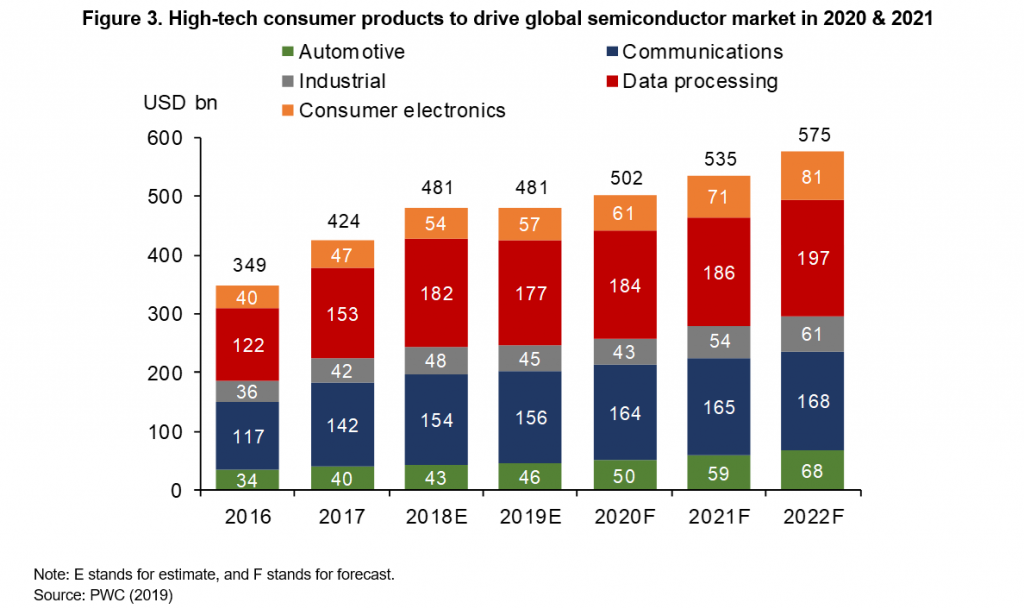 COVID-19 presents an upside risk to the semiconductor industry
An upturn in the global semiconductor market is expected to shore up Korea's growth which has been dampened by the COVID-19 pandemic. However, this health crisis has given rise to telecommuting which in turn gives e-commerce,  video- and tele-conferencing a big boost, leading to an upside risk to the semiconductor industry.
The country's memory chips giant, Samsung Electronics, has been expanding its facilities in the Pyeongtaek plant since 2017. Its new fabrication line is scheduled to start operation in the second half of 2020. In addition, the company also planned to expand its business to non-memory chips and foundries by 2030. It is investing an average KRW 11 trillion a year through 2030 to build facilities and develop human resources as well as to conduct research and development.
Overall, the growth of the global semiconductor market is estimated to boost Korea's GDP by about 0.28 percentage points annually on average from 2020-2022. Beyond the direct impact, the expected spillover effects to other sectors will boost the economy further.
For more information on Korea's economic outlook, download AMRO's Annual Consultation Report on Korea.