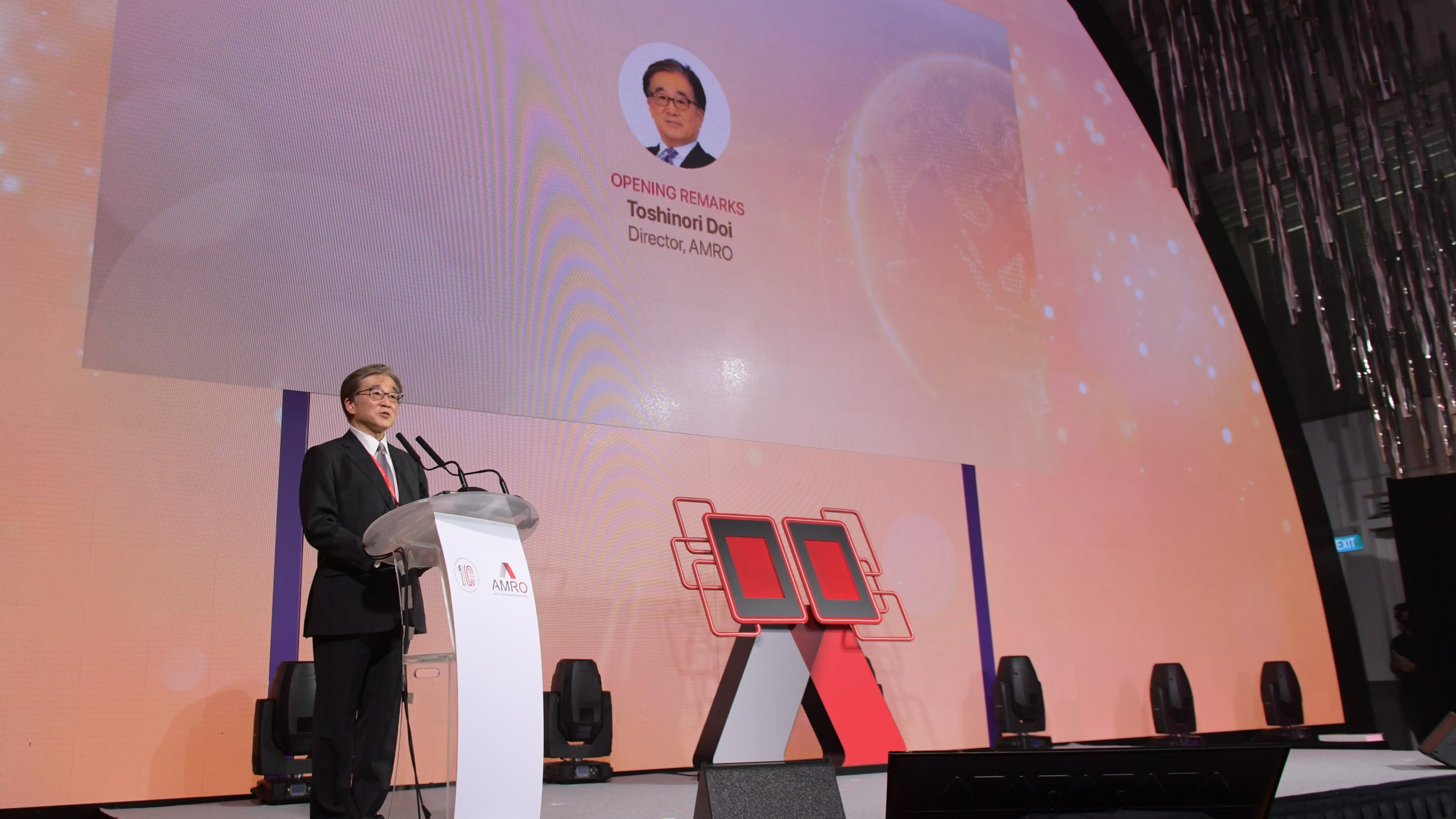 In April 2011, when AMRO was established, the world had just emerged from the global financial crisis. Back then, the ASEAN+3 member economies of the 10 ASEAN nations, plus China; Hong Kong, China; Japan and Korea got together to form a dedicated and independent surveillance unit to safeguard the macroeconomic and financial stability of the region.
Today, AMRO's mission is more critical than ever as the region copes with the challenges arising from the COVID-19 pandemic.
As the international organization "of the region, created by the region, and for the region", AMRO takes pride in our role as a trusted policy advisor to members. Over the past decade, we focused on quality surveillance, supporting the implementation of the regional financial safety net—the Chiang Mai Initiative Multilateralisation (or CMIM)—and providing customized technical assistance to our member states.
Since joining AMRO in 2019, I have devoted to establishing the institution as a capable and trusted "family doctor". We stay close to our members, and make sure that their economic health is in good shape. If they are not, we will "diagnose" the symptoms, and standby to support the activation of CMIM, the regional financial safety net. So far, that has not been necessary.
In the next 10 years, to be able to deal with more complex and larger scale financial volatility, AMRO needs to be more than a "family doctor".
AMRO should develop "specialist" capabilities in areas crucial to the region. We need to enhance our sectoral surveillance capacity and formulate institutional views on core issues, including capital flow management measures and macro-prudential policy measures. Next, we have to expand our research to cover emerging and long-term macro-structural issues, such as financial digital transformation, population aging, and climate change.
As ASEAN+3 assumes a more active role in global economic policymaking, AMRO, as the regional knowledge hub, will support our members by providing relevant analyses and recommendations. In this regard, AMRO can provide a platform for our members to discuss economic and financial policies and serve as a regional thought leader. Furthermore, AMRO may become the ASEAN+3 secretariat for the finance track, providing more institutional support to the process.
AMRO should work toward strengthening the regional financial architecture. There are many financing sources within the region; including multilateral and bilateral, long term and short term, concessional and non-concessional, often with limited coordination among them. AMRO, by constantly monitoring members' external positions, can serve as a platform for members to take stock of the financing sources available, and play the role of a facilitator or coordinator during crises. In particular, AMRO should play a constructive role in establishing a stronger coordination between bilateral swap arrangements and the CMIM, and in creating a stronger regional financial safety net by collaborating with our partner institutions like the International Monetary Fund (IMF) and other regional financial arrangements.
AMRO prioritizes collaboration in macroeconomic surveillance, research on thematic issues, capacity building, and contribute to the policy agenda setting. It is important that we forge synergies with our partners to facilitate the formation of regional policies and cooperation agenda, and participate in various international fora to represent the "voice of the region". Some instances are the signing of a Memorandum of Understanding with OECD in August 2021, and AMRO's inaugural participation in the ASEAN+3 Leaders' Summit in October this year.
In the past three years, the CMIM Arrangement has seen several major upgrades. The IMF De-linked Portion has been increased to 40% with a streamlined and robust conditionality framework, a smooth collaboration mechanism with the IMF has been established, and the use of local currency institutionalized.
I am proud that the region's financial safety net is now fully operational. Moving forward, the CMIM will become more important to the region, and has the potential to be more effective by catering to members' changing needs. I see three possibilities:
First, the CMIM may establish a special trust fund to extend concessional lending to assist low-income economies.
Second, AMRO's surveillance and CMIM functions can be integrated with the ASEAN+3 Co-chairs' coordination functions to holistically and effectively oversee all aspects of CMIM activation.
Third, the CMIM Agreement could be upgraded into an international treaty to ensure better institutional governance.
Finally, one of AMRO's core functions is to promote capacity building in member economies through a Technical Assistance (TA) program. The objective is to strengthen macroeconomic surveillance capabilities, and contribute to the macroeconomic and financial stability of the region. Over the past decade, AMRO's TA work has evolved in response to members' needs and in keeping with AMRO's organizational capacity. In the decade ahead, AMRO's TA activities will continue to be scaled up across different programs in response to members' needs, and in a timely and tailored manner.
10 years may not be a long journey, but it is an important milestone both for the institution and ASEAN+3 Finance Process. In a short space of time, AMRO has grown to meet the needs of our members and the region, positioning as ASEAN+3's trusted policy advisor.
I look forward to witnessing its development in the years ahead as a premier regional knowledge hub alongside the region's growth momentum.