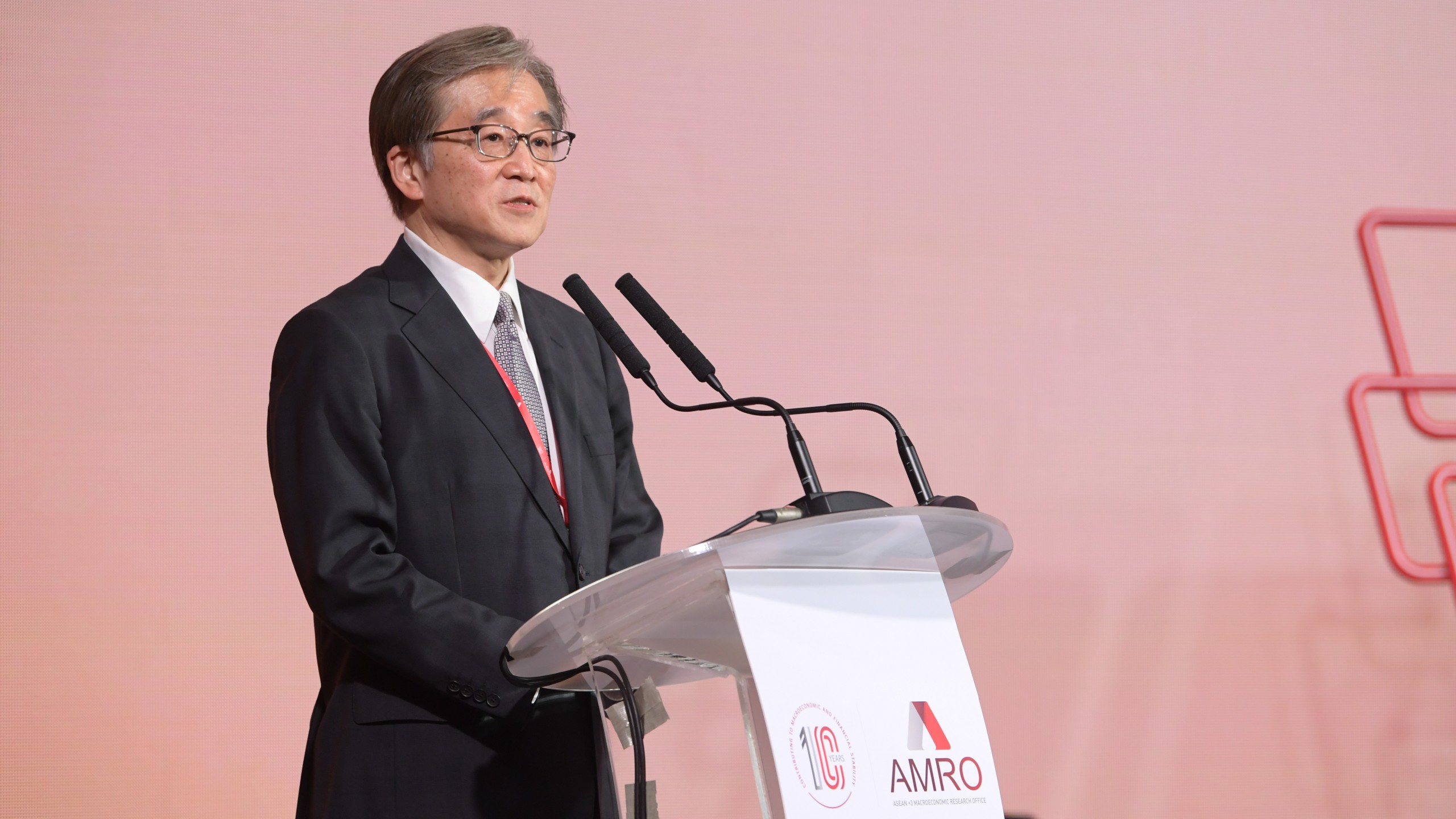 Opening Remarks by AMRO Director Toshinori Doi
AMRO's 10th Anniversary Celebration
December 7, 2021
Ms. Indranee Rajah, Minister in the Singapore Prime Minister's Office, and Second Minister for Finance and National Development
Excellencies
Distinguished speakers and guests
It is my great pleasure to welcome you to AMRO's 10th anniversary celebration.
I am very glad to acknowledge the ASEAN+3 ambassadors and member authorities joining us here in Singapore and virtually. I would also like to warmly welcome our friends from peer international organizations, the media, our partners, and colleagues.
10 years may not be a long time, but it is an important milestone. It is a juncture for us to take stock, celebrate, and importantly, chart the way forward.
In April 2011, when AMRO was established, the world had just emerged from the global financial crisis. Back then, the ASEAN+3 member economies of the 10 ASEAN nations, plus China; Hong Kong, China; Japan and Korea got together to form a dedicated and independent surveillance unit to safeguard the macroeconomic and financial stability of the region. This mission remains critical today.
AMRO focuses on quality surveillance, supporting the implementation of the regional financial safety net—the Chiang Mai Initiative Multilateralisation (or CMIM)—and providing technical assistance to member states.
As the international organization "of the region, created by the region, and for the region", AMRO takes pride in our role as a trusted policy advisor to members.
AMRO is based in Singapore and we are extremely grateful to the Singapore Ministry of Finance and Monetary Authority of Singapore for being wonderful hosts to our organization.
Today, we will be taking you through AMRO's journey, starting from the Asian financial crisis in 1997-1998, from which the ASEAN+3 Finance Process was established. You will hear firsthand from our speakers on how our region's leaders learned from the crisis and bounced back stronger.
We will be launching a book to symbolize the spirit of solidarity, and to take stock of how far the region has come since the late 1990s. The book is dedicated to all our member economies.
Fast forward to the present day, ASEAN+3 is once again at a crossroads. We are facing obstacles to growth and a stringent test on humanity in the form of COVID-19. But, being at the right place, we are presented with opportunities.
You will hear from our speakers on how regional cooperation remains crucial post-pandemic, with AMRO as the region's economic and financial guardian.
I'd like to express my sincere appreciation to speakers who have sent us their special messages. They are…starting with the current Co-chairs of the ASEAN+3 Finance Process; Brunei and Korea:
Dato Dr. Amin Liew Abdullah, Minister at the Brunei Darussalam Prime Minister's Office and Minister of Finance and Economy II of Brunei Darussalam
Hong Nam-ki, Korea's Deputy Prime Minister, and Minister of Economy and Finance
Liu Kun, China's Minister of Finance
Sri Mulyani Indrawati, Minister of Finance, Indonesia
Kuroda Haruhiko, Governor of the Bank of Japan
Kanda Masato, Japan's Vice Finance Minister for International Affairs
Kristalina Georgieva, Managing Director of the International Monetary Fund
Masatsugu Asakawa, President of the Asian Development Bank, and
Professor Zhang Yuyan, Director of the Institute of World Economics and Politics
Ladies and gentlemen,
Thank you for your participation.
I hope you enjoy today's program.