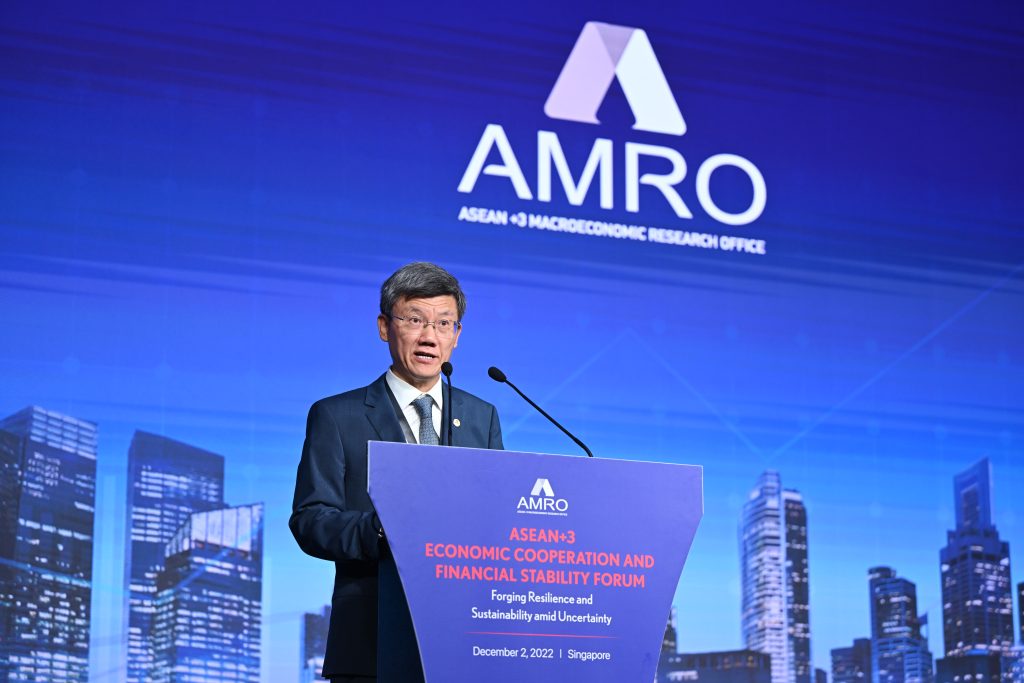 Opening address by AMRO Director, Kouqing Li
ASEAN+3 Economic Cooperation and Financial Stability Forum
December 2, 2022
Excellencies, distinguished guests, ladies and gentlemen.
It is my great pleasure to welcome you to the ASEAN+3 Economic Cooperation and Financial Stability Forum. To our in-person attendees and virtual participants, good morning from Singapore! Thank you all for your support.
Dear friends, we gather today at a very critical juncture for global and regional economies. AMRO launched this Forum to bring attention to the important macroeconomic and financial stability issues affecting the region.
We want this to become an annual platform where policymakers and experts gather to share insights and propose solutions. Together, we will work toward our common goal of securing economic and financial resilience and sustainability for the ASEAN+3 region.
Forging resilience and sustainability amid uncertainty—the ASEAN+3 way
Dear friends, ASEAN+3's recovery is fraught with growing uncertainty. We are facing a formidable environment with crisis upon crisis. Amid the challenges, it is high time for us to join hands and look at ways to Forge Resilience and Sustainability amid Uncertainty, which is the theme of our Forum.
In literal terms, forging is a process of creating something strong and enduring, like moulding metal through extreme heat. We may feel the scorching heat of the harsh conditions and challenges today but, through our joint efforts, that very process may forge more resilient and sustainable economies.
Twenty-five years ago, we witnessed a similar situation. Our regional economies were devastated by the shock of massive capital outflows. But the region came together to overcome, repair, and rebuild. We emerged triumphant from the trauma of the Asian financial crisis.
From the past crises, at least three key lessons can be drawn on how we can deal with today's challenges. They are: maintaining confidence, always being prepared, and committing to multilateral cooperation.
First, in the face of challenges, we must maintain confidence.
We have reasons to remain confident and positive. Our region has built strong resilience since the 1997 Asian financial crisis and successfully weathered the 2008 global financial crisis.
ASEAN+3 economies have rebuilt balance sheets, increased foreign reserves, strengthened economic fundamentals, and improved governance.
The ASEAN+3 Process has been established as a constructive and effective mechanism for regional cooperation. In particular, the ASEAN+3 finance track has produced tangible initiatives and outcomes such as the CMIM, ABMI, and AMRO, which serve to prevent and resolve future financial crises.
We have become more skilful at navigating uncertainties and managing shocks. Today, our region is doing relatively well compared to others.
The ASEAN+3 economies have grown at a remarkable pace in recent decades. In 2023, the region's growth rate is expected to increase to 4.6 percent, well above the global average. It is anticipated that the global center of gravity for economic activities will continue to shift to Asia, making the ASEAN+3 region a major engine of growth for the global economy in the coming decades.
The region was also able to turn challenges into opportunities. The COVID-19 pandemic has spurred innovations in sectors such as retail, finance, and healthcare. Furthermore, the green and digital transformations will boost the region's potential and comparative advantage.
These are very encouraging developments and reasons for us to be confident. Yet, none of us can predict when the next crisis will emerge. We should have strong confidence, but not blind faith.
This leads to my next point: We must always stay vigilant and be prepared for any potential crisis.
Downside risks continue to cast a dark shadow over the global economy:
a sharper slowdown in major economies,
a more aggressive monetary tightening in the US,
fragmentation of the global economy caused by geopolitical tensions,
a deepening energy crisis which adds to the climate crisis.
These conditions may be a precursor to another shock. We should not lose our focus and become complacent. We must remain vigilant.
This is why AMRO and the ASEAN+3 Finance Process are constantly working to ensure that the region is always prepared for a crisis or shock.
Being prepared underscores the importance of having a fully operational regional financing arrangement. That is why the CMIM is continuously enhanced to ensure its effectiveness and operational readiness.
AMRO, as the only international organization dedicated to the ASEAN+3 region, has supported our member economies throughout this process. We have strengthened our surveillance as a trusted policy advisor to help the region identify and address risks and vulnerabilities. We also facilitate regional financial cooperation, especially the CMIM.
Equally important are the initiatives that deepen regional bond markets to address double mismatches and mobilize the high savings for infrastructure and other developmental projects.
Much has been achieved but much more remains to be done.
This underscores the importance of strengthening regional cooperation and integration.
Today's crisis situation shows the need to improve global economic and financial governance. There has been a lot of discussion on the threat of deglobalization and geoeconomic fragmentation – and how these further jeopardize the already fraught environment, undermining economies' resilience.
In an increasingly fragmented world, our response is always to work together to meet the challenges. Lessons from the past have taught us that regional economies should collaborate, especially during these turbulent times.
Some of the challenges we face today are common across the entire region. They cannot be solved by one economy alone.
In this context, strengthening regional cooperation is essential to cope with the evolving challenges, enhance economic resilience and safeguard financial stability. Closer intraregional cooperation—in connectivity, cross-border flows, and digital integration—will expand the region's opportunities to secure resilient growth and prepare for future shocks.
The region should keep our cooperative spirit burning and serve as an inspiration to the rest of the world. Multilateralism remains the most effective way to forge resilience and sustainability. The need for stronger international cooperation is clear.
First, we should enhance policy coordination and dialogue. Through economic and financial discussions, like we do at this Forum, we can exchange views on challenges facing the region and formulate policies that are in the common interest and with fewer spillovers. AMRO, with strong support from the ASEAN+3 members, strives to play a vital role in representing the region's voice and to contribute to the discussions of the global policy agenda.
Second, further advance regional financing arrangements by considering the changing nature of financing needs amid evolving challenges and uncertainty, and catering to the different development stages of regional economies.
Third, initiate and expand new areas of cooperation on emerging issues such as climate change, financial digitalization, and supply chain reconfiguration.
Building on these efforts, we should also forge synergies among regional cooperation mechanisms. This could further strengthen our regional governance and, in turn, contribute to an effective, inclusive, and balanced global governance.
Conclusion
Dear friends, as a Chinese proverb says, 百炼成钢, which means "The hardest steel is forged in the hottest fire." Together, we can prevail and forge resilience and sustainability, the ASEAN+3 way.
Once again, I would like to extend my sincere appreciation to all the distinguished speakers and guests and look forward to our discussions.
I now declare the ASEAN+3 Economic Cooperation and Financial Stability Forum open. Thank you.