SINGAPORE, June 28, 2019 – Myanmar's economy has picked up in FY18/19 after slowing down in the six-month transition in FY18 before the new fiscal year. The recovery is supported by an improvement in business sentiment amid renewed reform momentum, strong growth in garment manufacturing, expansion of tourism-related services, and stronger fiscal spending. This is according to the preliminary assessment by the ASEAN+3 Macroeconomic Research Office (AMRO) after its Annual Consultation Visit to the country from June 18 to 27, 2019.
The mission was led by AMRO Lead Economist Dr. Jae Young Lee and participated by Director Mr. Toshinori Doi and Chief Economist Dr. Hoe Ee Khor. Discussions focused on the growth prospects, progress in restructuring the banking system and liberalizing the broader financial sector, improving fiscal revenue and spending efficiency, and other ongoing structural reforms that are needed to sustain growth momentum while addressing risks and vulnerabilities.
"We expect the economy to rebound to 6.8 percent in FY18/19 and to 7.1 percent in the following year, supported by the resumption of reforms and higher fiscal spending," said Dr. Lee. "Going forward, steadfast implementation of the structural and institutional reforms and addressing the infrastructure bottlenecks will be critical for Myanmar to achieve sustainable growth."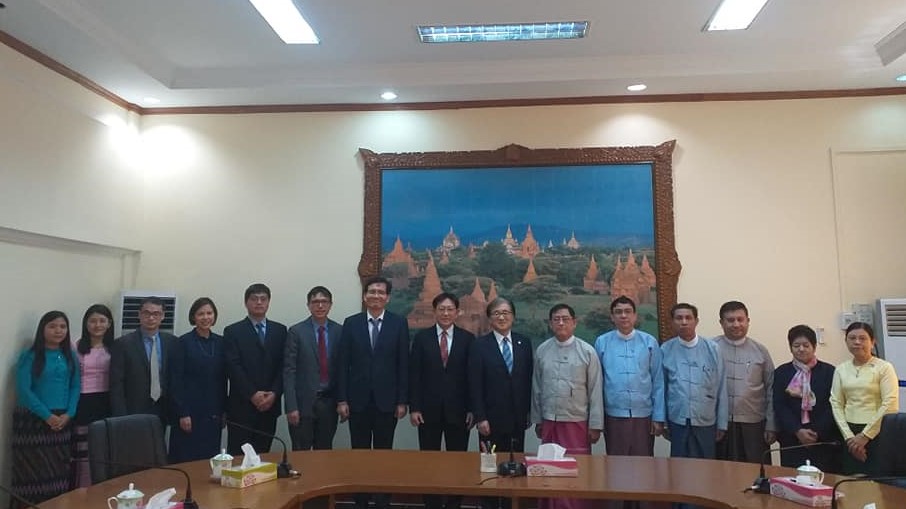 AMRO Director Mr. Toshinori Doi (ninth from right), Chief Economist Dr. Hoe Ee Khor (eighth from right), and the mission team pays a courtesy call to U Maung Maung Win, Deputy Minister of Planning and Finance of Myanmar during the Annual Consultation Visit.
After deteriorating in 2018, Myanmar's external position has improved with international reserves increasing to 3.2 months of imports and the exchange rate remains relatively stable in the last few quarters on the back of a narrower trade deficit and a recovery in foreign direct investment (FDI). The public debt remains low as the authorities have been cautious in borrowing.
Overall domestic credit growth has moderated under a stricter regulatory regime, while foreign bank lending has accelerated on account of an expansion in the business scope.
On the fiscal front, after recording a narrower deficit of 1.5 percent of GDP in FY18 interim, the fiscal deficit is expected to increase somewhat in FY18/19 in support of economic growth and structural reform. CBM direct financing of the fiscal deficit fell to zero in FY18 interim and will be capped at 20 percent in FY18/19.
Downside risks to economic growth stem from the continued ethnic tension in the Rakhine State and uncertainties in the global economy related to trade tensions and energy prices. A weak banking system, which is still in transition to comply with a more stringent banking regulatory regime, continues to be a key vulnerability to the economy.
Enhancing tax revenue should continue to be a top priority in fiscal policy. While strengthening efforts to direct resources towards priority areas to ensure sustainable and inclusive growth is commendable, fiscal sustainability and spending efficiency should also be ensured. In this regard, the recent announcement of electricity tariff adjustment is commendable, as this will help enhance fiscal sustainability and free up fiscal resources away from electricity subsidies towards crucial government priorities such as health, education, and infrastructure spending.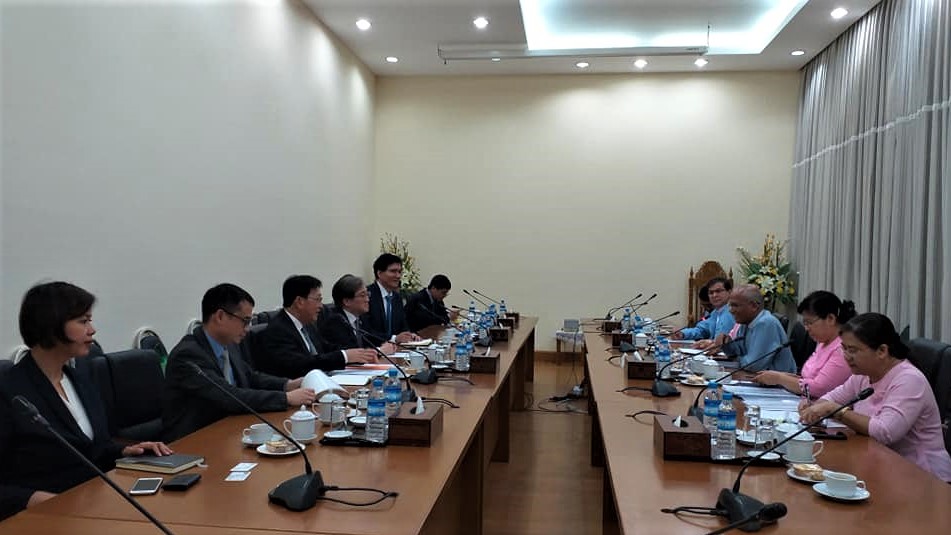 AMRO team holds a meeting with U Soe Thein, Deputy Governor of Central Bank of Myanmar (right, center).
The implementation of the reserve money-targeting framework is commendable. The Central Bank of Myanmar (CBM) should continue to allow the exchange rate to move flexibly in line with market forces while continuing to build up foreign reserves.
The banking system is transitioning to a stricter regulatory regime. To support the implementation of the new regulatory regime, the CBM needs to continue to strengthen its regulatory and supervisory capacity. The authorities are encouraged to further develop the financial sector.
We welcome the launch of the Myanmar Sustainable Development Plan, which lays out the nation's long-term development vision for the period 2018-2030. This plan is expected to provide a framework for coordination and cooperation among government agencies to achieve stronger and more inclusive growth. Advancing peace and strengthening the rule of law, together with enhancing infrastructure and human resources, will be fundamental to Myanmar's economic development.
AMRO would like to express its appreciation to the Myanmar authorities and other counterparts for their excellent cooperation and warm hospitality. The visit has deepened AMRO's understanding of the current macroeconomic and financial situation, the policy framework, and structural reforms in Myanmar.
—
About AMRO:
The ASEAN+3 Macroeconomic Research Office (AMRO) is an international organization established to contribute towards securing macroeconomic and financial stability of the ASEAN+3 region, which includes 10 members of the Association of Southeast Asian Nations (ASEAN) and China; Hong Kong, China; Japan; and Korea. AMRO's mandate is to conduct macroeconomic surveillance, support the implementation of the regional financial arrangement, the Chiang Mai Initiative Multilateralisation (CMIM), and provide technical assistance to the members.