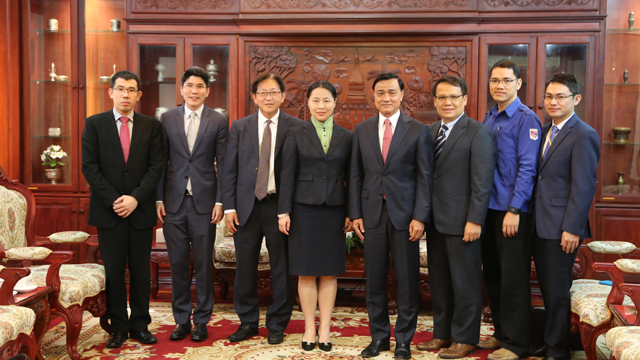 From left to right:AMRO Economist Dr Huot Pum; AMRO Lead Economist Dr Chaipat Poonpatpibul; AMRO Chief Economist Dr Khor Hoe Ee; Interpreter Mr Hatsoulith; AMRO Director Dr Chang Junhong; Bank of Lao PDR (BOL) Governor H.E. Dr Somphao PHAYSITH, BOL Director General of International Relations Department Mr Oth PHONHXIENGDY, BOL Deputy Director General of Banking Supervision Department Mr Soulysak THAMNUVONG and BOL Director of BOP Division of Monetary Policy Department Mr. Savandouangchit SENGDEUAN
Singapore, February 28, 2017 – The ASEAN+3 Macroeconomic Research Office (AMRO) conducted its Annual Consultation Visit to Lao PDR from February 13 to 17, 2017. Discussions centered on prospects for growth and safeguarding macroeconomic stability amid increasing risks.
The mission was led by Dr Chaipat Poonpatpibul, AMRO Lead Economist, and participated by Dr Chang Junhong, AMRO Director, and Dr Khor Hoe Ee, AMRO Chief Economist.
"According to our preliminary assessment, Lao PDR's economic growth in FY2016/17 is expected to pick up slightly to 7.0 percent after a moderation in the previous fiscal year, said Dr Poonpatpibul. "Downside risks to growth come from unfavorable external conditions, growth moderation in China, low commodity prices as well as reduced fiscal space. Safeguarding macroeconomic stability through pursuing medium-term fiscal consolidation and strengthening buffers against external shocks should continue to be a priority."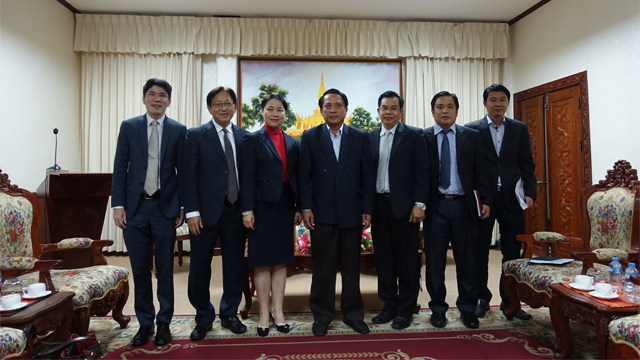 From left to right:AMRO Lead Economist Dr Chaipat Poonpatpibul; AMRO Chief Economist Dr Khor Hoe Ee; AMRO Director Dr Chang Junhong; Ministry of Finance of Lao PDR (LMOF) Vice Minister, H.E. Mr Bounchom UBONPASEUTH, LMOF Deputy Director General of International Cooperation Department Mr. Boualith KHOUNSY; LMOF Deputy Permanent Secretary Mr Soulinga SOUPHITHACK and LMOF Director of Division, International Cooperation Department Mr Phanomphone KEOVONGVICHITH
Inflation picked up slightly to 1.6 percent in 2016 and is expected to rise further to around 3.0 percent in 2017, mainly driven by an increase in fuel and domestic food prices.
On the external side, the current account deficit in 2016 is estimated to decline, mainly due to an improvement in exports and further import contraction. It is essential to further build up official gross reserves against the backdrop of elevated external uncertainty. Further efforts to diversify non-resource exports and attract foreign direct investments to these sectors are strongly encouraged. Managing the kip against a currency basket consisting of currencies of the major trading partners could help maintain the fair value of the kip and the economy's competitiveness. This could help mitigate the risk of a significant decline in official gross reserves moving forward.
On the fiscal side, we welcome the authorities' efforts to strengthen the fiscal position. It is crucial to strengthen revenue collection, streamline the budget and rationalize public spending to curb the fast rising public debt. Efforts to improve tax administration and diversify the sources of revenue should be stepped up. We support the authorities' plan to cap the fiscal deficit at 5 percent of GDP and reduce the debt to GDP ratio to 55 percent in the medium term.
In the financial sector, efforts to adopt of the Basel II standard, strengthen bank supervision, and restructure state-owned banks are commendable. The non-performing loans and low capital adequacy levels of state-owned banks need to be addressed. A removal of the caps on kip interest rates should be considered. Macroprudential measures could be deployed to address the risk of currency-mismatch in the banking system arising from increasing foreign borrowing.
AMRO is grateful to the Lao authorities' strong support during its visit. The fruitful policy dialogue has enhanced AMRO's understanding of the current macroeconomic situation in the Lao economy. AMRO continues to be supportive of the authorities' efforts towards safeguarding macroeconomic stability, enhancing institutional capacity, and advancing toward a middle-income country status. AMRO has also taken this opportunity to further engage with the Lao authorities on capacity building projects.