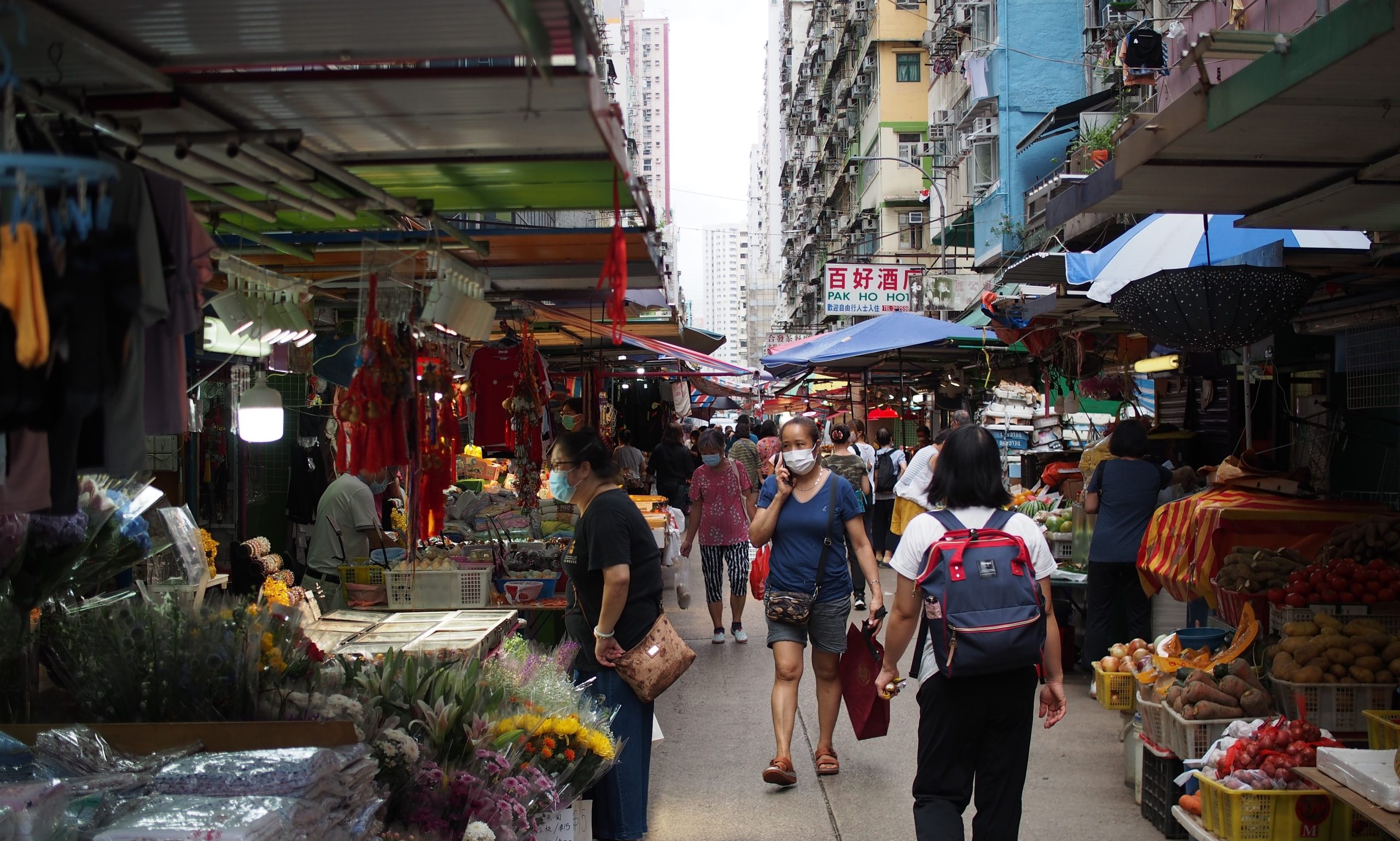 Image: michaelshawn / Shutterstock.com
SINGAPORE, August 19, 2022 – Hong Kong's economy is recovering and macroeconomic fundamentals remain strong, despite the heavy blow of a fifth wave of COVID-19.
With stiffening headwinds from the global economic slowdown and geopolitical tensions, Hong Kong authorities should stand ready to recalibrate fiscal and other policies to ensure a sustained and broad-based economic recovery. At the same time, they are right to persist with efforts to tackle longer-term challenges related to the city's narrow base of growth drivers, population ageing, socioeconomic inequalities, and climate change.
This preliminary assessment was made by the ASEAN+3 Macroeconomic Research Office (AMRO) after its virtual Annual Consultation Visit to Hong Kong from August 1 to August 17, 2022.
The AMRO team was led by Lead Economist, Jae Young Lee. AMRO Director, Kouqing Li and Chief Economist, Hoe Ee Khor participated in the policy meetings. The discussions focused on Hong Kong's economic recovery, policy initiatives to support growth, and continuing efforts to strengthen Hong Kong's long-term socioeconomic resilience.
Economic development and outlook
"The Hong Kong economy is expected to grow modestly by 0.3 percent in 2022 before expanding strongly by 3.9 percent in 2023," said Mr. Lee. "In the near term, there are multiple headwinds from the global growth slowdown, the U.S. interest rate hikes, and heightened geopolitical tensions. Hong Kong also faces several long-term structural challenges which require bold policies and fiscal resources to address."
Hong Kong's economy rebounded markedly in 2021 from a two-year recession, supported by effective containment of COVID-19 infections in the city, firm global economic recovery, and strong domestic policy responses. After being hit hard by the fifth wave of the pandemic in Q1 2022, the economy rebounded in Q2 as infections subsided and social-distancing measures were relaxed. Economic growth in the second half of 2022 and in 2023 will be boosted by the reopening of Hong Kong's borders, internationally and with Mainland China. Price pressures will likely rise slightly for the rest of 2022 and moderately in 2023, reflecting the economic recovery and a significant but limited pass-through of imported inflation.
Risks and vulnerabilities
While Hong Kong's near-term growth outlook has improved, uncertainties remain high and downside risks are pronounced. The spread of new and more virulent variants of COVID-19 could lead to a retightening of containment measures, slow Hong Kong's border reopening, and hinder its economic recovery.
A sharper-than-expected US monetary policy tightening could lead to a sharp tightening of global financial conditions and a marked slowdown in the global economy, which would likely weaken Hong Kong's economic recovery.
The outlook for Hong Kong's property market appears challenging, and a sharp downshift could weigh on the broader economy. A significant slowdown of Mainland China's economic growth would also derail Hong Kong's economic recovery.
Policy responses
Steadying the economy in the near term is important. Given the nascent recovery, firm policy support for businesses and households should continue. In particular, government support should prioritize the most vulnerable sectors and households.
If further downside risks materialize, more stimulus packages could be rolled out to safeguard livelihoods and keep viable businesses running. The authorities' steadfast commitment to consolidate and rebuild the fiscal buffer is prudent. Capital and liquidity buffers should also be maintained to better cushion against the shocks.
The Linked Exchange Rate System (LERS) remains an effective tool for maintaining Hong Kong's financial and external stability. This policy regime has proven resilient through multiple episodes of heightened stresses over the past decades.
Hong Kong's role as a "super-connector" between Mainland China and the rest of the world will be a strong driver of growth and anchor of resilience for its economy and financial system. This role requires not just further integration with Mainland China but also continued deepening of trade, financial and investment linkages with partners around the world. In this context, Hong Kong's application to join the Regional Comprehensive Economic Partnership is an important move.
These initiatives should run alongside continued efforts to enhance the social safety nets in Hong Kong, – including the supply of affordable housing, financial assistance for the unemployed, and support for owners and workers of small and medium-sized enterprises. With enhanced security for livelihoods, the socio-political fabric of the city will be stronger.
The mission team would like to express its deep appreciation to the Hong Kong Monetary Authority and other participating organizations for their thoughtful comments and candid views.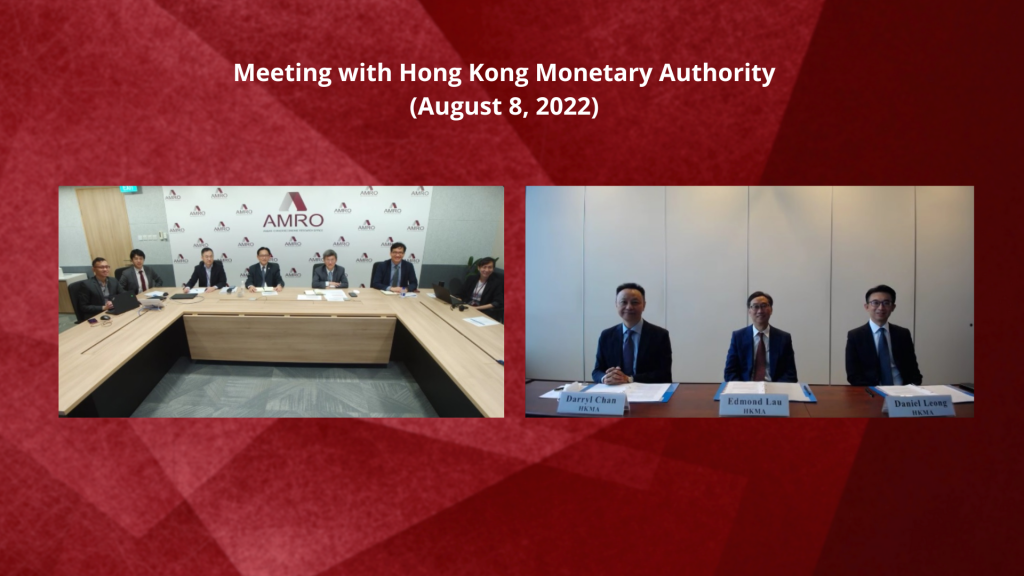 AMRO Director Kouqing Li and Chief Economist Hoe Ee Khor and the AMRO Hong Kong, China team meet virtually with Deputy Chief Executive, Mr. Edmond Lau and other senior officials from the Hong Kong Monetary Authority.
–
About AMRO
The ASEAN+3 Macroeconomic Research Office (AMRO) is an international organization established to contribute towards securing macroeconomic and financial stability of the ASEAN+3 region, comprising 10 members of the Association of Southeast Asian Nations (ASEAN) and China; Hong Kong, China; Japan; and Korea. AMRO's mandate is to conduct macroeconomic surveillance, support the implementation of the regional financial arrangement, the Chiang Mai Initiative Multilateralisation (CMIM), and provide technical assistance to the members.