Also available in Vietnamese
HANOI, VIETNAM, May 25, 2018 – The ASEAN+3 region is growing strongly, but regional economies should improve connectivity, develop a robust service sector, and build a skilled workforce to adapt to a changing world, as highlighted by speakers at a seminar held in Hanoi today by the Ministry of Finance of Vietnam (VMOF) and the ASEAN+3 Macroeconomic Research Office (AMRO).
With the theme "ASEAN+3 Regional Economic Outlook: Resilience and Growth in a Changing World", the seminar presented key findings of AMRO's newly released ASEAN+3 Regional Economic Outlook (AREO) 2018 to set the context for discussion. The seminar was attended by representative from government agencies, international organizations, research institutions, and the private sector. Dr Vu Nhu Thang, Director-General of International Cooperation Department, VMOF, delivered the opening remarks at the seminar.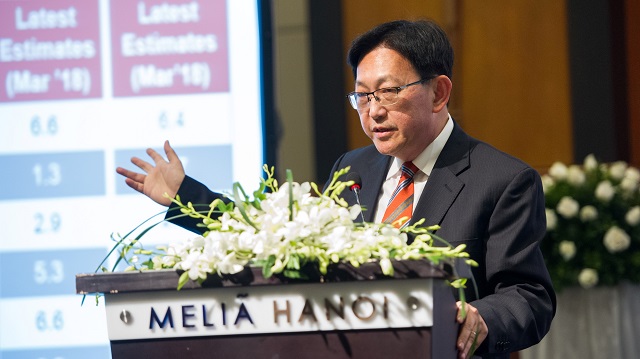 AMRO Chief Economist Dr Hoe Ee Khor presents key findings of AMRO's flagship report, the ASEAN+3 Regional Economic Outlook 2018.
In his presentation, AMRO Chief Economist highlighted that with improving external demand, growth in the ASEAN+3 region, which includes 10 ASEAN members and China (including Hong Kong), Japan, and Korea, is expected to be sustained at 5.4% for 2018 and 5.2% for 2019. In the case of Vietnam, the economy rebounded strongly in 2017, and short-term growth outlook remains positive, with real GDP expanding robustly at 7.4% in the first quarter (Q1) of 2018, the highest Q1 growth seen in the past seven years.
The ASEAN+3 region is facing two near-term risks: faster-than-expected tightening in global financial conditions and an escalation of global trade tensions. If these risks materialize, there would be spillovers to the region through capital outflows, higher borrowing costs, and lower trade and investment flows.
To enhance resilience, policymakers in the region should continue to build policy space, particularly in monetary policy, in anticipation of tighter global financial conditions ahead. Fiscal policy may have to play a greater role in supporting growth while macroprudential policy can help safeguard financial stability.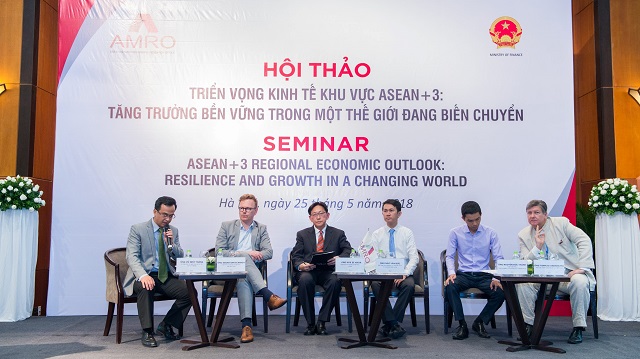 Panelists discuss key issues on growth and resilience in the ASEAN+3 region and in Vietnam.
Moderated by Dr Vu Nhu Thang of VMOF, the discussion panel consisted of AMRO Chief Economist Dr Hoe Ee Khor; Dr Sebastian Eckardt, World Bank Lead Economist for Vietnam, Mr Ngo Van Duc, Deputy Director, Payment System Department, State Bank of Vietnam; Dr Nguyen Duc Thanh, President of Viet Nam Institute for Economic and Policy Research (VEPR), and Mr Tomaso Andreatta, EuroCham's Vice-Chairman and Chairman of Green Growth Sector Committee.
During the discussion, the panel noted that the region has successfully pursued a strategy of "manufacturing for exports", whereby economies benefitted from export-oriented foreign direct investments (FDI) to build up manufacturing capacity. Vietnam, alongside China and other large ASEAN economies, has succeeded in attracting FDI into building a competitive manufacturing sector, which created jobs and boosted exports.
While this strategy has boosted economic growth, employment, productivity, and wages over the past few decades, it has been put to test by trade protectionism, changes in trade and production networks, and technology. Technology has proven to be a double-edged sword as manufacturing is becoming more capital and skills intensive and will no longer employ as much labor as in the past. Structural changes in global value chains have also allowed countries to produce domestically instead of importing intermediate inputs. However, technology has facilitated the emergence of the services sector as a potential new engine of growth and employment, in addition to the manufacturing sector.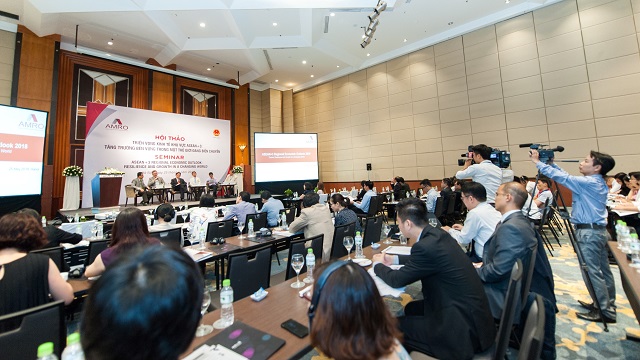 To address these challenges, the panel suggested that the region should strengthen intra-regional connectivity and integration to leverage on growing intra-regional demand for goods and services and improve the resilience against external shocks.
"Vietnam has been a successful story in building up manufacturing capacity and attracting FDI in the past decades, integrating itself into global value chains and global trade production networks," said Dr Khor. "To adapt to a changing world, the country and other economies in East Asia should build resilience through developing multiple engines of growth, including the growing services sector."
—
About AMRO:
The ASEAN+3 Macroeconomic Research Office (AMRO) was established to contribute to securing the economic and financial stability of the ASEAN+3 region, which includes 10 members of the Association of Southeast Asian Nations (ASEAN); and China; Hong Kong, China; Japan; and Korea. As an international organization, AMRO fulfils its mandate by conducting macroeconomic surveillance, supporting the implementation of the regional financial arrangements, the Chiang Mai Initiative Multilateralisation (CMIM), and providing technical assistance to the members.