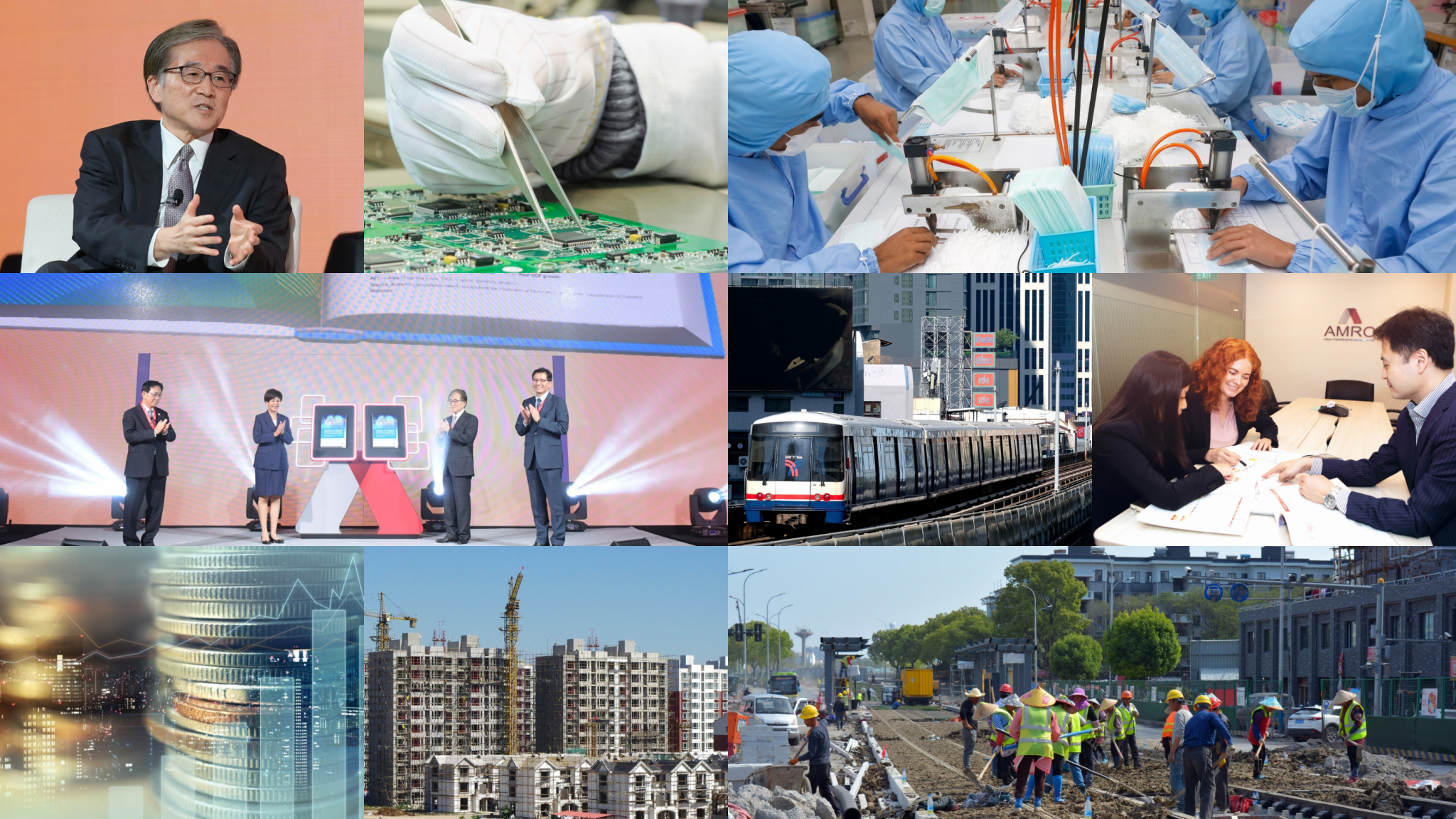 In 2021, the prolonged pandemic continues to cast a shadow on the global economy, but we could see a glimmer of light at the end of the tunnel. Economic recovery in the ASEAN+3 region is on track, underpinned by faster vaccination rollouts, the availability of new COVID-19 treatments, and supportive policy measures. This year also marks the 10th Anniversary of AMRO as a regional surveillance organization contributing to macroeconomic and financial stability in ASEAN+3.
As 2021 draws to a close, let's check out the 10 commentaries published by AMRO that highlight key economic happenings and AMRO's support to its members throughout the year.
As AMRO turns 10 this year, Director Toshinori Doi unveils his vision for the institution to continue to grow in the next decade, beyond the role of a "family doctor". These include developing "specialist" capabilities, acting as a regional knowledge hub, strengthening the regional financial architecture, and scaling up technical assistance to members, among others.
Introduced in 2017, AMRO's Performance Evaluation Framework serves as an integral part of the organization's results-based management cycle of "Plan-Implement-Monitor-Analyze-Learn". It is implemented in a systematic way to generate results data, analysis, and learning, which are applied to inform organizational decision-making and strategic planning. AMRO Deputy Director Wenxing Pan and Senior Strategy and Coordination Officer Hu Xue elaborate on how AMRO charts a path for itself toward a results-oriented international organization.
AMRO's new book titled "Trauma to Triumph: Rising from the Ashes of the Asian Financial Crisis" is the first of its kind to compile comprehensive recollections of the major players during the Asian financial crisis and Global financial crisis; serving as oral history of the turning point that led governments in ASEAN+3 to work more closely together to resolve the region's financial difficulties. AMRO Deputy Group Head and Senior Economist Jinho Choi and Economist Kimi Jiang of the book project team pen their thoughts on this multi-year book project.
The rapid spread of the Delta variant this year, even among the vaccinated, has undermined the effectiveness of the "zero COVID" strategy adopted by some ASEAN+3 countries. Continuing policy support and more targeted containment measures have kept economic activity going. However, as the region's policy space narrows, swift rollouts of vaccination programs and the shift toward an "endemic new normal" could become a game-changer for growth. AMRO Economist Marthe M. Hinojales and Catharine Kho highlight five key trends that are shaping the region's recovery.
Despite the complex tensions and high stakes in the US-China relationship, a major technology bifurcation at the global level with devastating consequences, is likely to be averted in the medium term due to the development of interface technologies and the sheer complexity and efficiency of the global value chains. But a better long-term outcome for the global economy will require fair and binding multilateral rules of conduct to promote technological dissemination across the world. AMRO Chief Economist Hoe Ee Khor and Senior Economist Suan Yong Foo discuss how the world, both developed and emerging economies alike, can step up multilateral efforts to boost global technological cooperation.
Millions across Asia have lost their jobs since the start of the COVID-19 pandemic, with workers in the services industry being severely affected. The unprecedented scale of job displacements and lost incomes is expected to have far-reaching economic consequences. Governments across the region could support their labor force to address job challenges through financial incentives, and preparing the workforce for the changing skillsets required in the digital era. AMRO Research Analyst Edmond Choo Chiang Yong and Economist Anne Oeking explain.
After a brief hiatus at the height of the pandemic in the first half of 2020, the real estate market in China has staged a strong bounce back. Notwithstanding a range of policy measures to mitigate potential financial risks in the real estate sector, housing prices continued to edge up alongside rapid housing sales. AMRO Economist Zhiwen Jiao argues that while short term measures are important, the root causes of price pressure need to be further addressed by longer term solutions.
Against the backdrop of an aging population and lingering pandemic, Thailand's authorities introduced a "4Ds Model" to bring about needed reforms. This strategy involves: Decarbonization, Digitalization, Derisking, Decentralization. But what else should Thailand do? AMRO Group Head and Lead Economist Jae Young Lee offers his thoughts on how this small, open economy can respond to the challenges posed by the pandemic and enhance growth potential.
The Chiang Mai Initiative Multilateralisation (CMIM) aims to provide emergency financing for ASEAN+3 economies in the event of short-term financial shocks. The CMIM is supplemented by a network of bilateral swap agreements (BSAs) between regional economies, which amounts to a total value of USD331 billion. With the pandemic putting a spotlight on international financial assistance in times of crisis, AMRO Group Head and CMIM Principal Specialist Beomhee Han explores the collaboration between CMIM and BSAs to strengthen the region's financial safety net.
One of AMRO's core functions is providing technical assistance (TA) to its members. The Secondment Program provides officials from member authorities with a unique opportunity to work in an international organization and deepen their knowledge and experience in regional financial cooperation and macroeconomic surveillance. During her two years at AMRO, Zhenyu Chen, a secondee from the Ministry of Finance, China, went above and beyond her daily tasks to contribute innovative ideas that helped strengthen the TA function at AMRO.
We are thankful to all our readers for your interest in AMRO's publications. We wish you a wonderful holiday season and a happy new year. Stay tuned for more insightful commentaries in 2022!