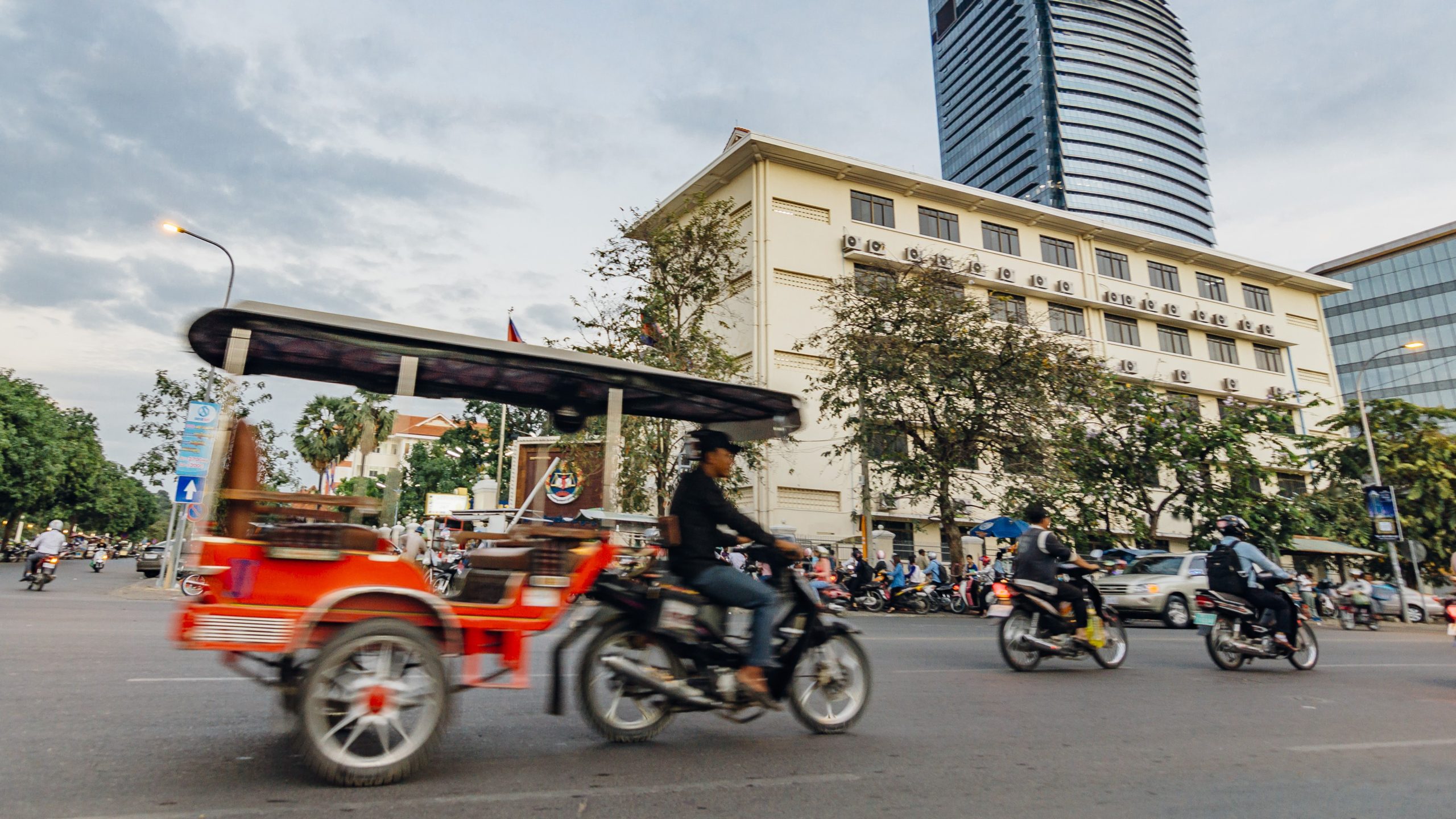 SINGAPORE, May 6, 2021 – The Cambodian economy is expected to return to positive growth in 2021 after a contraction last year. The recent surge in community cases and lockdown highlight the continuing challenges from the pandemic, as well as the need for faster vaccination and more targeted and flexible policy measures to support recovery. This is according to the preliminary assessment by the ASEAN+3 Macroeconomic Research Office (AMRO) after its virtual Annual Consultation with the Cambodian authorities from April 19 to May 4, 2021.
The mission was led by AMRO Lead Specialist, Dr. Seung Hyun Luke Hong. AMRO Director, Mr. Toshinori Doi and Chief Economist, Dr. Hoe Ee Khor participated in the policy meetings. The discussions focused on preserving fiscal strength and maintaining financial stability, as the government continues to provide strong support to households and firms amid a recent surge in local infections.
Recent development and outlook
"Despite disruptions in domestic activity due to the recent lockdown, the Cambodian economy is projected to grow by 4.0 percent in 2021, led by a robust recovery in manufacturing and supported by continued fiscal stimulus," said Dr. Hong. "The recent spike in community cases underscores the need for the government's strong response to contain the pandemic and speed up the vaccination rollout to achieve herd immunity."
In 2020, growth is estimated to contract by 3.0 percent as containment measures in Cambodia and its major trading partners and tourist markets weakened the country's key growth drivers. Lower demand from major export markets and supply disruptions led to a 9.9 percent drop in garment exports, the country's main export product. Highly dependent on tourism, the more than 80 percent reduction in international arrivals led to business closures and job losses. Its construction sector also contracted amid subdued economic activities and investor sentiments. Agriculture was the main bright spot in 2020, supported by strong agriculture exports.
The current account deficit narrowed to 11.5 percent of GDP in 2020 from 15.0 percent of GDP in 2019, mainly due to the contraction of imports as the economy slowed down. Foreign direct investment (FDI) remained relatively steady, declining slightly by 1.8 percent in 2020. International reserves increased to USD21.3 billion as of end-December 2020, equivalent to about 11 months of imports of goods and services.
Risks and vulnerabilities
Despite Cambodia's successful containment of the COVID-19 outbreak in 2020, the spike in community infections since February 2021 and the subsequent lockdown in April underscore the high downside risk to the economy. In particular, its high reliance on contact intensive services sector and a labor intensive manufacturing sector renders the economic recovery more vulnerable to new waves of infection, given a relatively weak public health system.
On the financial front, risks may stem from a possible deterioration of asset quality. Despite the active loan restructuring, a protracted and uneven economic recovery is likely to lead to a further deterioration of the financial institutions' asset quality. However, the strong capital position and liquidity conditions of the banking system should provide a significant buffer.
The pandemic may leave lasting scars on Cambodia's economy, impeding a return to its long-term growth path. After growing around 7 percent on average in the past 10 years, the economic contraction in 2020 poses considerable structural challenges to the economy. Business closures and job losses due to the pandemic, if prolonged, may diminish the strength of the recovery in coming years and could leave lasting damage to the economy's productive capacity.
Policy recommendations
Amid this challenging environment, fiscal policy remains crucial, as the rollout of a broad fiscal stimulus package has played a vital role in supporting the economy. Going forward, fiscal support measures should become more flexible and targeted given the uneven recovery across sectors. Short-term crisis support should be more targeted and gradually shift toward supporting affected businesses and facilitating the swift reallocation of labor and productive resources to sectors with strong growth potential.
As demand for liquidity remains high, accommodative policy measures should continue to ensure enough financial resources are available to the productive sectors during the recovery. The introduction of several government facilities for small and medium-sized enterprises (SMEs) is commendable. Meanwhile, further efforts are needed to enhance risk management of these facilities and to help the SMEs upgrade their financial capacities. With the more accommodative financial conditions, the authorities also need to strengthen their monitoring and supervision, particularly of financial institutions with thin capital buffers or higher exposure to risky sectors.
Coordinated efforts to address structural constraints should be accelerated to enhance competitiveness and resilience of the economy. Efforts to promote domestic industry development and attract more quality FDIs into priority sectors to diversify the economy are crucial, as the pandemic has exposed the risks of relying on a few export products and markets. Over the medium term, it will be essential to rebuild fiscal space while continuing investment in key development priorities, particularly education, healthcare and infrastructure.
The AMRO team would like to express its gratitude to the Cambodian authorities and other participating organizations for their cooperation and candid exchange of views. AMRO wishes to express its appreciation for the strong support from the authorities and the excellent arrangement that has made this virtual mission possible.
Top Row (from L to R): AMRO Director Toshinori Doi, AMRO Chief Economist Hoe Ee Khor, AMRO Lead Economist Seung Hyun (Luke) Hong
Middle Row (from L to R): Permanent Secretary of State, Ministry of Economy and Finance of Cambodia H.E. Vongsey Vissoth, AMRO Senior Economist Paolo Hernando, AMRO Researcher Tanyasorn Ekapirak,
Bottom Row (from L to R): AMRO Researcher Vanne Khut, AMRO Associate Yuthan Chea, AMRO Associate Sotheareach Sok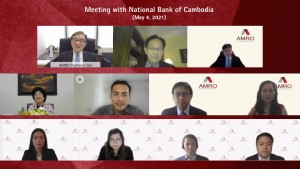 Top Row (from L to R): AMRO Director Toshinori Doi, AMRO Chief Economist Hoe Ee Khor, AMRO Lead Economist Seung Hyun (Luke) Hong
Middle Row (from L to R): National Bank of Cambodia Deputy Governor H.E. Neav Chanthana, NBC Deputy Director of Economic Research and International Cooperation Department Lay Sok Heng, AMRO Senior Economist Paolo Hernando, AMRO Research Data Analyst Madeleine Vinuya
Bottom Row (from L to R): AMRO Researcher Tanyasorn Ekapirak, AMRO Researcher Vanne Khut, AMRO Associate Yuthan Chea, AMRO Associate Sotheareach Sok
About AMRO
The ASEAN+3 Macroeconomic Research Office (AMRO) is an international organization established to contribute towards securing macroeconomic and financial stability of the ASEAN+3 region, which includes 10 members of the Association of Southeast Asian Nations (ASEAN) and China; Hong Kong, China; Japan; and Korea. AMRO's mandate is to conduct macroeconomic surveillance, support the implementation of the regional financial arrangement, the Chiang Mai Initiative Multilateralisation (CMIM), and provide technical assistance to the members.