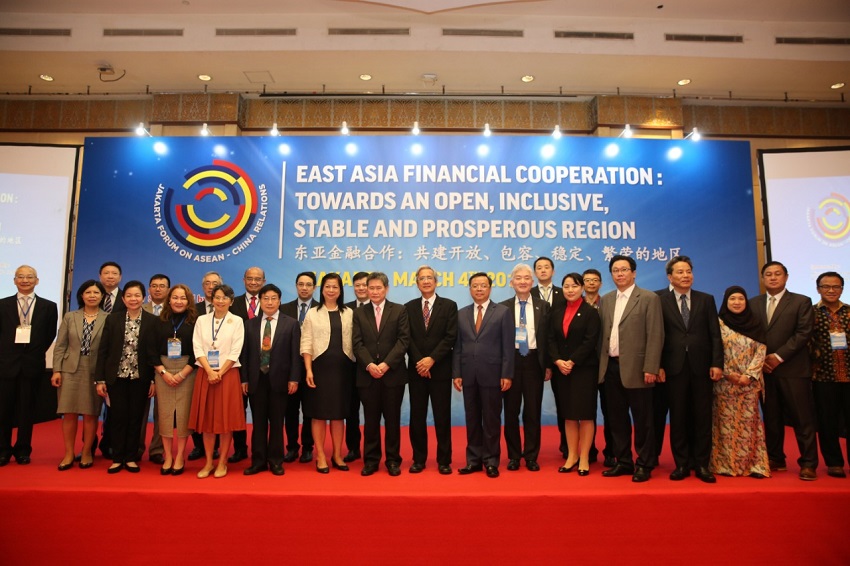 The inaugural Jakarta Forum on ASEAN-China Relations held on March 4, 2019 brought together diplomats, officials from the ASEAN Secretariat and related institutions, and experts and scholars from renowned local think tanks and research institutes. Attendees discussed issues relating to East Asia financial cooperation.
JAKARTA, INDONESIA, March 5, 2019 – Under the background of a complex and rapidly-changing regional and international financial situation, East Asian countries plays an increasingly important role in maintaining regional and global financial stability through their financial cooperation. This was highlighted at the inaugural Jakarta Forum on ASEAN-China Relations held on March 4, 2019.
Co-sponsored by the Chinese Mission to ASEAN and the Permanent Mission of the Philippines to ASEAN, the event took up the themes of East Asia financial cooperation. It was well attended by around 120 diplomats, officials from the ASEAN Secretariat and related institutions, and experts and scholars from renowned local think tanks and research institutes.
Dr Junhong Chang, Director of the ASEAN+3 Macroeconomic Research Office (AMRO), delivered a keynote address, while AMRO Deputy Director Mr. Yasuto Watanabe was a discussant for the second panel discussion on Regional Financial Stability and Building of East Asia Financial Market.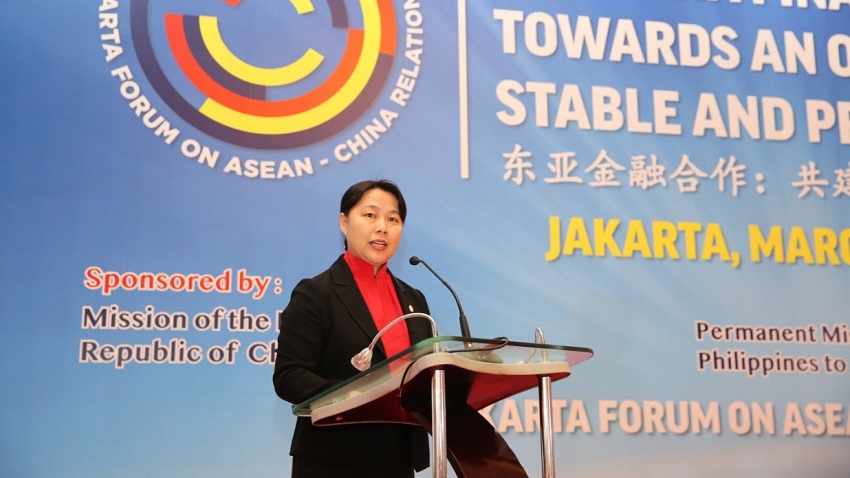 AMRO Director Dr Junhong Chang delivers the keynote address of the forum.
East Asia's Cooperation: Accomplishments, Challenges, and Way Forward
In her keynote address, Dr Chang spoke about the long history and strong foundation for regional cooperation within East Asia.
Dr Chang expressed optimism for the continued economic and financial integration in East Asia with intra-regional trade increasing from almost 40 percent in 1990 to 50 percent in 2017, surpassing those of North America and the European Union intra-regional trade. Final demand within the region accounted for 45 percent of the region's total value added exports in 2015, up from 35 percent in 2011. Intra-regional inward foreign direct investment (FDI) flows also continue an upward trend, registering an average annual growth rate of 8.5 percent since 2010.
However, she also warned against challenges to safeguard financial stability and longer term economic prosperity in the region, including the rise of protectionism, amplification of external shocks due to the increasing interconnectedness of economies, and digital risks. AMRO's assessment suggests in an escalated U.S.-China trade war scenario, ASEAN+3 economic growth is estimated to be lower, by a range of 0.1 to 0.9 percentage point, on average, over 2019 to 2020. Growing intra-regional linkages and absorption of regional value-added can help to mitigate the impact of trade protectionism from outside the region. At the same time, capital flow volatility and the risks of a sudden stop will remain a source of vulnerability, and the accumulated large debt stocks could also be a source of distress. Additionally, in the digital era, technological advancements change the traditional risk transmission channels, with potential widespread impact.
All these challenges require a clearly-defined-and-agreed set of common strategic visions and roadmaps in East Asia to tackle. Dr Chang then highlighted the role of the regional financing arrangement – the Chiang Mai Initiative Multilateralisation (CMIM) and its surveillance arm – AMRO – in building a more reliable regional financial safety net for East Asia to mitigate said risks.
Dr Chang urged the ASEAN+3 members to continue to enhance its surveillance of risks and vulnerabilities, take pre-emptive measures to strengthen its policy frameworks, and work together to enhance the regional financing arrangement in anticipation of possible future crises. Beyond building financial safety nets, Dr Chang affirmed the need to expand the scope of cooperation beyond promoting regional economic growth and financial stability. This includes establishing a framework for infrastructure financing, establishing cross border policies to improve intra-regional connectivity, deepening regional capital markets, as well as enhancing regulatory cooperation.
"It is my strong belief that East Asia must – and will – continue to uphold multilateralism, while seizing this opportunity to further accelerate regional economic and financial cooperation in promoting further shared prosperity," said Dr Chang.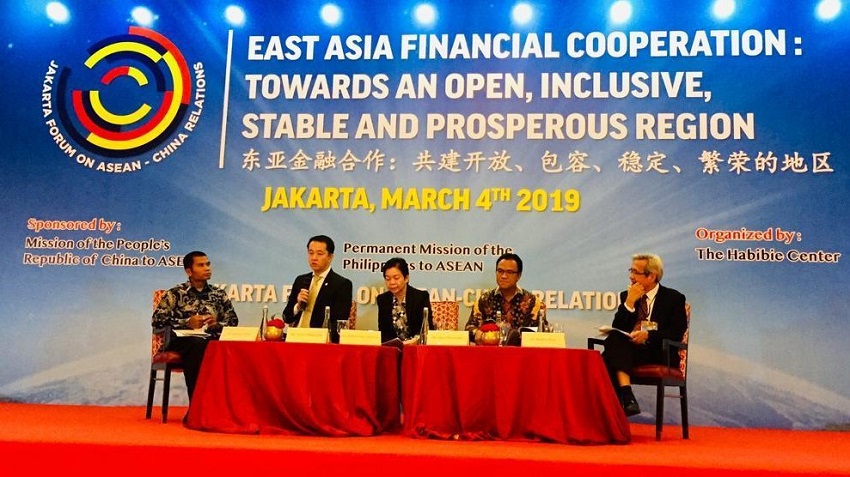 AMRO's Deputy Director Mr Yasuto Watanabe joins the second panel as a discussant, and presents on the role and evolution of the CMIM.
Strengthening East Asia's Regional Financing Arrangement
In his presentation, Mr Yasuto Watanabe echoed Dr Chang's message on the existing risks the region faces, including the US-China trade tensions, as well as capital flow risks and market volatility.
He then spoke about the role of CMIM and how it has been improved over the years. Starting out as a network of bilateral swap agreements among five ASEAN countries, China, Korea, and Japan, the CMIM is now a single contractual agreement among 13 ASEAN+3 members. Consisting of both crisis prevention and crisis resolution facilities, the CMIM aims to provide USD liquidity in response to urgent short-term USD liquidity difficulties and/or balance of payments difficulties.
The CMIM has a current size of USD240 billion and is complemented by a network of bilateral swap agreements amounting of more than USD320 billion. These substantial resources provide countries with additional buffers to withstand liquidity shocks or overcome temporary balance of payment difficulties.
He also noted that during the last decade, ASEAN+3 members have put concerted efforts in improving the CMIM to support regional financial stability, including the completion of the first CMIM periodic review last December.
Mr Watanabe also noted that it is important to continue its consolidated effort to strengthen regional financial safety net against the backdrop of rapidly-changing and complex global and regional financial conditions with the increased global market volatility and risks of broader spillovers. He then proposed ways to further strengthen the regional financial safety net. These proposals include strengthening partnerships in the region, enhancing AMRO's role in supporting the CMIM, and exploring the feasibility of using local currency for CMIM liquidity support.