By Madeleine D. Vinuya

The COVID-19-induced economic recessions worldwide have put downward pressure on cross-border investments. FDIs in emerging and developing economies in Asia are projected to subside by up to 45 percent in 2020 according to the UNCTAD's World Investment Report 2020. However, the pandemic has also led to the emergence of a "new normal", brought about by the reinforcement of digital technology and e-commerce.
Prior to the pandemic, emerging Asia was booming and regional corporates were pursuing internationalization efforts alongside the digital revolution. Asian companies have been adopting foreign technology as well as creating their home-grown innovative companies. They have acquired western rivals and also merged and partnered among themselves—such as the acquisition of Uber's business in Southeast Asia by Grab, and Alibaba's investments in Lazada.  Since 2014, Korea, China, Hong Kong, and Japan have overtaken Europe, as the primary global investor in greenfield FDI in the digital economy, according to the Orbis database.
The growing need for Asian corporates to realize their growth strategies and invest in research and development has expanded the roles of international financial centers, such as Singapore in facilitating FDI. According to the UNCTAD's World Investment Report 2019, Singapore has become the third-largest global recipient of inward FDI next to China and the United States, as compared to 2007 when it only ranked 19th.
With the rise in technology-related investments, the demand for services that enable firms to buy and sell intangible assets such as intellectual property (IP) rights, copyrights, trademarks, and patents have also increased. In the case of Singapore, the rise of its inward FDI is also partly attributed to the change in MNCs' balance sheets as a result of transfers of intellectual property rights.
Intangible assets, in general, are acquired by corporates through mergers and acquisitions (M&As) to help companies form partnerships, share technology, and access emerging markets, where most deals are transacted in FDI hubs. From 2013 to 2018, about 68 percent of FDI that entered Singapore and about 80 percent of the FDI that left Singapore for other ASEAN+3 economies is in the form of M&As.
While several M&As are driven by lower tax and may have little bearing to the economy—a number of M&A deals are precursors for future greenfield and brownfield projects, especially in the tech and services sector. Companies from North America and the EU seek the ASEAN+3 region to acquire technology or expand their markets through M&As and concentrate most of their greenfield FDI in the areas of digital economy and banking services. This trend is described in the global architecture of the FDI network in AMRO's study on "Singapore's Rising Role as an FDI hub" featured in the 2019 Annual Consultation Report on Singapore.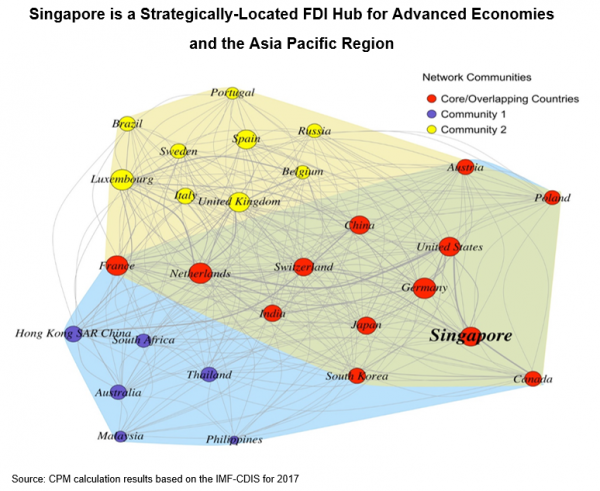 A majority of the greenfield investments from Singapore to the other ASEAN+3 economies have also shifted towards the new digital economy. The modern services and advanced manufacturing sectors, in particular, have dramatically increased their share of investment from 15 percent to 42 percent over a five-year period from 2013 to 2018.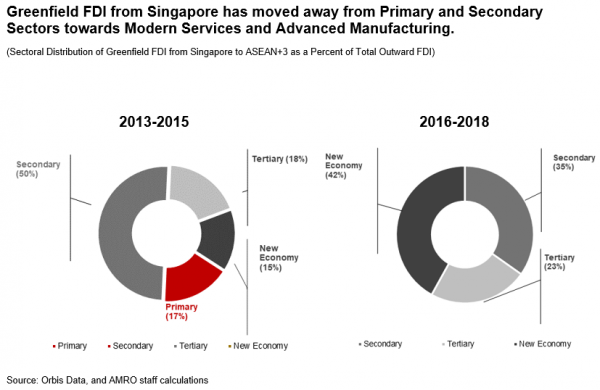 The Singapore government has supported the internationalization of corporates by offering M&A schemes in the forms of company tax allowance, stamp duty relief, and double tax deduction benefits. In addition, the Government of Singapore Investment Corporation (GIC) and Temasek Holdings are backing technology startups. Both initiatives aim to promote the city-state as an attractive global FDI hub in the longer-term, with many tech firms already setting up headquarters on the island.
Looking ahead, Singapore's digitalization plans will be the cornerstone during the rebound, especially as technology adoption has become more important, with the growing emphasis on building a more resilient global production network. Strategies geared towards improving cross-border transactions facilitation and identifying key partnerships will also feature in sustaining FDI momentum in the "post-COVID-19" world.