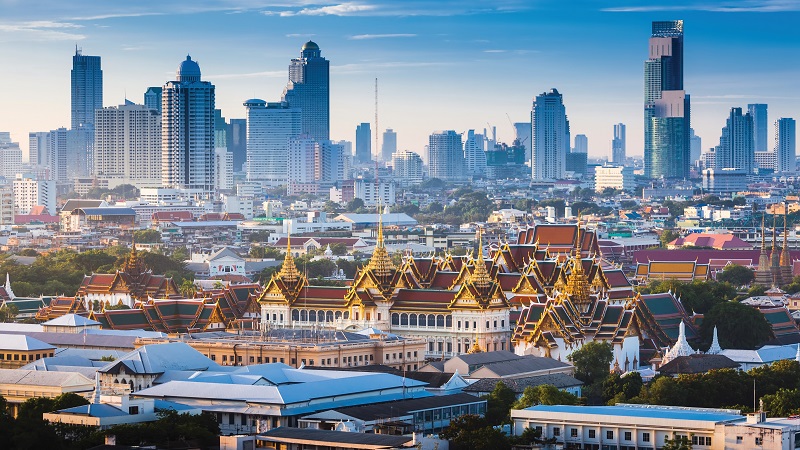 Notwithstanding the recent slowdown, tourism in Thailand has shown continued strength in terms of the number of visitors and their spending. From Krabi in the south to Chiang Mai in the north, most cities are busy serving millions of tourists every year.
With an average growth rate of 13 percent per annum since 2010, and a contribution of around 15 percent of GDP, tourism has become an important engine of growth for the Thai economy. Thailand has evolved into a major regional tourism hub, and was ranked the world's ninth most visited country in 2017 by the United Nations' World Tourism Organization (UNWTO), receiving about 35 million tourists in that year.
What then, are some of the ingredients for Thailand's success in this area, and what can be done to promote sustainable tourism further?
Three Key Ingredients of Success
The impressive progress witnessed in the Thai tourism industry did not come about overnight.
A recent report by the ASEAN+3 Macroeconomic Research Office sheds light on three key factors that have contributed.
First, few countries are as naturally well-endowed as Thailand as a tourist destination. The tourism industry is strongly supported by its hospitality, infrastructure, affordable accommodation, and variety of attractions – most notably its beautiful beaches, temples and palaces, historical sites, eco-attractions, and cuisines. This makes for a complete, developed, tourism market.
Second, Thailand's tourism policies have been well-planned and executed. The National Tourism Development Plan 2012-2016 was developed after tourism was added to the national development agenda in 2009. Much effort has been put into renovating tourism sites, building infrastructure, enhancing human capital, and developing appropriate rules and regulations. Additionally, the government continues to aim for quality tourism through proactive marketing strategies. They promoted as the city for international meetings and exhibitions while striving to improve conference and hospitality facilities, as well as the safety and hygiene standards since it also aims to become a hub for medical tourism. In addition, a relatively lenient visa regime such as visa on arrivals, has helped to attract tourists. Of late, the government has also attended to details like providing a special immigration queue at airports for Chinese tourists, who make up more than 25 percent of total visitors to the country.
Third, Thailand has embraced infrastructure as an important enabler. With air transportation accounting for over 80 percent of tourist arrivals, the government has been constantly expanding and upgrading its airports and their connectivity to other cities, helping the country to become a regional air transportation hub. In addition, the government has also targeted other areas that are yet to become popular, such as river tourism, for future development. This expansion can support its Secondary City Strategy, which includes , and attract foreign investors.
 Challenges Facing the Industry
However, the rapid growth in tourism is posing some challenges for Thailand, one of which is overcrowding. For example, Phuket sees an average of around 650,000 to 750,000 tourist arrivals per month, while the local population is only about 550,000. Overcrowding generally leads to issues such as environmental pollution and safety concerns. As more people visit the popular sites, the amount of waste and pollution increases. In fact, some islands in Thailand and the Philippines were recently closed to tourists because of this. Usually, the pollution is caused by poor enforcement of environmental regulations against dumping sewage into the sea.
Overcrowding can also lead to safety problems, especially during peak seasons. In the past three years, Thailand has experienced several ferry accidents. Most recently, in July 2018, a tourist boat capsized in Phuket, resulting in 27 dead and dozens missing. According to the local government, the accident was caused by overcrowding in the boat and poor safety measures.
Thailand should strive to upgrade from traditional tourism to high value-added tourism as it implements Thailand 4.0, a technology-driven initiative that seeks to transform cities such as Phuket, Chiang Mai, Khon Kaen and Bangkok into technology hubs. In addition, the government has established a National Smart City Committee, comprising various agencies, including the Digital Economy Promotion Agency (DEPA), which initiated a project that provides high speed internet infrastructure and free Wi-Fi for smart city development. By leveraging on this initiative, Thailand could further enhance the enabling infrastructure that improves the competitiveness of its tourism sector.
There is no simple formula to tackling challenges facing the tourism industry, including overcrowding, pollution, and safety concerns. The government needs a long-term strategy that involves all stakeholders, to promote tourism that is sustainable and does not sacrifice the environment or safety while moving the industry up the value chain so that it can continue to be a vibrant source of growth for the economy in the coming years.
—
[1] The 55 secondary cities include Chiang Rai, Phitsanulok, Tak, Sukhotai, and Lamphun in the North; Ubon Ratchathani, Nong Khai, Sa Kaeo, Phetchabun and Mikdahan in the Northeast; Samut Songkhram, Chainat, Ang Thong, Uthai Thani in central Thailand; and Chumphon, Ranong, Narathiwat, Yala and Pattani in the South.