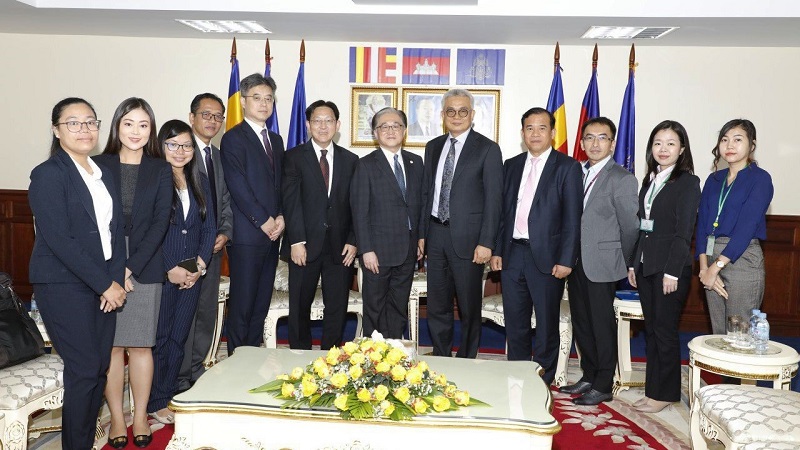 AMRO Director Mr. Toshinori Doi (sixth from right), Chief Economist Dr. Hoe Ee Khor (sixth from left), and the Cambodia mission team paid a courtesy call on Deputy Prime Minister and Minister of Economy and Finance H.E. Dr. Aun Pornmoniroth (fifth from right).
SINGAPORE, September 20, 2019 – Cambodia's economy is expected to continue its strong performance amidst rising external headwinds, according to the preliminary assessment by the ASEAN+3 Macroeconomic Research Office (AMRO) after its Annual Consultation Visit to the country from September 10 to 18, 2019.
The mission was led by AMRO Lead Specialist Dr. Seung Hyun Hong, while AMRO Director Mr. Toshinori Doi and AMRO Chief Economist Dr. Hoe Ee Khor participated in the key policy meetings. The discussions focused on Cambodia's recent developments and outlook, risks and vulnerabilities, as well as structural reforms.
"Following a stronger than expected growth of 7.5 percent in 2018, Cambodia's economy is projected to grow at a more sustainable pace of about 7.1 percent in 2019 and 2020, while inflation has remained relatively low and stable," said Dr. Hong. "Faced with the risk of Everything but Arms (EBA) status suspension, external headwinds, and structural challenges, the authorities need to accelerate structural reforms to enhance competitiveness and promote economic diversification. This is to be supported by greater and more effective use of fiscal resources while simultaneously safeguarding financial stability."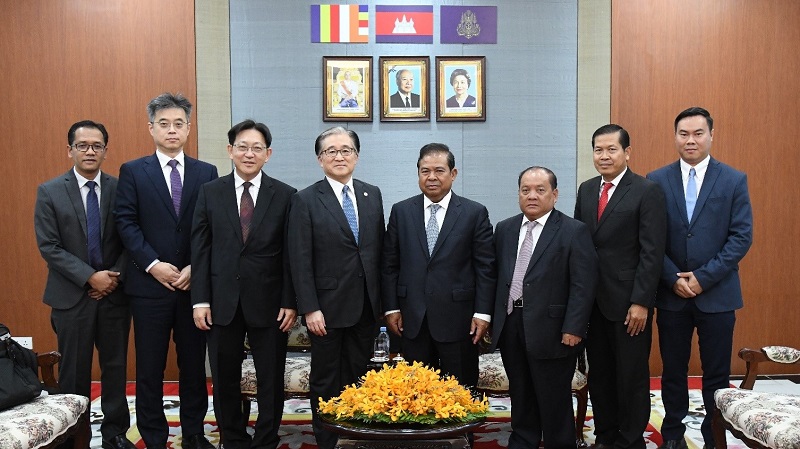 AMRO staff met with the authorities from the National Bank of Cambodia. From left to right: AMRO desk economist Dr. Abdurohman, AMRO lead specialist Dr. Seung Hyun Hong, AMRO Chief Economist Dr Hoe Ee Khor, AMRO Director Dr Toshinori Doi, National Bank of Cambodia Governor Dr. Chea Chanto, Deputy governor Dr. Sum Sannisith, Director-General Mr. Rath Sovannorak, and Deputy Director-General Dr. Khou Vouthy.
The current account deficit has widened sharply on the back of a strong increase in foreign direct investment and consumer spending, but Cambodia's external position remains relatively strong reflecting robust capital inflows. The overall balance of payments has continued to record a surplus, leading to a further build-up in foreign reserves. The gross international reserves increased from USD10.1 billion in 2018 to USD11.3 billion as of June 2019, sufficient to cover about six months of goods and services imports.
The financial sector remains sound with strong capital buffers and stable asset quality despite recent rapid expansion in domestic credit. Prudential regulations implemented, including the minimum capital requirement, liquidity coverage ratio, and credit grading and impairment provision, have improved the soundness and resilience of the financial sector. The adoption of the International Financial Reporting Standard (IFRS) 9 is a welcome progress that will help to bring the regulatory framework up to international standards. Meanwhile, to better curb the risks associated with credit concentration and speculative investments in the real estate sector, additional coordinated policy measures should be considered, including regulation on developers' lending activities, adjustment on stamp duties, ceilings on loan-to-value (LTV) ratios and debt service-to-income ratios.
Strengthening economic resilience by enhancing competitiveness and diversifying the production base is critical to maintaining Cambodia's high growth potential. In addition to mitigating the risk of EBA suspension, Cambodia needs to address structural challenges, especially the relatively poor infrastructure, limited supply of skilled labor and institutional weaknesses. In this regard, the National Strategic Development Plan (2019 – 2023) and the recent comprehensive reform package will play an important role in enhancing the country's productive capacity and competitiveness and in facilitating the moving-up in the production value chain.
Prudent fiscal management has led to a relatively strong fiscal position and a build-up in fiscal space which could be used to support structural reforms and infrastructure development. In light of strong revenue collection, the authorities are encouraged to further expand public spending on long-term development initiatives, funded through budget reprioritization and fiscal savings, while efforts to improve the revenue collection and public sector efficiency should continue.
The mission team would like to thank the Cambodian authorities for their warm hospitality and support. The consultation visit has provided AMRO with valuable insights and a deeper understanding of Cambodia's macroeconomic and financial conditions, its policy framework, and ongoing structural reforms.
—
About AMRO:
The ASEAN+3 Macroeconomic Research Office (AMRO) is an international organization established to contribute towards securing macroeconomic and financial stability of the ASEAN+3 region, which includes 10 members of the Association of Southeast Asian Nations (ASEAN) and China; Hong Kong, China; Japan; and Korea. AMRO's mandate is to conduct macroeconomic surveillance, support the implementation of the regional financial arrangement, the Chiang Mai Initiative Multilateralisation (CMIM), and provide technical assistance to the members.