Asian supply chains are undergoing a renaissance.
They are evolving from a focus on efficiency to an emphasis on balancing efficiency and resilience. Simultaneously, there is an ongoing push to "green" supply chains as part of a global effort to fight climate change.
Security and sustainability—evolving trends in global supply chain management—were highlighted during site visits by staff of AMRO's Macro-Financial Research (MFR) Group to YCH Group in Singapore and DEEP C Industrial Zones in Vietnam.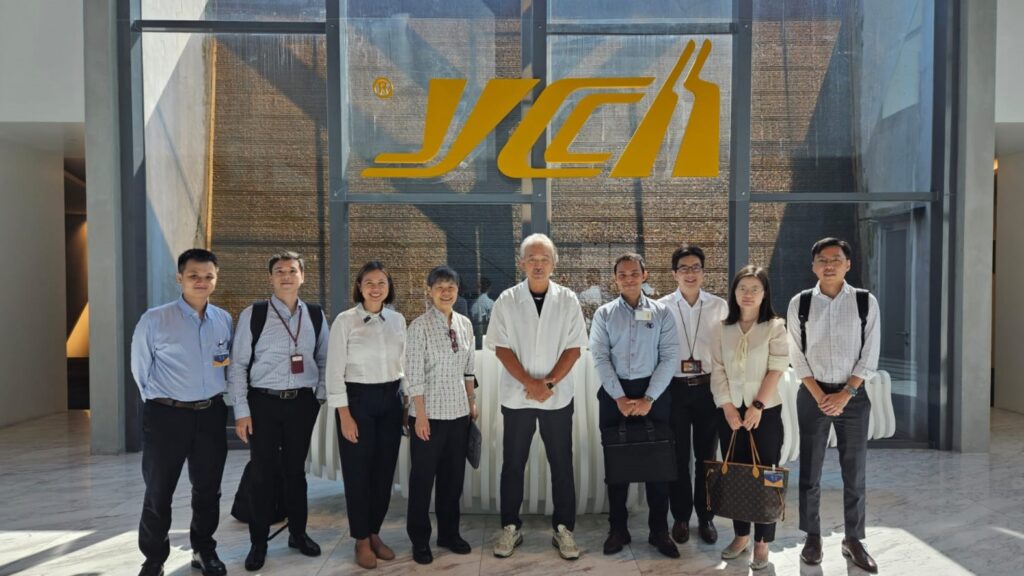 MFR Group staff met with Dr Robert Yap, Executive Chairman of YCH Group, at the Group's corporate headquarter in the Jurong Innovation District in Singapore.
YCH Group is a Singaporean company that provides supply chain and logistics services throughout Asia and the Pacific. DEEP C Industrial Zones is a Belgian developer and operator of five industrial zones—which houses more than 160 companies representing USD 6 billion in investment capital—in Haiphong and Quang Ninh in Northern Vietnam.
YCH and DEEP C have direct, hands-on experience navigating the transformative changes triggered by the global supply chain crisis of the past three years.
Disruptions to the global flow of goods—caused by the COVID-19 pandemic, escalation in US–China trade tensions, and the Russia-Ukraine crisis—have prompted a re-evaluation of supply chain strategies. Changes to date have primarily taken shape in three ways: inventory stockpiling, diversification of input sources, and positioning to be close to consumers.
First, inventory levels have generally remained elevated even as supply chain bottlenecks have diminished from the heightened levels observed in 2021‒22. The Singapore government, for example, is expanding the scope of its stockpiles beyond food, to include medical supplies and essential healthcare items. Analysis also shows that the US manufacturing sector is maintaining high inventory levels of intermediate inputs compared to the past.
Second, firms are diversifying their suppliers to reduce reliance on any single economy, known as the "Plus One" strategy. DEEP C, for example, has observed strong demand for its industrial estate in Vietnam this year as investors seek to supplement their production in China. And industrial space is reportedly being secured in the space of a few months, in what would have previously taken at least a year to finalize.
Third, companies are relocating production or sourcing materials closer to their primary markets, in a bid to streamline supply chains and be more responsive to market demand. In this regard, ASEAN stands out as an attractive market, with multinational companies expanding production capacity and regional distribution centers to tap into an increasingly affluent consumer base.
The Regional Comprehensive Economic Partnership Agreement (RCEP), which came into effect in January 2022, could be opportune in supporting efforts to make regional supply chains more resilient and agile. RCEP facilitates easier trade in intermediate and finished goods among its 15 members, which comprise the 10 ASEAN economies, China, Japan, and Korea as well as Australia and New Zealand. As tariffs are lowered substantially and eventually eliminated on most goods traded within the bloc, RCEP increases the incentive for firms to establish supply chains in Asia to serve the Asian market.
At the same time, shifting consumer preferences, influenced by global concerns about climate change, are compelling business enterprises to embrace environmental sustainability. In this context, DEEP C Industrial Zones is in the process of becoming Vietnam's first eco-industrial park, with plans to scale up its existing rooftop solar and wind power generation, wastewater treatment facility, and the nation's first road made of plastic waste, across its parks, among other sustainability initiatives. In May 2022, the Vietnamese government issued a decree offering substantial incentives for the development of eco-industrial parks or those that promote a green and circular economy.
Efforts to strengthen supply chain resilience and sustainability, primarily intended to mitigate supply chain risks, do come with additional costs—inventory management expenses and upfront investments in eco-friendly technologies, for example. But, at the same time, they present opportunities for innovation, enhancing efficiencies that can eventually offset these costs.
A prime example is YCH Group, which has built an innovative, integrated supply chain ecosystem in Singapore—aptly name Supply Chain City—featuring advanced technology warehouse facility, data analytics solutions, learning academy for supply chain professionals, and a corporate venture arm.
The Group intends to expand its successful supply chain systems to other ASEAN economies in a bid to improve supply chain connectivity and resilience, and grow trade in the region. With the support of the International Financial Corporation, YCH Group is set to invest over USD 2 billion in "SuperPorts"—smart logistics infrastructure facilities with inland ports for rail, air, sea, and road transportation—starting with Vietnam and Cambodia.
Supply chains in ASEAN are evolving to become more resilient, agile, and ecologically responsible, to keep up with and even lead global trends. The vision is for a future where supply chains are capable not only of withstanding disruptions, but also of thriving in a sustainable, interconnected world. If successful, it could be known as the Asian Renaissance.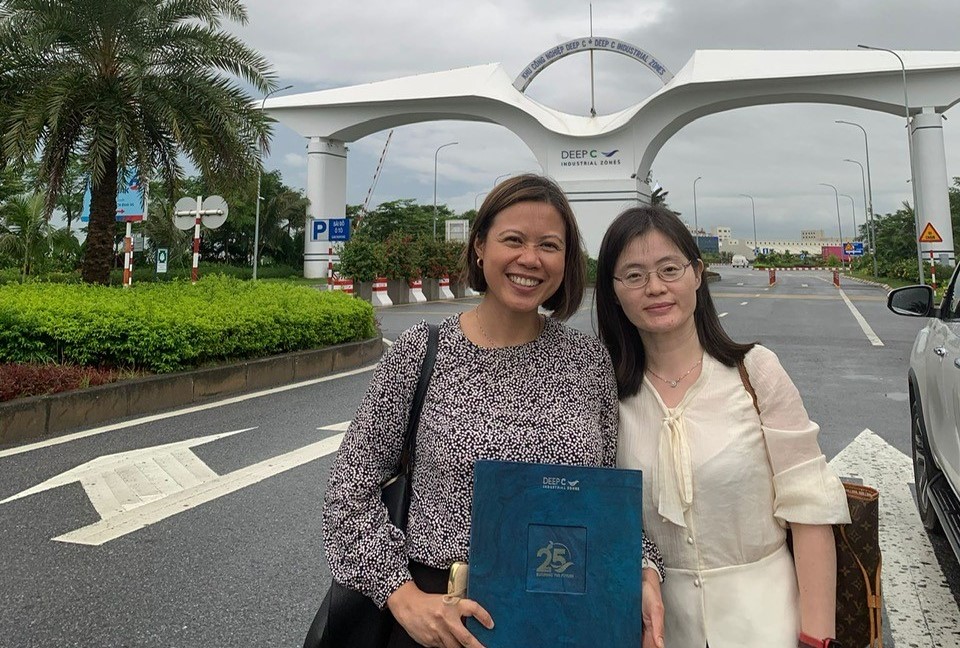 Diana del Rosario and Hongyan Zhao of MFR Group visited two of the industrial parks under the DEEP C Industrial Zones in Haiphong, Vietnam.