ASEAN+3 growth in 2022 is projected at 3.3 percent, mainly driven by robust economic activity in ASEAN. Growth is expected to strengthen to 4.3 percent in 2023, buoyed by the economic reopening in China and the resumption of international tourism. Here are the region's prospects summarized in five key charts, as seen in AMRO's latest ASEAN+3 Regional Economic Outlook.
1. Exports are losing momentum. ASEAN+3 exports have been falling since July 2022, mostly due to weakening global demand (Figure 1). In China, strict pandemic containment measures weighed on factory activity, especially in the fourth quarter. The global tech downcycle, reflected in weaker demand for electronic products, also held back ASEAN trade performance, a trend that may persist in the coming months given slower growth in the global economy.
Figure 1. Selected ASEAN+3: Export Growth
(Percent, year-on-year; Index, 2019 = 100)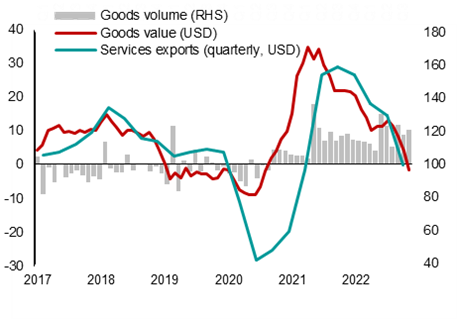 Source: National authorities via Haver Analytics; AMRO staff calculations.
2. Tourism will provide some reprieve. Monthly tourist arrivals picked up in September 2022, with the number of visitors to ASEAN-5 reaching nearly half of pre-pandemic levels (Figure 2). Travel and tourism growth in the region has accelerated as travel restrictions were lifted and international flights resumed. By the fourth quarter of 2022, most economies had removed all pandemic-related border measures. Tourism activity in the region is on track to increase further, boosted by the reopening of China's international borders in December.
Figure 2. Selected ASEAN+3: Tourist Arrivals
(Index, 2019 = 100)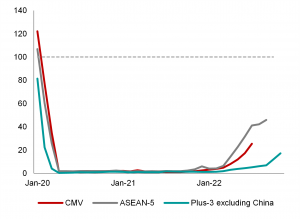 Source: National authorities via Haver Analytics; AMRO staff calculations.
Note: Data as of July 2022 for CMV, November 2022 for ASEAN-5, and December 2022 for Plus-3 excluding China. CMV = Cambodia, Myanmar, and Vietnam. ASEAN-5 = Indonesia, Malaysia, the Philippines, Singapore, and Thailand
3. Commodity prices have turned around. Oil, gas, wheat, and palm oil prices have returned, or are close to levels seen before the Russia-Ukraine conflict (Figure 3). This turnaround in prices is mainly due to weaker global demand, gas rationing in Europe, and the extension of the Black Sea Grain Initiative to facilitate grain exports from Ukraine. With the fall in global food and energy prices, headline inflation is expected to moderate to 4.5 percent in 2023 from 6.3 percent in 2022.
Figure 3. World: Selected Commodity Prices
(Index, January 2022 = 100; index)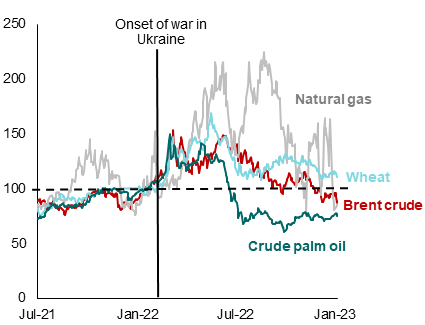 Source: Bank Negara Malaysia, Financial Times, Johnson Matthey, US Energy Information Administration, Wall Street Journal, and World Bank, via Haver Analytics; AMRO staff calculations.
Note: Wheat price refers to Kansas City wheat price.
4. Growth to improve in 2023. Plus-3 economies are likely to post a stronger growth of 4.2 percent in 2023, an increase from 2.6 percent in 2022. The pick-up in growth is projected to be led by China and Hong Kong, which are forecast to rebound strongly with the removal of pandemic containment measures. ASEAN is forecast to continue expanding, albeit at a more moderate pace of 4.8 percent in 2023.
Figure 4. ASEAN+3: AMRO Growth Projections, 2022-2023
(Percent year-on-year)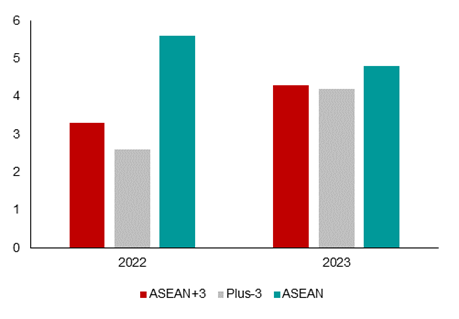 Source: AMRO staff estimates.
Note: Regional aggregates for growth are estimated using the weighted average of 2021 GDP on purchasing power parity basis.
5. Risks to the outlook remain. Our baseline forecasts could be weighed down by several risks, including a sharper slowdown in the United States, and slower-than-expected recovery in China (Figure 5). Another spike in global energy prices due to sanctions on oil exports from Russia also remains a possibility. Heightened geopolitical tensions between the United States and China, as well as the emergence of a more virulent COVID-19 variant, continue to be tail risks for the region's outlook.
Figure 5. Regional Risk Map, January 2023