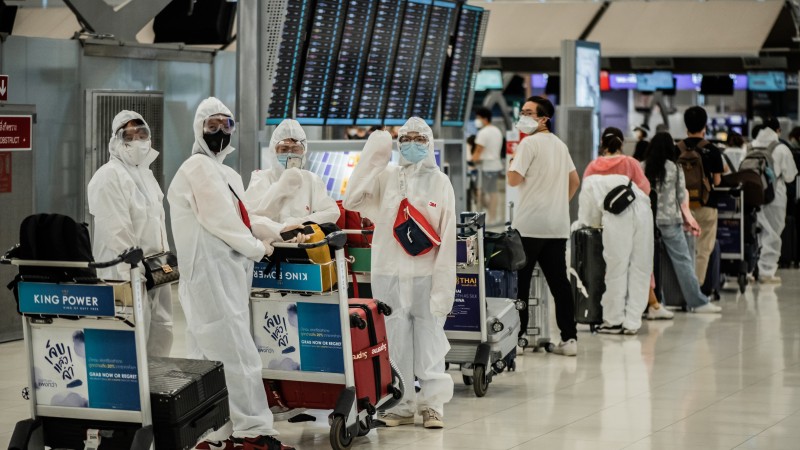 2020 has been a turbulent year and the dominating theme is the COVID-19 pandemic. No countries or regions are immune to the severe impact of this health and economic crisis. Of all the 32 commentaries AMRO published this year, we recommend these 10 pieces that best sum up the key economic developments across the ASEAN+3 region and our policy recommendations as the pandemic rages on.
1. Boosting ASEAN+3's Economic Resilience and Recovery During COVID-19
In addition to extraordinary and unconventional measures taken by individual economies, policymakers in the ASEAN+3 region came together to strengthen the regional financial cooperation in the fight against the economic fallout of the pandemic. Okamura Kenji, Vice Minister of Finance for International Affairs at Japan's Ministry of Finance; Nguyen Thi Hong, Governor of the State Bank of Vietnam[1]; and Toshinori Doi, AMRO Director, explain how the recent enhancements of the region's financing arrangement, the Chiang Mai Initiative Multilateralisation, or CMIM, will allow members to get access to greater and faster financial support in times of crises.
2. Same Crisis, Different Responses to COVID-19
The COVID-19 pandemic has painfully hit all regions in the world, including Europe and Asia. Chief Economists Hoe Ee Khor from AMRO and his peer Rolf Strauch from the European Stability Mechanism (ESM) put together this piece to share how policymakers in Asia and Europe react to the unprecedented downturn with policy measures that are catered to their unique situations.
3. Contributing to Economic Stability During a Pandemic – AMRO
The COVID-19 pandemic has not stopped AMRO from zealously delivering its mandate of contributing to the ASEAN+3 region's macroeconomic and financial stability. AMRO Director, Toshinori Doi shares how our institution has been steadfast in strengthening our role as a capable "family doctor" and trusted policy advisor to the members, especially during this time of great uncertainty.
4. What Lies Ahead for Global Value Chains in Asia?
Against a backdrop of trade tensions, disruptions from the COVID-19 pandemic, and a global recession, global value chains (GVCs) are being tested like never before. Chief Economist Hoe Ee Khor and Senior Economist Suan Yong Foo discuss three key forces that will shape the reconfiguration of GVCs in Asia over the coming years.
5. Where are Oil Prices Heading?
This year, global oil prices have been on a rollercoaster ride. It started with a massive collapse from January to April, followed by a sharp rebound in May and June, and then a stagnation in the following months. Financial Sector Specialist, Prashant Pande argues the outlook for oil markets is likely to remain murky amid the prolonged COVID-19 pandemic, an increase in output, and record-high inventories.
6. Strengthening Surveillance Capabilities for ASEAN+3 Members through On-the-job Training
Inaugurated in 2013, AMRO's Secondment Program provides officials from member authorities with on-the-job training opportunities to enhance their knowledge and experience in macroeconomic surveillance and regional financial cooperation. Technical Assistance Specialist, Kazuo Kobayashi explains how this unique and rewarding experience can help the secondees make a long-lasting impact in their parent organizations as well as contribute toward a stronger ASEAN+3 regional financial cooperation.
7. Uniting to Overcome Global Challenges
The pandemic has ironically fostered deeper ties between AMRO and its strategic partners as we recognize the importance of collaboration and open communications to overcome this unprecedented crisis. Faith Pang Qiying, Strategy and Coordination Officer, highlights AMRO's key partnership initiatives through effective digital communications while borders remain closed.
8. International Financial Institutions' Response to Countries' Diverse Needs amid COVID-19
Structural challenges have exposed the vulnerabilities of low-income economies, particularly during a crisis like the COVID-19 pandemic. Upon reviewing the global and regional financial institutions' responses to their members' needs during the pandemic, Han Beomhee, Group Head of CMIM, and Naoto Watanabe, CMIM Specialist, argue that there is an opportunity to further strengthen the ASEAN+3 region's financial corporation to support member economies in addressing their long-term structural challenges.
9. Deciphering China Economy's Strong Recovery from the COVID-19 Pandemic
After being severely hit by the COVID-19 pandemic, China bounced back quickly by making a strong economic recovery, thanks to effective containment and astute policy design. AMRO projects the economy to grow by 2.0 percent this year and 8.7 percent in 2021. Lead Economist, Chaipat Poonpatpibul and Senior Economist, Suan Yong Foo decode China's remarkable economic development amid the pandemic and outlines some challenges ahead.
10. Digitalization and Singapore's Role as an FDI Hub
Singapore's role as a foreign direct investment (FDI) hub has expanded to a global level, buttressed by the city-state's growing status as an international financial center, the rise of emerging markets, the complexity of multinational enterprise ownership structures and operations, and digitalization in Asia. Madeleine Vinuya, Research Data Analyst, analyzes this trend and puts forth ways to promote Singapore as an attractive global FDI hub in the 'new normal'.
Thank you very much for your interest in AMRO's commentaries. If you have any questions, comments, or feedback, please leave us a note below.
In the meantime, stay safe and healthy. See you in 2021!
[1] Mrs. Nguyen Thi Hong was Deputy Governor of the State Bank of Vietnam when this joint commentary was published in October.