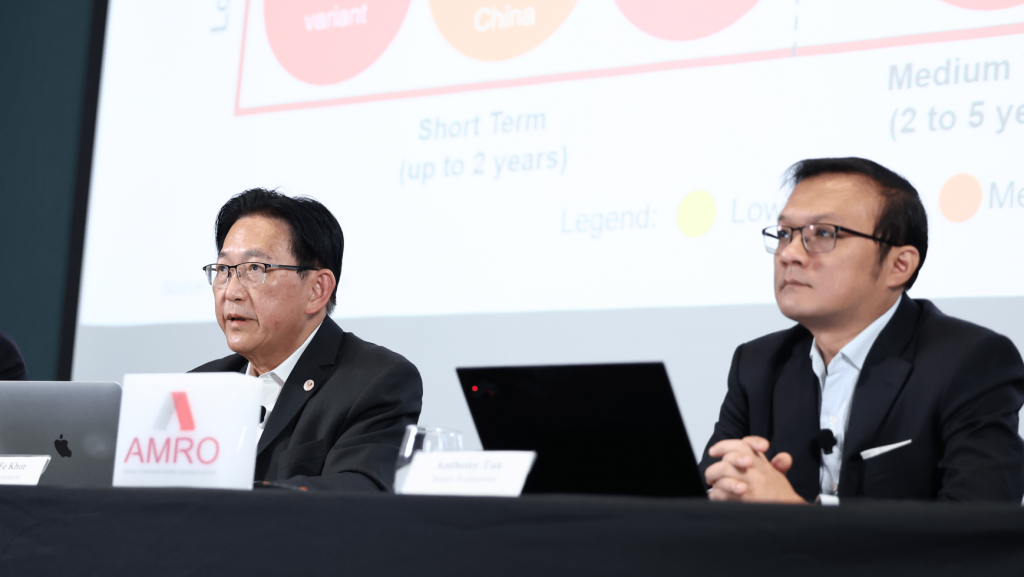 SINGAPORE, April 6, 2023 – The ASEAN+3 Macroeconomic Research Office (AMRO) today launched its annual flagship report, the ASEAN+3 Regional Economic Outlook (AREO) 2023. AMRO forecasts growth in ASEAN+3 at 4.6 percent this year and 4.5 percent in 2024, with growth for ASEAN at 4.9 percent and 5.2 percent, respectively.
"The ASEAN+3 region is expected to remain resilient notwithstanding the strong headwinds of weaker external demand and tighter global financial conditions. The boost in tourism and intraregional trade from the rebound in China's economy will help mitigate softer external demand from the United States and Europe," said AMRO Chief Economist, Hoe Ee Khor.
Domestic demand is expected to remain robust, with household spending to be sustained by rising income and lower inflation. AMRO anticipates inflation to moderate from 6.5 percent last year to 4.7 percent in 2023, before normalizing to 3.0 percent next year.
With growth on firmer footing, policymakers in the region have shifted focus to containing inflation which remains elevated and restoring policy buffers.
Yet downside risks abound. The region's growth prospects could be dampened by a spike in energy prices caused by an escalation of the Ukraine crisis, or weaker-than-expected recovery in China, or a sharp slowdown in the United States. Continued US monetary policy tightening amid mounting financial stability concerns could also heighten financial market volatility and spark contagion fears.
"Drawing from the lessons learned from the Asian Financial Crisis, ASEAN+3 financial systems are now more resilient and well-regulated," said Dr. Khor. "However, we are living in precarious times. Policymakers need to remain vigilant and continue to rebuild policy buffers. They also need to remain flexible to extend additional support to the economy, if necessary."
AMRO also called on ASEAN+3 economies to work more closely together to expedite the region's journey toward net zero.
At a panel discussion organized today by AMRO, experts exchanged views on ASEAN+3's Road to Net Zero—the theme of this year's AREO.
With all ASEAN+3 economies pledging to mitigate climate change, putting an appropriate price on carbon emissions is now at the forefront of the policy debate. Given the region's heavy reliance on fossil fuels, carbon pricing carries implications for inflation, export competitiveness, and financial stability.
"The sooner scalable, reliable, and affordable low-carbon alternatives become available for ASEAN+3, the less painful and costly the transition away from fossil fuels will be," said AMRO Group Head Ling Hui Tan, one of the key authors of the report.
ASEAN+3 economies can leverage their comparative advantage in areas of technology, manufacturing, natural resources, and financial services, to reap economic benefits on the road to net zero. Mobilizing private capital will be crucial, along with a well-designed suite of policy tools, at the domestic and regional level.
"Mitigating climate change is an area where regionally coordinated action will achieve a bigger impact than economies acting alone," Dr. Tan concluded. "A whole-of-ASEAN+3 approach to climate action will be greater than the sum of its parts."
–
About AMRO
The ASEAN+3 Macroeconomic Research Office (AMRO) is an international organization established to contribute toward securing macroeconomic and financial resilience and stability of the ASEAN+3 region, comprising 10 members of the Association of Southeast Asian Nations (ASEAN) and China; Hong Kong, China; Japan; and Korea. AMRO's mandate is to conduct macroeconomic surveillance, support the implementation of the regional financial arrangement, the Chiang Mai Initiative Multilateralization (CMIM), and provide technical assistance to the members.