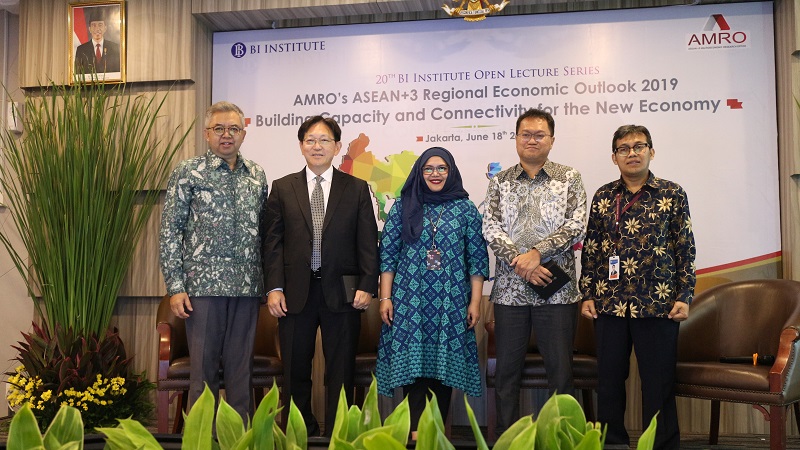 Panelists discussed the importance of capacity and cross-border connectivity in fuelling Indonesia's next phase of growth in the AMRO-Bank Indonesia (BI) Institute joint seminar in Jakarta on June 18, 2019. From left to right: Mr. Erwin Haryono, Head of Payment System Policy Group, BI; Dr. Hoe Ee Khor, AMRO Chief Economist; Dr Arlyana Abubakar, Director of BI Institute; Mr. Yose Rizal Damuri, Head of Department of Economics, Centre for Strategic and International Studies (CSIS), and Mr M. Setyawan Santoso, Deputy Director of BI Institute.
Amid external uncertainties, ASEAN+3 economies should enhance regional cooperation and embrace new technology to unleash growth potential and successfully transition to the "new economy". This was highlighted at the seminar with the theme "Building Capacity and Connectivity for the New Economy" jointly organized by the ASEAN+3 Macroeconomic Research Office (AMRO) and Bank Indonesia (BI) Institute on June 18, 2019, in Jakarta.
Ms. Arlyana Abubakar, Director of BI Institute, gave the opening remarks, in which she acknowledged the importance of enhancing capacity and cross-border connectivity. She believed that this could help improve competitiveness and productivity while allowing the economy to operate close to its full potential.
In his keynote presentation, AMRO Chief Economist Dr. Hoe Ee Khor shared that given the latest round of higher tariff hikes on Chinese goods by the U.S, AMRO had shaded down regional growth from 5.1% as released in early May to 4.9% in 2019–20. Major risks on the horizon include the escalation of global trade tensions, a sharp slowdown in China's growth, large swings in asset prices from global monetary policy shifts, and a sharp deceleration in major global economies. Dr. Khor stated that amid external uncertainties, regional cooperation and regional buffers are important to safeguard stability in the region.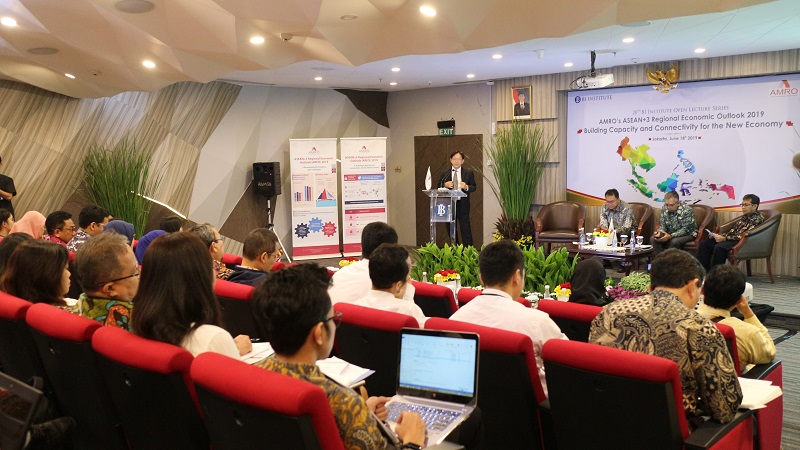 AMRO Chief Economist Dr. Hoe Ee Khor makes his keynote presentation on the economic outlook of the ASEAN+3 region, taking into account the latest developments in the US-China trade tensions. The seminar is well-attended by 80 participants from both public and private sectors.
On the policy front, considering the external uncertainties, Dr Khor argued that it would be prudent for policymakers to prioritize financial stability over growth, with monetary policy on a tightening bias, and fiscal policy playing a supportive role while helping to facilitate structural adjustments. Macroprudential policies should continue to safeguard financial stability.
Dr Khor also touched upon the "manufacturing for exports" strategy, drawing on Indonesia's experience. He highlighted that Indonesia's manufacturing sector is mainly domestically oriented, reflecting the large consumption base. In addition, Indonesia's export structure is skewed toward commodities such as palm oil, which are used as intermediate inputs by third countries for further processing and exports, hence the significant forward linkages in the global value chain (GVC). In contrast, other major ASEAN economies such as Malaysia and Thailand have established large manufacturing base for processing and/or assembly mainly for exports to third markets.
On services, Dr Khor noted that the sector is growing rapidly in Indonesia, underpinned by rising middle class and growing demand for modern services. Advances in technology is also making services more tradable and commoditized, helping to raise productivity and foster growth. Indonesia's ride hailing app Gojek is a good example of how advances in digital technologies is fostering the growth of the sharing economy, helping to create demand for other services, such as transportation, logistics, mobile payment services.
For Indonesia, growth is expected to remain strong, underpinned by solid domestic demand. As the country is not deeply plugged into the global value chain, the spillover impact from trade tensions is projected to be minimal. Therefore, AMRO is maintaining its forecast for Indonesia's growth at 5.1% in 2019-20.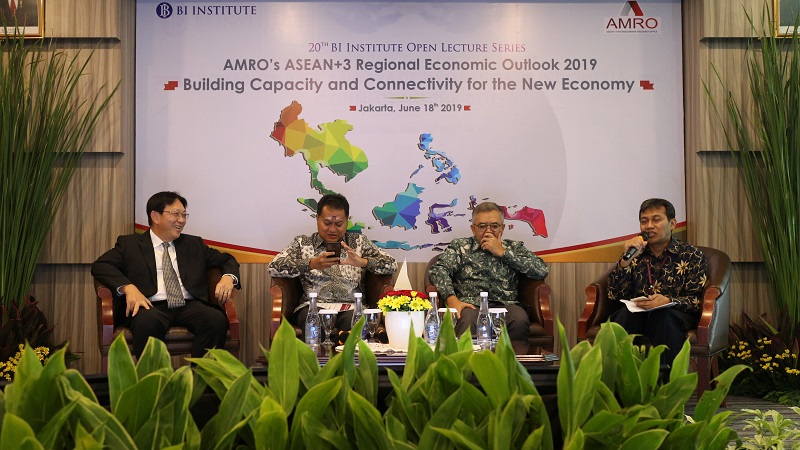 The panel engage in lively discussion regarding the escalating trade tensions and how the BI should react, as well as the effects of technology in Indonesia's next phase of growth.
The panel echoed Dr. Khor's view on the impact of the escalating trade tensions. Mr. Yose Rizal Damuri, Head of Department of Economics, Centre for Strategic and International Studies (CSIS) suggested that this issue has to be addressed at various levels: regional integration, multilateral system, and national policies. Meanwhile, structural reforms, which are key to continued development and increased competitiveness, should encompass domestic policies to enhance both hard and soft infrastructure, promote trade and investment, and ensure fair-and-flexible labor market regulations.
Addressing a question on central banks' monetary policy across the region, Dr. Khor highly commended the regional central banks for their proactive policy actions, in response to constant changes in global economic conditions and monetary policy directions. Bank Indonesia, in particular, has done well in managing volatility in recent years by making its monetary policy moves in a pre-emptive, front-loading, and ahead-of-the-curve manner to assure investors and financial markets of its sound fundamentals.
The seminar also discussed the theme of building capacity and connectivity for the new economy. While the 4th Industrial Revolution, maturing populations and a rapidly growing middle-class, as well as regional integration will be the key drivers in this transition, ASEAN+3 economies also face three key gaps to build capacity and connectivity, namely, funding, foreign exchange, and factors gaps. To bridge these gaps, the regional economies should leverage on intra-regional investments and strengthen the regional financial safety net, while developing professional expertise, technology, and institutions and greater connectivity.
In the case of Indonesia, Dr. Khor also highlighted that with more than 17,000 islands and 8 UNESCO sites, the country is poised to realize its great tourism potential by enhancing capacity and connectivity. At present, tourism contributes only about 6 percent of GDP in Indonesia, which is below the global average level and far behind some regional economies such as Malaysia and Thailand. The infrastructure gap has been identified as one of the key factors that keep Indonesia's tourism from realizing its potential. To close the gap, Indonesian authorities have embarked on an impressive infrastructure development program, which is expected to have profound impacts on transforming the connectivity and infrastructure landscape in Indonesia.
Mr. Damuri shared his views on the new services sector, claiming that the dividing line between manufacturing and services has blurred. Service is becoming more tradable and with technological advancements, it can be provided by individuals, not just large companies.
Mr. Erwin Haryono, Head of Payment System Policy Group, BI pointed out that a "new" economy has been happening every 10 years. For instance, in 1988, the Indonesian economy underwent a major deregulation to become an open and globalized economy. A decade later, the Asian Financial Crisis took place, causing extreme austerity, and leading to a comprehensive reform of the economy. This was followed by the Global Financial Crisis in 2008. Ten years later in 2018, the U.S. – China trade tension has come into existence. Currently, the banking industry is undergoing a major transformation to digital banking to provide more convenient services to customers. To accelerate the digital transformation, financial services firms need are leveraging on big data, the new "oil" of the new economy. He stressed the importance of the General Data Protection Regulation in protecting consumers' privacy in this process.
Dr. Khor emphasized the usefulness of big data, acting as an enabler for technology to make use of information to design better products and services. At the same time, data can be abused, which underscore the need for a sound legal framework to manage the risk.
As part of AMRO's outreach program to introduce key findings of its flagship report, the ASEAN+3 Regional Economic Outlook 2019, published in early May, the seminar attracted an audience of 80 participants from both public and private sectors.