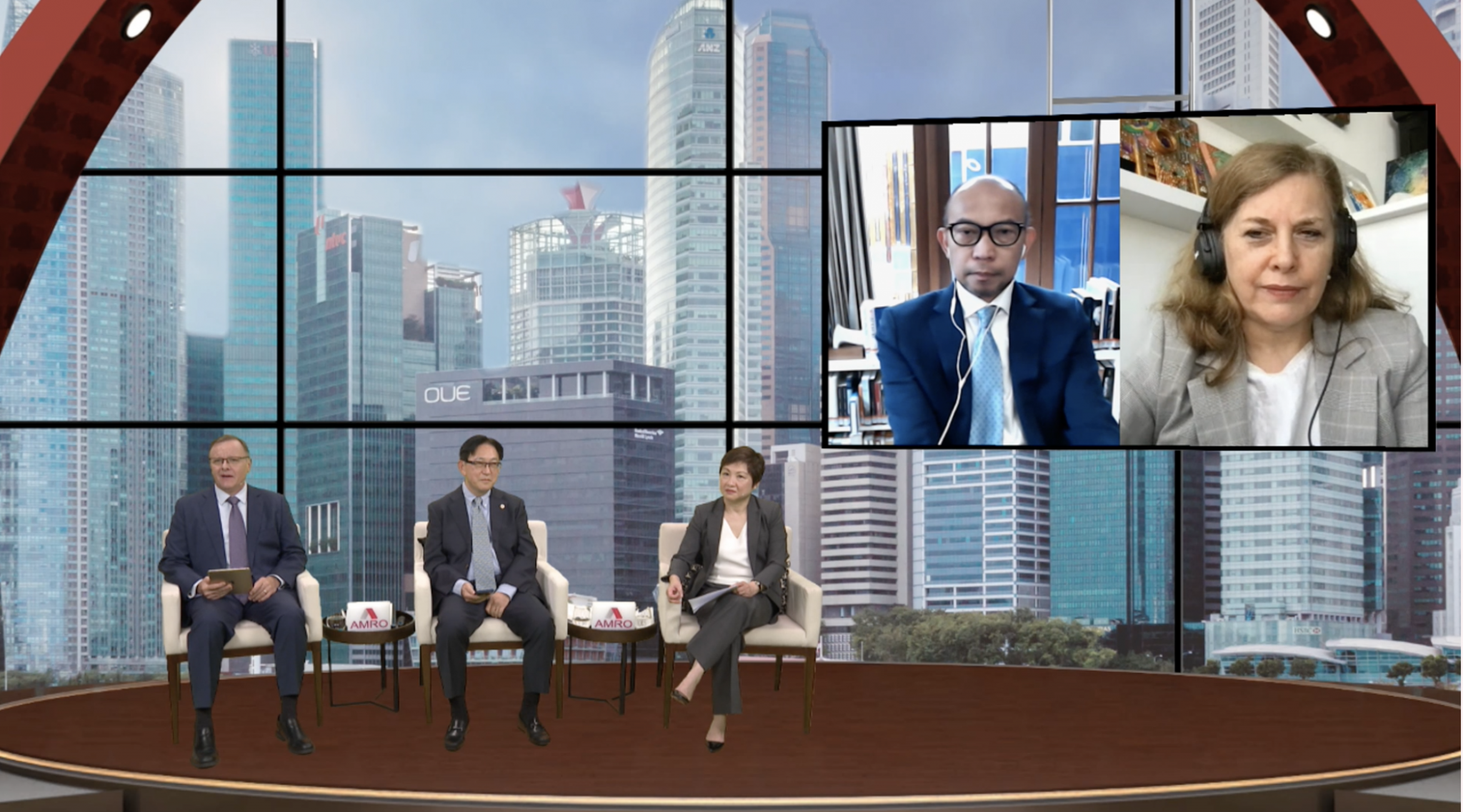 SINGAPORE, April 13, 2022 – The ASEAN+3 Macroeconomic Research Office (AMRO) today called on ASEAN+3 economies to build resilient systems and expand intraregional cooperation to secure post-pandemic growth.
At a webinar organized by AMRO, AMRO Chief Economist, Dr. Hoe Ee Khor; Group Head and Lead Economist for Regional Surveillance, Dr. Ling Hui Tan; and guest speakers Dr. Muhamad Chatib Basri, former Minister of Finance, Indonesia and Co-founder, Creco Consulting and Research; and Dr. Alicia Garcia Herrero, Chief Economist for Asia Pacific, Natixis, exchanged views on ASEAN+3 Growth Strategy in the Pandemic's Wake—the theme of AMRO's annual flagship report ASEAN+3 Regional Economic Outlook 2022 (AREO 2022) that was launched yesterday.
"COVID-19 has been a major disruptor, as well as a catalyst for change in ASEAN+3," argued Dr. Khor.
The pandemic has inflicted a heavy toll on economic activity and populations in ASEAN+3. "Some extent of pandemic scarring is unavoidable. It will take various forms in different economies, and some will be more affected than others," added Dr. Khor. "Most economies will see some form of scarring in their labor supply and productivity, while for others, scarring could manifest as impaired balance sheets, and lower investment and productivity."
At the same time, COVID-19 has transformed the landscape of services in the ASEAN+3 region. Digitally supplied services, such as e-commerce, digital banking, and telehealth thrived during the pandemic, with strong potential as future growth drivers.
ASEAN+3 need to leverage this trend by investing in constant innovation and digital infrastructure; and simultaneously strengthen healthcare systems, upgrade the workforce, foster competition, and restore healthy fiscal positions.
Stronger regional integration will be crucial. The pandemic has crippled global supply chains, casting doubt on the region's export growth strategy.
"Despite increasing calls for nearshoring and reshoring of production, COVID-19 has not diminished ASEAN+3's strong advantage as a prime location for global supply chains," Dr. Khor highlighted. "The newly implemented Regional Comprehensive Economic Partnership (RCEP) should provide an additional boost for supply chains to be located in the region. Member economies can build on the agreement to invigorate growth in the pandemic's wake."
"Crises of different forms have challenged economies throughout history. How we respond and reinvent ourselves will define whether we succumb or thrive post-COVID," Dr. Khor concluded.
–
About AMRO
The ASEAN+3 Macroeconomic Research Office (AMRO) is an international organization established to contribute toward securing macroeconomic and financial stability of the ASEAN+3 region, comprising 10 members of the Association of Southeast Asian Nations (ASEAN) and China; Hong Kong, China; Japan; and Korea. AMRO's mandate is to conduct macroeconomic surveillance, support the implementation of the regional financial arrangement, the Chiang Mai Initiative Multilateralisation (CMIM), and provide technical assistance to the members.