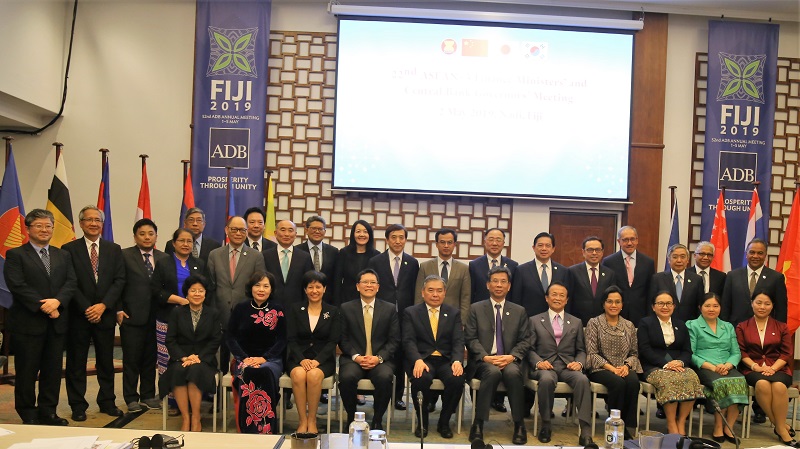 AMRO Director Dr Junhong Chang (first row, first from right) poses for a group photo with ASEAN+3 Finance Ministers and Central Bank Governors at the meeting in Fiji on May 2, 2019.
Nadi, Fiji, May 3, 2019 – AMRO Director Dr Junhong Chang led the AMRO delegation's participation in the 22nd ASEAN+3 Finance Ministers' and Central Bank Governors' Meeting on 2 May, and the ASEAN+3 Finance and Central Bank Deputies' Meeting on 1 May, during the 52nd ADB Annual Meeting in Nadi, Fiji. AMRO Deputy Directors Mr Byungseo Yoo and Mr Yasuto Watanabe, and Chief Economist Dr Hoe Ee Khor also attended the meetings.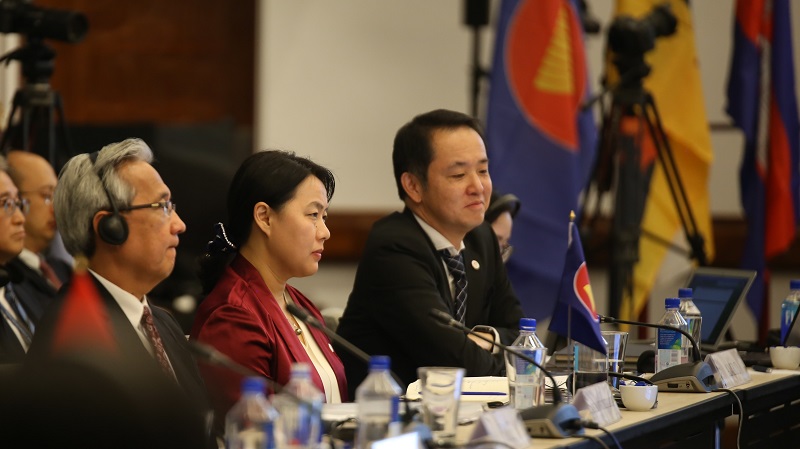 AMRO Director Dr Junhong Chang (first row, second from left), along with AMRO Deputy Director  Mr Yasuto Watanabe (third from left) engage in a discussion at the 22nd ASEAN+3 Finance Ministers' and Central Bank Governors' Meeting.
At the meeting, AMRO made a presentation on its assessment of the regional economic outlook and its challenges, to facilitate the Ministers' and Governors' discussion on the global and regional macroeconomic outlook, as well as on ways to mitigate the risks and address the challenges. Given that this year marks the 20th anniversary of the ASEAN+3 Finance Process, Ministers and Governors also exchanged views on the strategic direction of ASEAN+3 finance cooperation going forward. AMRO actively participated in this discussion, and offered its support to ensure the continued relevance and effectiveness of the cooperation process.
On the sidelines of these events, AMRO launched its flagship publication, the ASEAN+3 Regional Economic Outlook (AREO) 2019, which included a chapter on the region's macroeconomic prospects and a thematic study on "Building Capacity and Connectivity for the New Economy". AMRO also held a seminar after the launch, during which a high-level panel discussed how East Asia economies can tackle the multiple challenges related to strengthening their capacity and connectivity in order to take advantage of the opportunities of the Fourth Industrial Revolution and changing demographics, to sustain high growth.
—
About AMRO:
The ASEAN+3 Macroeconomic Research Office (AMRO) is an international organization, established to contribute to securing the economic and financial stability of the ASEAN+3 region, which includes 10 members of the Association of Southeast Asian Nations (ASEAN) and China; Hong Kong, China; Japan; and Korea. As an international organization, AMRO fulfils its mandate by conducting regional economic surveillance, supporting the implementation of the regional financial arrangements, the Chiang Mai Initiative Multilateralisation (CMIM), and providing technical assistance to its members.