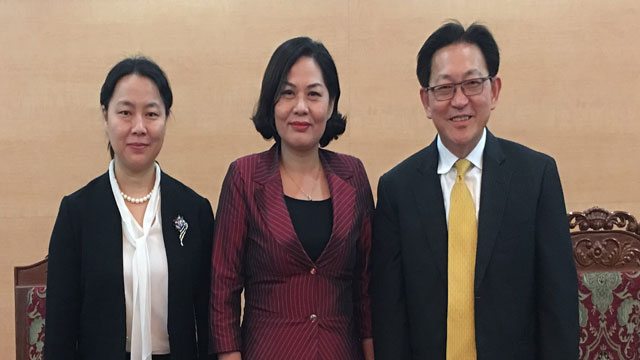 From left to right: AMRO Director, Dr Chang Junhong; State Bank of Vietnam Deputy Governor, Madam Nguyen Thi Hong; and AMRO Chief Economist, Dr Khor Hoe Ee
An AMRO mission led by Dr Seung Hyun (Luke) Hong conducted this year's Annual Consultation Visit to Vietnam from 20 to 27 October. Dr Chang Junhong, AMRO Director, and Dr Khor Hoe Ee, AMRO Chief Economist, also participated in the mission. During the visit, AMRO staff visited Ho Chi Minh City to meet up with various representatives from the private sector, including banks, securities firms, real estate agencies, and foreign-invested companies. In Hanoi, AMRO staff held a series of meetings with the public sector, including the Ministry of Finance, the State Bank of Vietnam, Ministry of Planning and Investment, Ministry of Agriculture and Rural Development, the Vietnam Asset Management Corporation (VAMC), and State-Owned Commercial Banks (SOCBs).
The mission also took the opportunity to reach out to the IMF and ADB offices, the Japan International Cooperation Agency (JICA), trade and investment promotion boards, and foreign-invested firms in Hanoi. During the meetings, AMRO staff discussed a wide range of issues regarding the macroeconomic outlook, and risks and vulnerabilities facing the Vietnamese economy. The discussions also touched upon the adequacy of policy measures, especially the monetary, macro-prudential and fiscal policies, to ensure financial stability and fiscal sustainability, and structural reforms to enhance the competitiveness of the economy.
The AMRO mission team presented its preliminary assessment to the authorities, and a final report would be prepared when the team returns to Singapore. In AMRO's preliminary assessment, Vietnam's economic growth in 2016 is forecast to moderate from the previous year but to remain resilient amid negative shocks. The external position has strengthened and AMRO encouraged the authorities to continue strengthening its reserves buffer. In light of rising fiscal pressure, AMRO staff welcomed the medium term fiscal plan to consolidate the budget deficits by strengthening revenue and containing expenditure. The authorities were encouraged to accelerate the structural reforms, including the banking sector reform and SOE restructuring.
During the visit, AMRO also discussed technical assistance activities with the Vietnamese authorities. In particular, AMRO would be welcoming one staff each from the Ministry of Finance and the State Bank of Vietnam after January 2017 under its secondment program. AMRO would like to thank the Vietnamese authorities for their warm hospitality and assistance in arranging the meetings. The visit to Vietnam has deepened AMRO's understanding of the current macroeconomic and financial situation, as well as key issues related to macroeconomic stability in Vietnam.