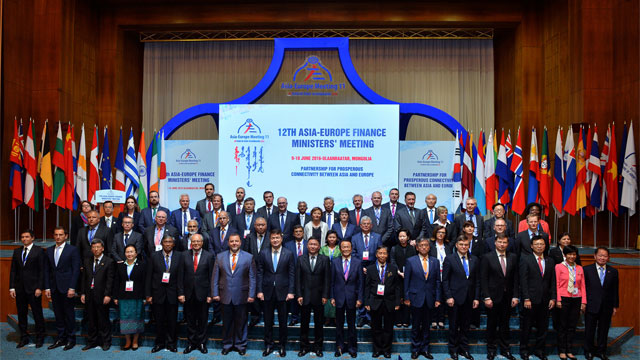 Dr Hoe Ee Khor, Chief Economist of the ASEAN+3 Macroeconomic Research Office (AMRO) attended the 12th ASEM Finance Ministers' Meeting, which was held in Ulaanbaatar, Mongolia on 10 June 2016.
The meeting was also attended by Finance Ministers and representatives from 43 ASEM member countries, the Vice-President of the European Commission, the International Monetary Fund (IMF), World Bank (WB), European Central Bank (ECB), the Single Resolution Board (SRB), the European Bank for Reconstruction and Development (EBRD), the European Investment Bank (EIB), the European Stability Mechanism (ESM), the Organization for Economic Co-operation and Development (OECD), the Asian Development Bank (ADB), the Asian Infrastructure Investment Bank (AIIB) and, the United Nations Economic and Social Commission for Asia and Pacific (UNESCAP).
The meeting discussed macroeconomic developments and prospects in Asia and Europe, and the importance of enhancing connectivity between both regions. The meeting also stressed the need to ensure an adequate and effective global financial safety net, emphasizing the important role of regional financing arrangements (RFAs) such as the European Stability Mechanism (ESM) and the Chiang Mai Initiative Multilateralization (CMIM). To this end, the meeting expressed support for continued dialogue among RFAs and to strengthen cooperation between the IMF and RFAs.