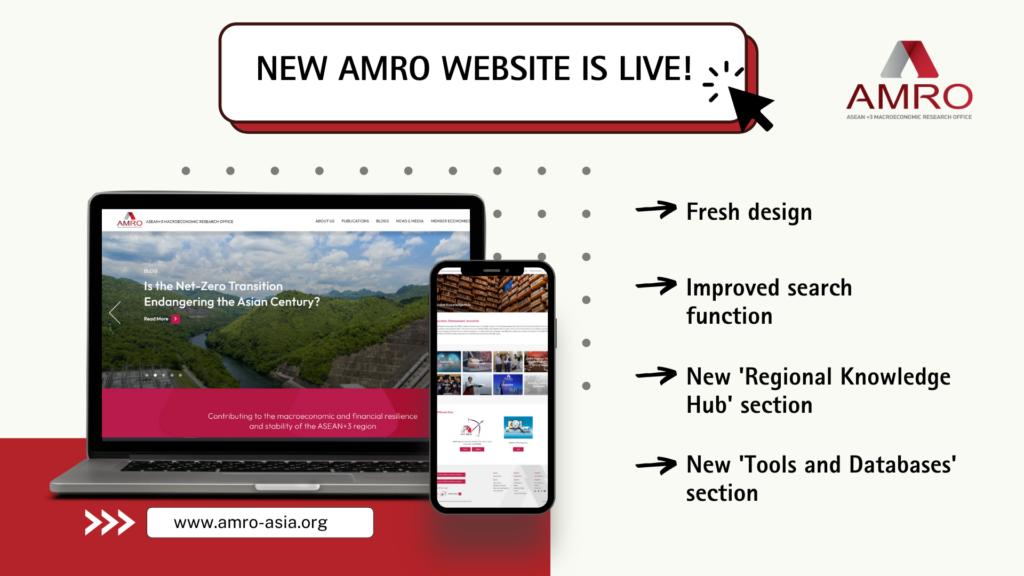 SINGAPORE, August 28, 2023 – The ASEAN+3 Macroeconomic Research Office (AMRO) today unveiled its new website, as part of its efforts to implement the Strategic Direction 2030, promising greater access to its research and analysis to foster macroeconomic and financial resilience and stability in the ASEAN+3 region.
Timely and open access to information and data empower ASEAN+3 member economies, policymakers, media, and the public to make better-informed decisions as the region's economic outlook continues to be fraught with uncertainty and challenges.
"After the pandemic, the ASEAN+3 economies continue to face multifaceted challenges from tightening financial conditions, geopolitical tensions, severe climate change and aging population," said AMRO Director Kouqing Li. "In today's uncertain and complex environment, communications is a critical policy tool in building trust, which underpins economic stability. Our new website will act as a trusted platform to ensure better understanding of economic developments and to communicate policy advice to safeguard the region's macroeconomic and financial resilience and stability."
The enhanced website marks an important step for AMRO as the organization progresses into a regional knowledge hub (RKH) and deepens its support to the ASEAN+3 Finance Process.
These efforts are part of the evolving role of AMRO—the only international organization established under the ASEAN+3 Finance Process, as the organization steps up its global influence as a trusted policy advisor and thought leader under its Strategic Direction 2030.
New website features
The new AMRO website has been designed to offer the ultimate user-friendly experience with improved navigation and functionality while allowing users to access the full knowledge product portfolio and commentaries published by AMRO.
Created with the user experience in mind, the site includes many new features to help users navigate the site quickly and easily and to find the data and information they need. The new features include, but not limited to:
An improved navigation menu to enhance users' experience in browsing the site.
Advanced search function which allows users to filter search results by category, topic, economy, author, and date range.
New landing pages for RKH, blogs, publications, and trending topics, etc.
New job application function for job seekers.
A dedicated login for ASEAN+3 member authorities
Visitors to the website can stay informed with the latest ASEAN+3 economic and macro-financial updates.
For more information on AMRO and to view the site, please visit www.amro-asia.org.
About AMRO
The ASEAN+3 Macroeconomic Research Office (AMRO) is an international organization established to contribute toward securing macroeconomic and financial resilience and stability of the ASEAN+3 region, comprising 10 members of the Association of Southeast Asian Nations (ASEAN) and China; Hong Kong, China; Japan; and Korea. AMRO's mandate is to conduct macroeconomic surveillance, support regional financial arrangements, and provide technical assistance to the members. In addition, AMRO also serves as a regional knowledge hub and provides support to ASEAN+3 financial cooperation.