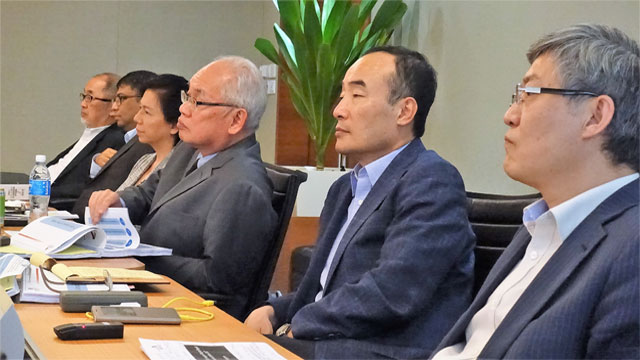 AMRO Advisory Panel members convene at the meeting on March 15, 2015.
Singapore, March 15, 2017 – AMRO Advisory Panel members convene today to review and discuss AMRO's surveillance work on the regional economy and its analytical study on the region. All those documents will be submitted to ASEAN+3 Finance and Central Bank Deputies' Meeting (AFCDM+3) in Cebu, the Philippines, in early April.
The meeting, chaired by Dr Bandid Nijathaworn (AP Chair), is attended by Dr Cyd Amador, Dr Akira Ariyoshi, Mr Kyung-Wook Hur, Dr Mohamad Ikhsan and Dr Zhang Yuyan. AMRO Director, Dr Junhong Chang, Chief Economist, Dr Hoe Ee Khor, and Deputy Director (CMIM, Strategy and Coordination), Mr Yasuto Watanabe, also attend the Meeting.

General view of the AP Meeting.